You could feel the collective tension in the air on Wednesday night during Texas Sen. Ted Cruz's speech from the comfort of your living room.
A mix of cheers and boos rang out as Ted Cruz ended his Republican National Convention speech without endorsing Donald Trump and instead encouraging voters to vote their conscience in November, saying:
"To those listening, please, don't stay home in November. If you love our country and love your children as much as I know you do, stand, and speak, and vote your conscience and vote for candidates up, and down the ticket who you trust to defend our freedom and to be faithful to the Constitution."
Now, amidst the pleadings of Trump supporters asking constitutionalists like Ted to unite the party and endorse Trump (I don't know how any man could be expected to support another man who personally attacked his wife and father, but that's a different story), I ask one question: What is the point of unity if that unity isn't based in eternal truth and principles?
The importance of the speech goes beyond this election, because what happens after this election, what constitutionalist conservatives do, whether we see a Trump presidency or a Hillary Clinton presidency, will determine whether or not the constitutionalist movement survives.
For constitutionalist conservatives, this election is lost; neither Trump nor Clinton represent the values and principles within the Constitution. If we as a movement are to survive, we need to realize something: we very well may not see a fix to our country's problems within our lifetime. And that's okay.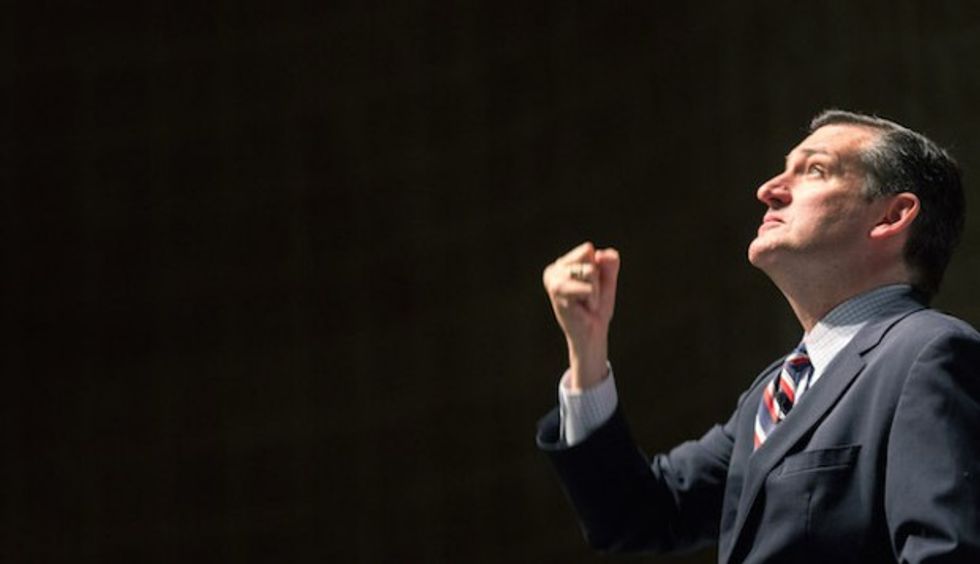 Republican presidential candidate U.S. Sen. Ted Cruz (R-TX) speaks during the Freedom Summit on May 9, 2015 in Greenville, South Carolina.  (Photo by Richard Ellis/Getty Images)
To live constitutional and Biblical principles isn't to only think of yourself in this time, but is to work towards establishing a foundation upon which our children, our grandchildren and generations down the line have the upbringing and the knowledge of history to continue the fight for these principles. To quote Sen. Cruz: "Freedom means religious freedom whether you are a Christian or Jew, Muslim or atheist, gay or straight, the Bill of Rights protects the rights of all of us to live according to our consience."
Cruz's audience was not the people on the convention floor, it was the tired and broken conservative who isn't ready to give up on principles yet. How easy it would've been for him to give up on his principles, especially when the audience before began to boo.
One of the defining moments in Cruz's speech was a story he told about slain Dallas police officer Michael Smith's last words to his daughter, Caroline.
"What if this is the last time you ever kiss or hug me," Cruz recounted, "Later, as she thought of her fallen father, and that last heartbreaking hug, Caroline broke down in tears.
How could anything ever be okay again. Michael Smith was a former Army Ranger who spent three decades with the Dallas Police Department. I have no idea who he voted for in the last election, or what he thought of this one, but his life was a testament to devotion. He protected the very protesters who mocked him because he loved his country and his fellow man. His work gave new meaning to that line from literature, "To die of love is to live by it."
That is the future of our movement. It's not about Trump; it's not about Cruz; it's not even about me or you. It is about conserving these eternal truths and principles. It's standing up for truth and love, even if it means facing those who hate you. What a difficult, narrow, and testing road that is; nevertheless, it is one we should all be walking down together arm in arm.
The duty we have to our children is that we will defend freedom, whether we're on the winning side or the losing side. Don't be afraid to vote your conscience on every level, whether that be local, state, or national. Saying "vote your conscience" should not offend anyone. With love, may God keep and heal the Republic. LAUS DEO!
Cruz's speech can be viewed in full here.
Ian Ballinger is a young Constitutionalist Conservative and follower of Christ Jesus. Born and raised in the Lawrence, Kansas area, Ballinger is an aspiring filmmaker and writer, and can be found on Twitter @ianballinger925
–
TheBlaze contributor channel supports an open discourse on a range of views. The opinions expressed in this channel are solely those of each individual author.