There's a little hole-in-the-wall custard stand in central Indiana that serves literally the best frozen custard in the world. With its simple drive-up window and picture-less menu, it's nothing fancy.
But there's always a line.
Even actor Greg Kinnear, who also called Logansport home, has purportedly bragged about how utterly amazing this stuff is. Seriously, if you're even in Logansport, you have to look this place up.
But I've digressed. Just like any amazing product or experience, people keep coming back. Sycamore doesn't have to run fancy ads or revamp their simple building. Make a good product, and people come.
And that's usually the logic behind any success—which is why the African American vote has always perplexed me to no end.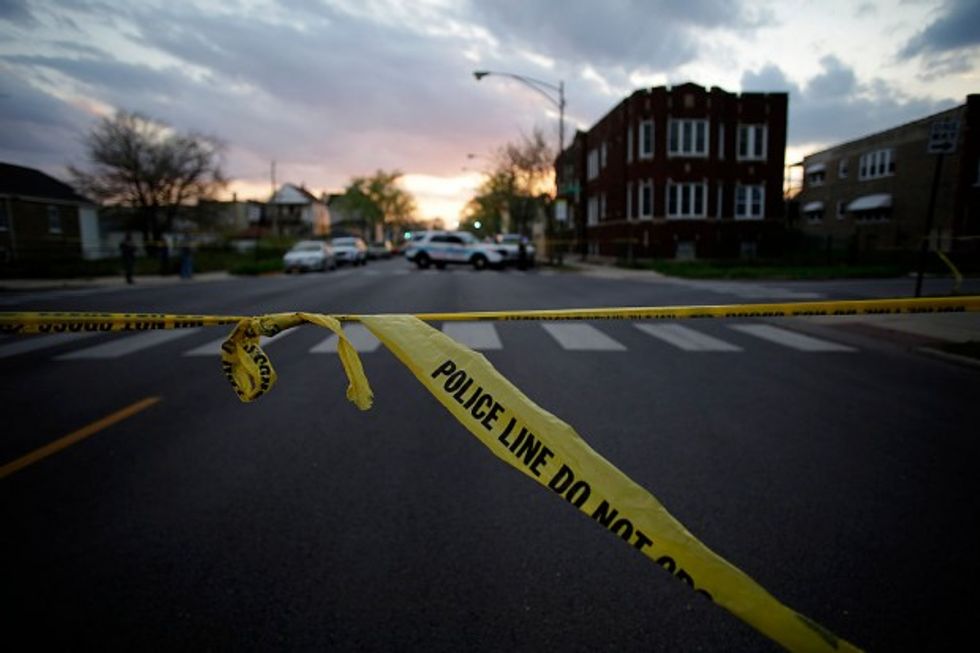 Chicago Police crime tape is displayed at the scene where a 16-year-old boy was shot in the head and killed and another 18-year-old man was shot and wounded on the 7300 block of South Sangamon Street on April 25, 2016 in Chicago, Illinois. (Photo by Joshua Lott/Getty Images)
This past week as we whizzed past the housing projects, the run-down neighborhoods and crime-ridden streets of south Chicago, I couldn't get something out of my head:
"What do you have to lose?"
That was Donald Trump in reference largely to the African American community, whose poverty levels wildly outpace other races in this country. Not surprisingly, the statement sparked outrage.
But why? Because it was spoken by Donald Trump, who has gotten himself in trouble for his brash way of painting the issues? Because it's not true? Because it's offensive?
First of all, let's get something straight: I'm not here to talk Trump.. Set aside your opinion of the man for a moment (believe me, I am), and just hear me out. I'm here to talk ideas.
Despite historical revisionism that says the contrary, African Americans have been voting for the Democrat party since at least President Franklin D. Roosevelt, and some even say as far back as Woodrow Wilson's election in 1912.
That's at least 80 (if not over 100) years of allegiance to the Democrat Party. So by the aforementioned logic, the product must be pretty dang good.
Yet drive to any inner city. Look up any number of crime or incarceration rats. Look up joblessness, unemployment, poor education, poverty—it's all a grim picture.
Let me put it to you a different way:
Would you go buy the same food if it was gross every time, but the owner promised for years that it would be better this time? Would you knowingly buy a car that's been relentlessly rated unsafe, because the manufacturer promised it wouldn't crumple like a tin can this time? Would you stay with a spouse who's been cheating for years, because he or she says that their vow means something this time?
If the Democratic Party (which, incidentally, has been in charge far more that Republicans in the last 100 years) is so great, why hasn't the condition of the African American community improved? Here's another mystery—the Democrats have had not only a very far left president in office for the last eight years; they've had an African American far left president in power.
By the Democrat Party's own standards, that should have been the Holy Grail. And yet where are we?
If Democrat policies are so great, why do nearly 50 percent of African American children under the age of six live in poverty?
If Democrat policies are so great, how is it that Democrat-run "Chicago's death toll is almost equal to that of both wars in Iraq and Afghanistan, combined"? (And that doesn't even include murders committed in 2016.)
If Democrat policies are so great, what explains the fact the all but one of the highest crime cities in America are run by Democrats, disproportionately affecting the African American population who are more likely to live in larger metro areas.
If Democrat policies are so great, why is African American unemployment nearly double that of their white counterparts?
If Democrat policies are so great, why do African Americans comprise 37.7 percent of the prison population, despite comprising just 12.3 percent of the country's population?
That's some product, alright.
So what gives? Why do over 90 percent of African Americans stalwartly support the Democratic Party?
According to the American Left, the African American community isn't impoverished because of failed Democrat policies; they've got this awful lot in life because of racism and its political ally: the Republican Party.
Except … it was the Democrat party and its militant wing (the Ku Klux Klan) that mistreated African Americans for years, and tried to suppress Republican pushes for Civil Rights legislation. (And again, for the record, it's the Democrat party that has been in charge FAR more times than the Republican party.)
Here's the thing. If they'll blatantly lie to you and all of us about their bloodied past with race, what makes you think they're telling the truth today? Call me crazy, but if a party actually believes that it's racism that's the root of the problem, its leadership might start by apologizing for what THAT PARTY perpetuated.
So, again, what gives?
Or rather, what do you have to lose by leaving a party that's left you with nothing but failed promises and a bleak future?
It's worth a thought.
Mary Ramirez is a full-time writer, creator of www.afuturefree.com(a political commentary blog), and contributor to The Chris Salcedo Show (TheBlaze Radio Network, Saturday, from noon to 3 p.m. ET). She can be reached at: afuturefree@aol.com; or on Twitter: @AFutureFree
–
TheBlaze contributor channel supports an open discourse on a range of views. The opinions expressed in this channel are solely those of each individual author.