"How are we supposed to conduct foreign policy if we don't know what the last secretary of state said to foreign diplomats and U.S. officials?"
That's what Democrats would be saying if it were a Republican former secretary of state – rather than Hillary Clinton, a fellow Democrat – who had failed to turn over all her official communications to the State Department.
And they would have a remarkably good point – not the most important point; I'll get to that – because it's hard to carry a relationship forward into the future if you don't know where it's been before. As secretary of state, you want to have a record of everything that was communicated to other countries in the recent past so you can figure out what needs to be said or done in the present.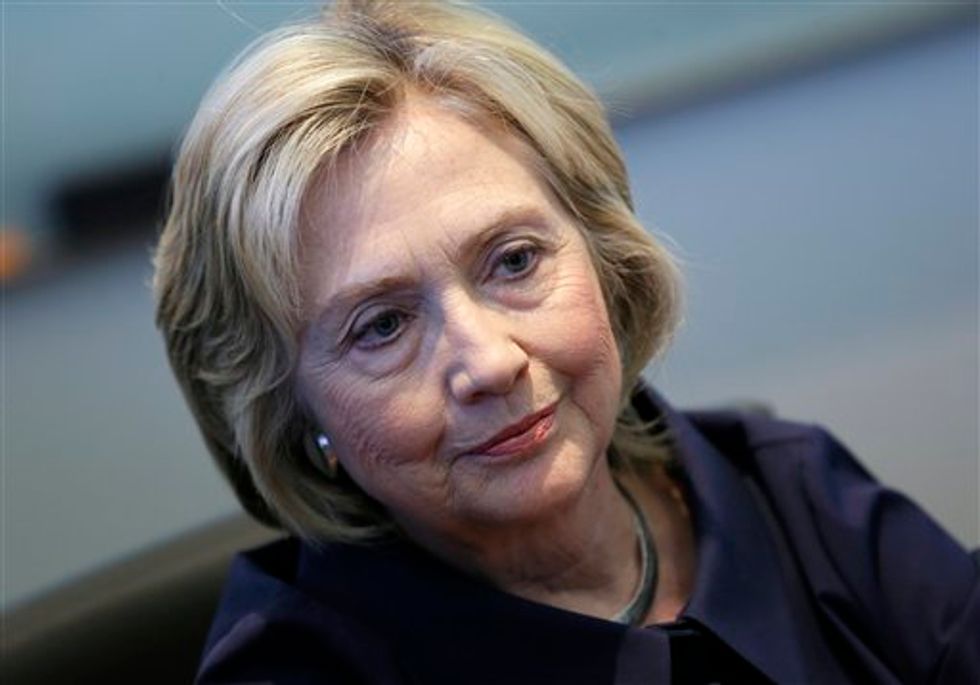 In this Sept. 7, 2015, photo, Democratic presidential candidate Hillary Rodham Clinton speaks during an interview with The Associated Press in Cedar Rapids, Iowa. Clinton says her use of a private email account was a "mistake," adding that she is "sorry" and takes responsibility for the decision. Clinton offers the apology in an interview with ABC News on Tuesday after declining to do so previously. On Sept. 4, she didn't apologize for using a private email system when asked directly by NBC News. In an interview with The Associated Press on Monday, she said an apology wasn't necessary because what she did was "allowed" by the State Department. (AP/Charlie Neibergall)
Unfortunately, here in the present, two-and-a-half years after Clinton left office and six-and-a-half years after she began speaking with foreign diplomats, we still don't know whether she's turned over all her records. That's because she used a private server for her emails, a server that didn't automatically forward its data to the State Department for archiving; instead, Clinton and her staff decided for themselves what to forward along and what to delete.
It was only last month that Clinton turned over the server to the federal government so that it can figure out what was deleted and whether it should have been archived instead.
But the bigger problem isn't even the archiving: it's whether the server – and the sensitive, even classified or top secret information it contained – was safe from prying eyes while sitting in the barn of Clinton's home in Chappaqua, rather than at a federal site guarded by federal agents.
Seriously, people. This is not a complicated issue.
All the talk about servers might imply that Clinton's email scandal is a convoluted technical matter that us normal folks can't comprehend. But it isn't. It comes down to the simple question of whether Clinton preserved her communications for future reference and kept them safe from hackers and spies.
But, despite these straightforward concerns, Hillary Clinton hasn't even managed to show that she understands what all the kerfuffle is about. Amid all the myriad attempts she's made to address or apologize or put the subject to rest, she's never clearly stated that she had an obligation to record and safeguard her conversations as secretary of state, and that her private server was a bad choice for that task.
Instead, she's come across as exasperated that she still has to field questions about what she dismisses as just the latest in a long list of political attacks that Republicans have come up with in the 1990s. Bill Clinton, too – also supposed to be incredibly smart, and a great communicator to boot – rather than articulating the obvious question whether the server was up to the job of preserving and protecting government data, described it as nothing more than another political brouhaha.
Hillary Clinton's ultimate defense – that the rules of the State Department allowed her to do what she did – only further exposes her poor judgment. If the State Department rules allow you to set up your own server at your own residence, without any federal government agents visiting to make sure it's secure, without the feds vetting your personnel to make sure they're IT and not KGB, without any requirement that you forward all government-related emails to the feds the day you send or receive them, then the State Department rules are unacceptable.
Yet Hillary Clinton went ahead and accepted them.
Likewise, Clinton's defense that she and her lawyers combed through all the emails on the server, carefully sifting out the personal items and sending the rest along to the State Department overlooks the obvious: it should have been State Department agents, not Clinton's own employees, doing that work and making those calls. That would have invaded her privacy, but that's what you get when you keep your personal emails on the same server as classified government data.
Clinton (dare I say, much like her husband) seems all too happy to declare that she's abiding by the rules with little thought given to whether or not the rules in question are good rules. And the State Department's rules – which she had four years worth or opportunities to amend and improve upon – are obviously not good rules.
Do we really want Hillary Clinton exercising this horribly poor judgment as President of the United States of America?
–
TheBlaze contributor channel supports an open discourse on a range of views. The opinions expressed in this channel are solely those of each individual author.