Dzhokhar Tsarnaev was recently found guilty on 30 counts with regard to the bombings perpetrated by him and his deceased brother, Tamerlan, at the 2013 Boston Marathon. The massacre killed three including a young boy, and injured 264, taking limbs and twisting lives.
The penalty phase of Tsarnaev's trial is said to take about a week or so, and may even culminate on the two-year anniversary of the bombing, April 15. But let me save everyone some time and effort: Death is too good for him.
[sharequote align="center"]Life without parole in solitary confinement with no outside contact would suit him best. [/sharequote]
Life without parole in solitary confinement with no outside contact would suit him best. Death is a quitter's game. Let him live in complete misery and regret. No reading material. No writing material. And on constant suicide watch. Would he go crazy? So what? Keep him there.
Some may say he deserves forgiveness. I say he does not. Forgiveness is for those who repent. There is no repenting from Tsarnaev. There is no remorse, no guilt, and no apology.
The people of Boston and the victims of his cowardly act have suffered enough, but will continue to do so whether or not he lives. You see it on their faces and hear it in their voices as many Bostonians have been interviewed to gauge reaction to the conviction. Some hope for death and then the "peace" it may bring to them.
In New York we suffered through two great empty places for years after Sept. 11, 2001 before the new Freedom Tower began to take shape. Now for those of us who remember the Twin Towers, smashed and incinerated by terrorists, the new tower will forever cause a flash of memory to what used to be there.
In Boston, the finish line of the marathon will forever symbolize the memory and pain of that day when bodies and lives were torn apart by those who wished to avenge the defense of our freedom and liberty in the Global War on Terror.
With the potential for appeals and other slowdowns and redirections in our convoluted civilian criminal justice system, it could take years for him to actually be executed. The pauses and turns account for our collective belief that it is better to let a guilty person go free than to condemn an innocent person to death.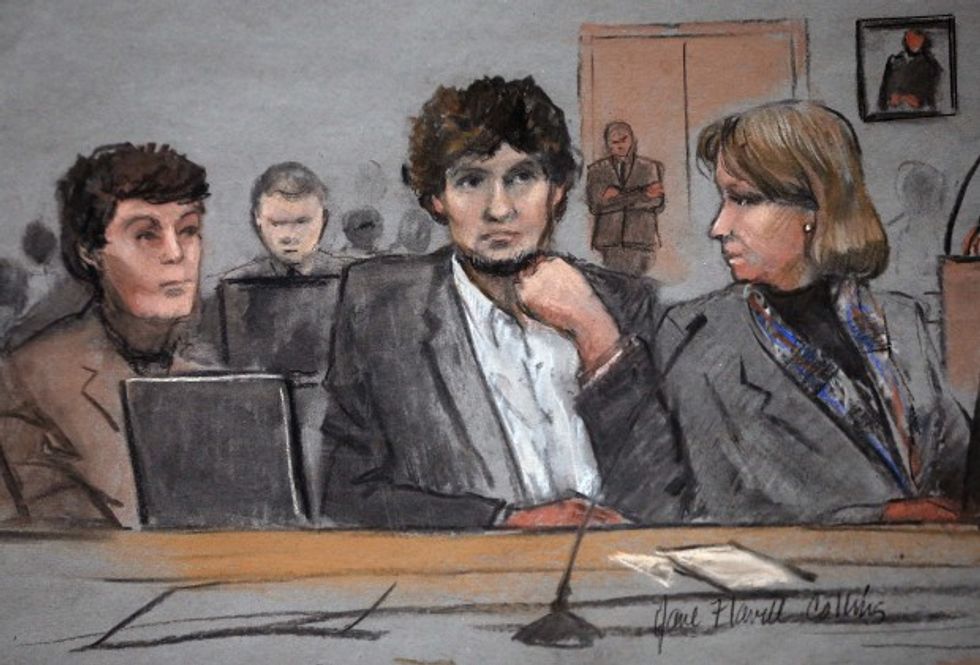 In this courtroom sketch, Dzhokhar Tsarnaev, center, is depicted between defense attorneys Miriam Conrad, left, and Judy Clarke, right, during his federal death penalty trial, Thursday, March 5, 2015, in Boston. (AP Photo/Jane Flavell Collins)
That sounds good, but in this case there is no doubt. Tsarnaev's attorney's admitted he did the deed. So why have the trial at all? So his attorneys could try and win life in prison by saying Dzhokhar was his brother Tamerlan's "puppet." No one on the jury was falling for that, not even a little bit, thank God.
Although he should have been placed at the U.S. military detention facility at Guantanamo Bay, Cuba, and tried there by military commission for war crimes, his relatively swift conviction now leaves us feeling empty and forlorn. Now what? Would his death bring back the dead victims, or bring back the wounded victim's body parts or psyche's? No.
I know that death would be too good for him, too quick, too orgasmic. The suicide bomber seeks death and knows it will come, quickly and gloriously. The serial bomber seeks only to perpetrate death and mayhem, over and over again.
There is no doubt that through collected evidence that Dzhokhar and his brother had already fantasized about additional bombings and had materials and plans to do so.
If trials and consequences are about restitution and punishment then the death penalty is no penalty at all in this case, it is relief to the condemned. It's not as much about right and wrong as it is about doing what's necessary to punish the guilty.
Keeping Tsarnaev alive and secluded would be exactly one pound of flesh, not an ounce more or less. Would the surviving victims find peace in that? Let's ask them, all of them, what they think and what they want. A fine democracy we would be were we to allow victims to decide punishments.
Our country is not the place for Islamist morals and terrorist ethics. We're a Judeo-Christian nation that believes one should treat his neighbor as him/herself. Dzhokhar Tsarnaev is not our neighbor or our friend. He is a foreign invader who perpetrated insurrection as a naturalized citizen. A pretender. A traitor.
No, death would be too good for this Islamist monster. He should be caged and then forgotten about for all time, with only the knowledge that he will never harm again, and suffer a million fold, every day until his natural, miserable death. Amen.
I am the author of "Saving Grace at Guantanamo Bay: A Memoir of a Citizen Warrior," and three times mobilized U.S. Army Reserve Medical Service Corps Major (Retired). Facebook, Blog, Twitter @mjgranger1
–
TheBlaze contributor channel supports an open discourse on a range of views. The opinions expressed in this channel are solely those of each individual author.