Many in America believe we are on the right track to "Make America Great Again" while others are convinced the only way to restore America to its rightful place of honor is to acknowledge "I'm with her!"
There are others, however, who believe it's just not that simple. They are disillusioned with what they see occurring in this country and don't believe either party has the answer.
They are constantly being told and pressured by family, friends and those on social media, to vote for either the Republican or Democrat presidential nominee. However, they are reluctant to do so because they view it as voting for the "lesser of two evils." Also, some are further concerned about how to vote because they are repeatedly told voting your "conscience" is a betrayal to a particular party and that they will be held solely responsible for the country's demise should they vote that way.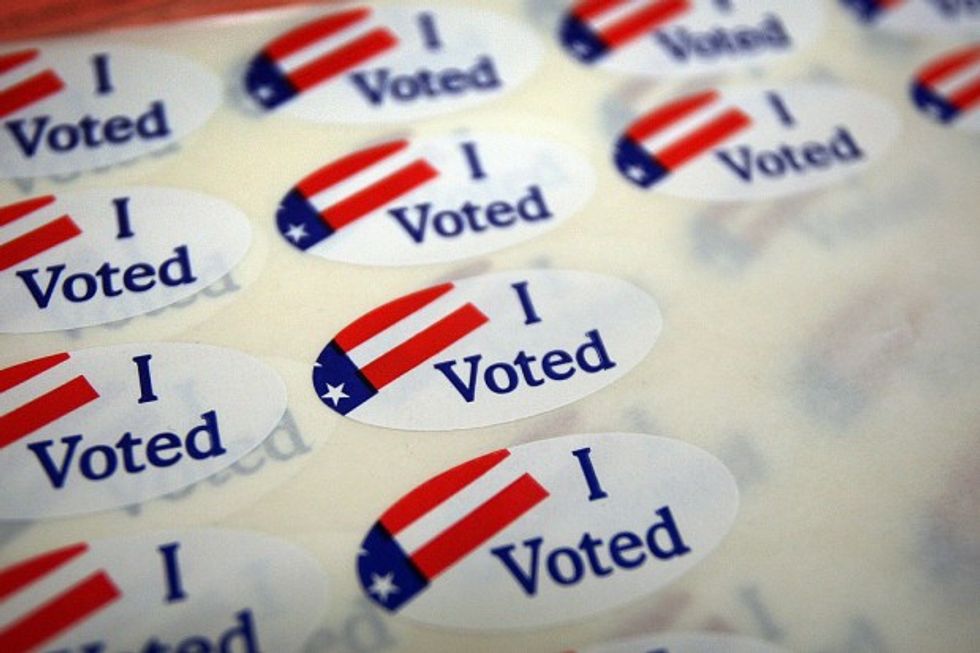 (Photo by David McNew/Getty Images)
Many who find themselves in this third group are left confused about what to do. Should they just give in to peer pressure and vote for someone whose ideologies they don't support, should they write in someone's name, vote third party or perhaps just stay home altogether?
Who are these people? Are they traitors to the cause of rebuilding the United States? Are they just un-American and want to see this country fail? What is their problem?
Or is there something else far more important going on which is convincing them they shouldn't vote how everyone else is telling them they should vote?
Recently, on my Stand For Truth Radio show, I interviewed Bill Cloud, author of "Esau Rising: Ancient Adversaries and the War for America's Soul" and founder of Shoreshim Ministries, an organization which reintroduces Christians to the Jewish Y'shua through the Hebraic roots of their faith.
I wanted to know his thoughts on this election cycle, if he thinks God really cares about how we vote and whether people should vote either Republican or Democrat to save our nation. What I discovered is that Cloud falls within the third category of individuals. Although, unlike some, Cloud is not confused about who he is voting for in the 2016 presidential election and why he intends to vote a certain way.
Cloud says our early framers and founders invited God to enter into a covenant with America. Therefore, he believes, as a result of this covenant, "beyond a doubt, that God has raised this nation up" to serve "His purpose."
Cloud believes that is why the founders "promoted the concept of choosing and electing virtuous, righteous men who had integrity" and those "whose virtues were impeccable. They weren't perfect men but believed in perfect principles contained in the Scriptures."
Cloud says because of this commitment with God, it is important when voting for representatives in all levels of government, to realize how we vote "plays a role in furthering God's purpose for this nation," which isn't based upon our personal agenda.
That's why Cloud feels being told we have "to choose between the lesser of two evils" requires us, nonetheless, to choose evil. Because he says, what you end up doing is "choosing which side of the tree of good and evil" you want to eat from. Whether it is the left side or the right side, it is still evil.
Cloud believes his "duty to the Kingdom of Heaven supersedes his civic duty to any nation" and that if we aren't faithful to the duties of the Kingdom of Heaven, then "there won't be a country" for us "to be faithful to." Cloud says that "every choice and every decision we make in life matters and we will all have to give an account to God because of the choices we have made," including how we vote.
But what does Cloud think of the strong argument many make as to why you must vote for either a Republican or Democrat nominee? They claim, if you don't vote for their nominee but instead write-in a name or vote third party, then a much worse person will become president, ensuring America's downfall.
Cloud says he understands the argument from a human or carnal level but the argument doesn't hold water on a spiritual level.
"When it comes to spiritual principles…where in Scripture are we given the latitude to endorse what God says is wicked if we think it will help to defeat evil?... You don't heal the land by trying to save yourself and do it the way you think it should be done." You heal the land by humbling yourself before God and seeking His face, turning from your wicked ways, that's how the land is healed," Cloud said.
Bill had much more to say on the election. You can hear Bill Cloud's complete interview on Stand For Truth Radio by clicking on the link below:
–
TheBlaze contributor channel supports an open discourse on a range of views. The opinions expressed in this channel are solely those of each individual author.