So it is done: Hillary Clinton and Tim Kaine will be on the Democratic Party ticket for the 2016 elections. At the same time, representatives and senators from their party will try to take over Congress to pass their fact-free agenda. Yes, you read that well; here are five reasons why the Democrats are acting based on emotions rather than reason.
1. Economics
First and foremost, the Democrats are completely ignorant on economics. It shows immediately in the first objective of their platform: Increase (and index) the minimum wage to $15 a hour.
This objective is an obvious violation of the law of supply and demand. By artificially increasing wages, there will be an unavoidable surplus of unemployed workers whose productivity doesn't match the new wage. It's not theory; it's seen everywhere minimum wage has increased in the past. From California to Seattle, from New York City to Washington, D.C., everywhere we see that the person that were supposed to be helped by a minimum wage increase are the first ones to lose their jobs.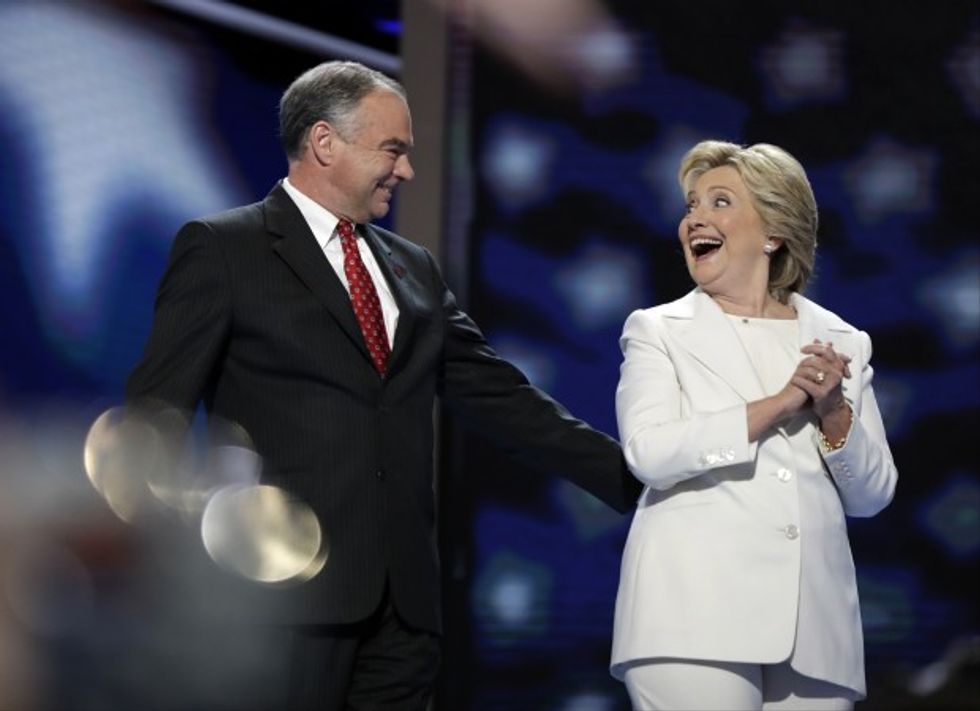 Democratic presidential nominee Hillary Clinton, right, is joined by Democratic vice presidential candidate, Sen. Tim Kaine, D-Va., after her speech during the final day of the Democratic National Convention in Philadelphia, Thursday, July 28, 2016. (AP Photo/Matt Rourke)
Democrats also violate economics by wanting to not only maintain, but expand Social Security. They are wrong to rile against Donald Trump; he is right to call that program a Ponzi scheme whose liabilities are now as large as the economy (and growing at an alarming rate). Trying to just maintain Social Security, which will run out of funds in less than 15 years, will require massive tax hikes that will paralyze the economy or crowd out spending from essential government missions like justice and defense.
2. Climatology
Like most progressives, Democrats are oblivious to basic climate science facts. No, global warming/climate change/climate disruption/extreme weather is not more of a menace than it has been since the dawn of civilization.
Wanting to "price carbon" is therefore not only a futile endeavor – it is not pollution – but a dangerous one since the Earth is now is a CO2 "starvation" state. Its increase has notably greened the Earth including is arid place like around the Sahara Desert.
If they really want to help America by "fighting" climate change, they should be preparing for a global cooling. The sun has gone without sunspots for several days already in 2016, making some scientist fear that global temperatures will fall quickly.
3. Environmental Science
But let's take a big leap of faith and assume that there is a pending climate apocalypse coming. The Democrats' solution would actually make matters worse.
Indeed, they want half a billion solar panels installed and enough clean energy to power everyone during a first mandate. I wonder how these panels will work during winter in Alaska, and how many birds they want to fry for this type of "clean" energy. In addition, they would basically have to clear-cut forests in order to install all these solar panels and wind turbines.
They should instead look towards hydraulic fracturing (fracking) instead of fearing it like the plague. The Environmental Protection Agency they so cherish has not found a clear link between water pollution and fracking. Considering natural gas' contribution to a decrease in CO2 emissions, Democrats should be cheering for that technology.
4. Philosophy
But alas Democrats don't care about facts, be they scientific or historical. Indeed, their platform goes against what created America, i.e. the philosophy of the Enlightenment.
Among others, they want to violate freedom of association by permitting unions to set foot in a business with the mere signing of membership cards. Alongside "fighting" right-to-work legislations, this means that unions would basically have a free pass to implement themselves. If the Canadian province of Quebec is any indication, having stronger unions would be a disaster for the economy.
Democrats also want to restore slavery, i.e. the belief that one is entitled to someone else's production. This is the only conclusion one can come to when reading about making "the rich" pay their "fair" share in taxes, taxing estates and other similar measures that will only encourage a strong exile of Americans that keeps increasing.
5. The Constitution
This general desire for tyranny is even more obvious when the party talks about appointing judges.
Democrats want judges that will "protect" a woman's right to safe and legal abortion. Let that sink in for a moment: Democrats believe that women are entitled to an abortion by calling it a right. Even if one admits abortions can be performed in very, very extraordinary circumstances, it is not a right since the physician doing it is providing a service and will therefore be paid.
Democrats also want judges to curb billionaires' supposed influence over elections and restore democracy's virginity by overturning Citizens United. I wonder if the Democratic Party will therefore return all the money it received from all these donating associations, including nearly $36.5 million from a Super PAC strongly opposing Republicans.
It probably never occurred to them that billionaires (from both sides) give so much because they know they could get much more back. If government were back to its original size – State, Justice, Treasury and Defense – Tom Steyer would lobby to stop the Keystone Pipeline for his personal profit and Warren Buffet wouldn't be looking into building windmills that make no economic sense without tax breaks.
So if you want more of the disastrous policies of President Barack Obama for at least four more years, Hillary Clinton is your choice. If not, then get off your computer chair or smartphone and make sure these fact-free, America-hating people never come near a position of power ever again.
–
TheBlaze contributor channel supports an open discourse on a range of views. The opinions expressed in this channel are solely those of each individual author.