China reported its most recent GDP figures at 6.9 percent growth versus the officially targeted 7 percent everybody was expecting.
Now the media's chattering endlessly about China's GDP "miss" as if it's a real number.
Beating up on China has become a national sport for Western commentators. Critics charge that the country isn't democratic, or point out China's in debt up to its eyeballs. Their economy is slowing, they lie about their statistics, and their "growth" is being propped up to meet political objectives, goes the chorus.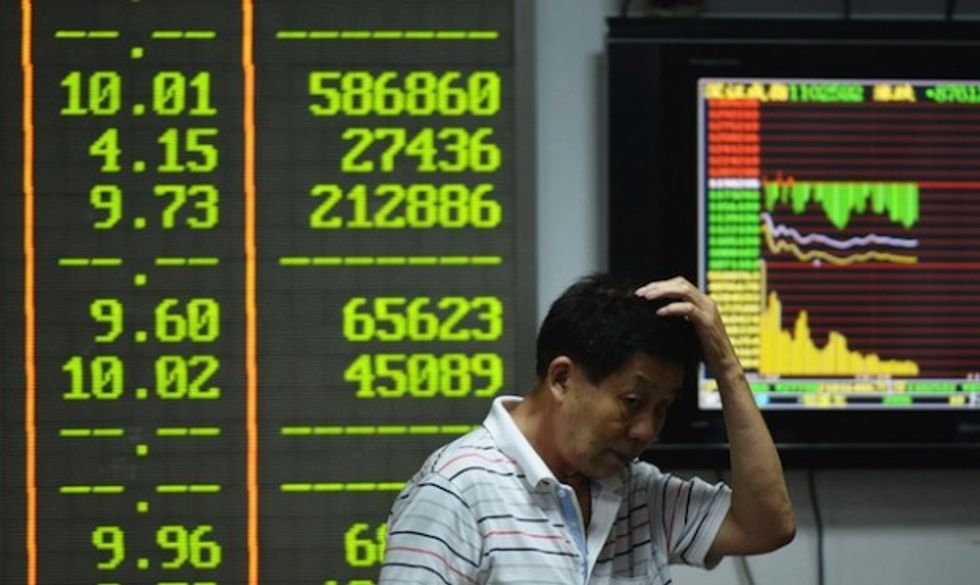 An investor gestures in front of screens showing share prices at a securities firm in Hangzhou, in eastern China's Zhejiang province on August 24, 2015. Shanghai shares nosedived 8.49 percent on August 24 as Beijing's latest market intervention failed to restore confidence, with concern mounting about the stalling economy. (Photo: STR/AFP/Getty Images)
All of these things make them exactly like us.
Washington openly manipulates every data stream dished out to the American public as gospel. There are seasonable adjustments, cost-of-living improvements, and constantly changing calculations.
The U.S. government has changed the way it calculates the Consumer Price Index (CPI) more than 20 times in the past 30 years. Labor stats are calculated six different ways by the Bureau of Labor Statistics. Gross domestic product is deflated or inflated at will depending on "methodological changes" over time. It's revised incessantly.
Every nation on earth engages in some form of monetary manipulation. When all else fails, the powers that be will manipulate the data, and that's as true here as it is in China.
My favorite "argument" is the notion that China cannot succeed because it's not a democracy. That's a very popular line of thinking that is grounded in ignorance, not to mention populism.
The Chinese believe government is legitimate when it represents their higher interests. That stems from thousands of years of Confucian thinking and the concept of higher collective interests. Westerners, on the other hand, believe government is legitimate when citizens vote it into power and it reflects their individual interests.
Most Westerners are surprised to learn that China's actually had a democracy since 1911, when revolution ushered in a constitutional monarchy following a decade of institution-building under the last Manchu court. Like us, Chinese citizens vote for their leaders via a hierarchal system that runs all the way from the local villages to the president and National People's Congress.
That said, China will almost never adopt our version of democracy. It doesn't need to.
To be blunt, nowhere except in our own history books is it written that a society has to be democratic to be capitalist. China has proven that it can be communist and capitalist at the same time.
Centralized leadership has been a part of China since 220 BCE when it was first unified by Qin Shi Huang, a point made repeatedly by Singapore's legendary statesman, the late Lee Kuan Yew. Their Confucian heritage implies a high level of institutional trust, hierarchy, and collectivism. Based loosely on Judeo-Christian ethics and grounded in the intellectual expansion of the Enlightenment, ours implies a wisdom of the masses and the pursuit of individual liberty even at the expense of the collective.
Given the state of our nation today, I could argue that our "democracy" no longer exists. Instead, it's deteriorated to become an oligarchy. Well-connected individuals now steer policy against the will of the majority or in their own interests.
Most Americans simply cannot grasp that China has emerged onto the world's stage. The challenge is not only economic, but ideological in nature.
And it's eye-opening:
China's economy is 25 times bigger now than it was in 1990.

China's output was $10.3 trillion dollars last year… up from only $1.9 trillion a decade ago. (America is the only other country to ever hit $10 trillion and reached this landmark in 2000, according to The Economist).

China created 13.2 million urban jobs last year, up from 12 million in 2007, when it managed a staggering 14.2 percent growth in GDP.
Ergo, China ISN'T a failing economy.
Rather, it's becoming much more balanced, and that's what's throwing the statistics everybody's screaming about out of kilter.
For instance, Western analysts once used Chinese electric production and industrial output as key gauges of Chinese economic activity. That made sense because growing nations in the early stages of capitalism need one to produce the other.
However, industrial output and heavy industry drop as services expand and consumption increases. Manipulation or not, consumption is rising and accounted for 51.2 percent of China's growth in 2014, a rise of 3 percent from 2013. It's logical that heavy production becomes a smaller segment of a growing pie. A slowing China is not a cause for alarm but a sign that the nation continues to develop.
People ask me all the time how this is possible. The answer is deceptively simple.
China now has the world's largest middle class, and it's more than 600 million people strong. There will be more than 1 billion by 2020.
It's a numbers game.
China's middle class will have consumed approximately $41 trillion of goods and services, with annual expenditures rising from only $2 trillion in 2010 to more than $6 trillion just four years from now, according to The Boston Consulting Group. The U.S. GDP was estimated to be $17.94 trillion in mid-2015, to put this in perspective.
The Red Dragon has had the world's largest GDP for 18 out of the past 20 centuries. They will again as Chinese consumers set their sights on the things we take for granted in the West, including homes, cars, appliances, electronics, travel, and education for their children.
The only decision you have to make is whether your money will be "at the table or on the menu."
Premium U.S. brands in particular (think Nike and Apple) continue to do exceptionally well in China, and if you want to get a handle on what's happening there, that's the metric you want to watch. Forget about the outdated industrial data everybody else thinks is important.
There are dozens of U.S. and European companies selling high-margin items into China because a) the markets have too much potential to ignore, and b) Chinese consumers have plenty of cash available.
This wouldn't be happening if China's economy was going to pot.
Only 10% of Americans See It
Investors who learn about this proven pattern are guaranteed to be able to only buy stocks that are going up. What they see is nothing short of astounding. This formula is based on 15 years of back-tested data and displays an "X" pattern telling you exactly when to buy stocks.
–
TheBlaze contributor channel supports an open discourse on a range of views. The opinions expressed in this channel are solely those of each individual author.