I promised myself I wasn't going to write about Donald Trump this week.
After all, there were other topics that still had a lot of play – the Democrat gun control pout-in, the Istanbul terror attack, and of course the Brexit and its fantastic aftermath.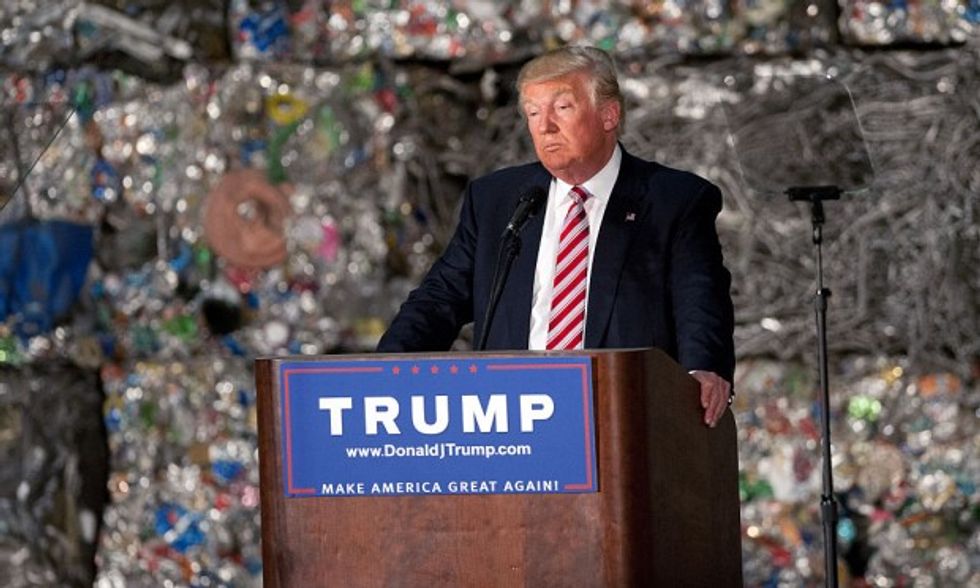 Presumptive Republican candidate for president Donald Trump speaks to guests during a policy speech during a campaign stop at Alumisource on June 28, 2016 in Monessen, Pennsylvania. (Jeff Swensen/Getty Images)
Plus, the last thing I wanted to think about going into my holiday weekend was the malicious idiocy of the orange-haired fascist currently taking a squat over both reasonable conservatism and basic human decency.
But then the man with all the best words gave an economic policy speech.
I call it an economic policy speech because that's what news outlets called it, but having read through the complete transcript several times, I think it would have been more appropriately called a 2500-word sausage gumbo of populist truisms.
Conspicuously missing from his speech – and even his shiny new seven-point economic plan – was any coherent economic rationale for his perceived problems and proposed solutions.
I'm not sure how one gives a major economic policy speech without at least a few minutes devoted to connecting things in some meaningful way, but apparently it's possible.
In fairness, I suppose it's possible that he included the word "Allah" somewhere and then sent it to the FBI for editing.
But the truly frightening part isn't what was missing, but what remained.
There's really no gentle way to put this, so I'll just say it: Trumponomics – in its entirety – is backward, wrong, absurd, and dangerous.
And, in the Donald's case, hypocritical too.
Leaving aside the fact that just three years ago he supported the very same "globalization" he just spent half of his speech condemning, the real estate tycoon's incestuous relationship with the political class has done more to destroy the American middle class than the kind of globalized businesses that, ironically, Trump himself personally represents.
First let's absolve globalization of its bad rap.
Globalization, contrary to Trump's confusing and self-implicating assertions, has played a tremendous role in the explosion of the US economy, and the worldwide retreat of poverty since World War II. The opening of global markets exposed American industries to billions of consumers and allowed hundreds of our businesses to become household names in countries all over the world. Global trade brings trillions of dollars into the US economy – a movement that can't happen unless McDonald's sells burgers in China.
Speaking of China, Trump claims that they "added another trillion dollars to our trade deficits." But how exactly did China do this? Did someone in Beijing sit down with a ledger and slyly jot down a few more zeroes?
Or could it be that we maintain a trade deficit with China because we are a wealthy nation full of consumers who are hooked on cheap Chinese-made products?
Trade deficits aren't inherently bad – particularly when the items we are importing would cost us far more to produce at home than to import.
But don't bother telling that to Trump's barbarian horde of anti-trade protectionists, who accept without question the notion that other nations "stole" jobs from American industries by enticing businesses to ship factories overseas, where cheap labor and looser standards allow them to produce goods and services at a lower rate.
In reality, jobs and industries flow just like cash and capital; and in post-industrial America, they are flowing out quickly to make room for higher-paying tech and service industry jobs.
Translation: We have Google, Amazon, and Apple. It is no longer important to produce all of our own salad tongs and toilet seats.
In fact, were we to insist on bringing these low-paying jobs back to the States, we could count on drastically higher consumer prices – which would primarily hurt the working class.
Economic freedom hinges on the ability of businesses and individuals to do what is in their best interest, unhindered by short-sighted attempts at central planning by uninvested government bureaucrats.
For the century preceding Donald Trump, Republicans generally understood this.
But laissez-faire isn't a concept familiar to the presumptive GOP nominee, who has spent most of his life trampling the middle class he claims to fight for.
It's hard to ever use the word "consistent" with regard to the Donald, but if there's one area where he's been totally reliable, it is in support of people and policies that have gutted the middle class and funnelled more money and influence to himself and his ultra-wealthy friends.
Don't believe me? Let's take a quick walk down memory lane.
Remember the $700 billion TARP bailout that launched the Tea Party? Trump vocally supported them at the time, enthusiastically endorsing the massive wealth transfer from middle class taxpayers to corporate executives who used the money for increased bonuses.
Speaking of handouts, Trump took government subsidies to expand his personal empire, at the expense of middle-class taxpayers. As the cherry on top, he also took money from a 9/11 relief fund when state officials turned a blind eye to his use of a "small business" status for which he didn't qualify according to federal guidelines. Or common sense.
Trump is also a frequent defender of the government's abhorrent Eminent Domain practices, and has pushed local governments to wield the policy as a bludgeon - condemning small businesses to his own personal benefit.
Remember, these are the same small businesses that he loves too much to let globalism destroy.
Perhaps worst of all, Trump is in the business of buying politicians, and openly brags about the favors they provide him. The political class he pretends to demonize is chock full of his friends and golfing buddies, and they spend their time writing regulations designed specifically to stifle competition for tycoons like Trump.
He has his own roster of bought-and-paid-for officials, including regulation-happy leftists like Rep. Nancy Pelosi and Sen. Harry Reid. These folks are the enemies of middle class America, and have been directly responsible for business-killing abominations like Obamacare, which Trump himself wants to expand into single-payer healthcare.
I could discuss the fact that Trump wants to raise taxes on some American business owners, while he and other magnates who can hire full time legal and accounting teams pay no taxes whatsoever.
I could discuss the fact that his scam campaign is currently asking middle class Americans for donations, while funneling a large portion of his campaign funds back into his own pockets by way of Trump enterprises.
But such accusations would be superfluous. Everyone supporting Trump at this point knows he will be a disaster for the middle class, that his attack on "globalism" is just a nationalist cattle call, and that he has no desire to change the established order of cronyism.
The bandwagoners currently buoying his doomed campaign are merely hoping he will aim the muzzle of government at someone else, and that they'll be along to reap the rewards.
–
TheBlaze contributor channel supports an open discourse on a range of views. The opinions expressed in this channel are solely those of each individual author.