The Republican presidential candidates have debated nine times since August. Nine long debates, in which moderators spent much of their time focusing on personalities and pitting candidates against each other, rather than asking substantive policy questions.
Regrettably, questions related to much-needed and long-overdue justice reforms were few and far between.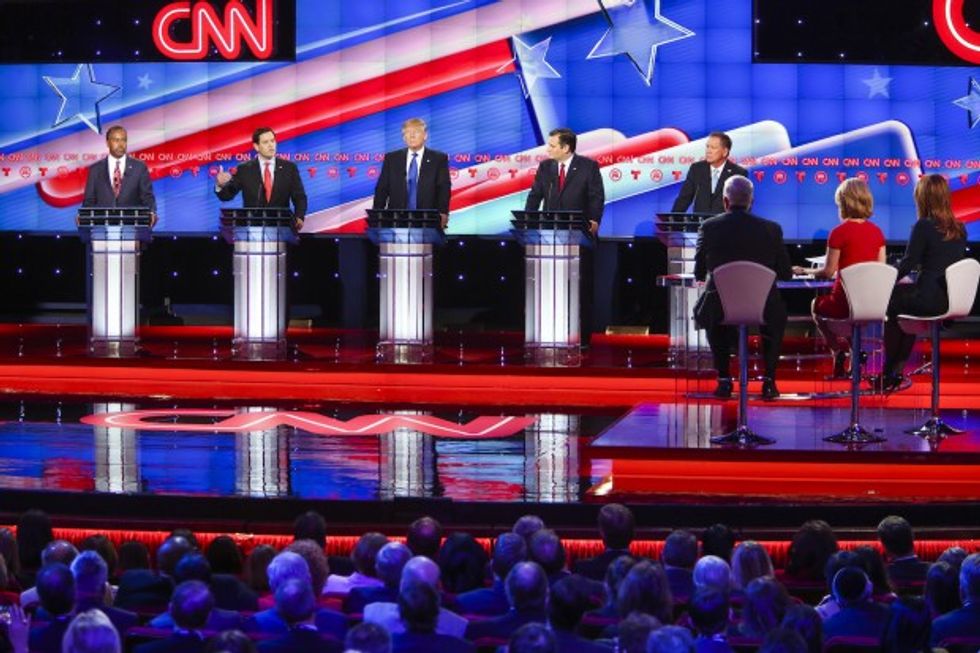 Republican presidential candidates (L-R) Ben Carson, Sen. Marco Rubio (R-FL), Donald Trump, Sen. Ted Cruz (R-TX) and Ohio Gov.John Kasich debate at the Moores School of Music at the University of Houston on February 25, 2016 in Houston, Texas. The debate is the last before the March 1 Super Tuesday primaries. (Photo by Michael Ciaglo-Pool/Getty Images)
FreedomWorks, a partner of the U.S. Justice Action Network, hoped that would change when CNN and Salem Radio Network jointly hosted Republican White House hopefuls at the University of Houston last week. With the field now winnowed to five candidates, there should have been time for more — and different — issues to be discussed. Justice reform deserved to be among them, especially in a debate hosted in Texas, a national leader on the issue.
Unfortunately, it was another opportunity missed.
Texas, a state that has blazed the trail on criminal justice reform over the past nine years, was the perfect setting for this much-needed conversation. The debate's moderators should have examined the Lone Star State's record on the issue, and asked the candidates whether they thought the federal government should emulate Texas with respect to criminal justice issues at the federal level.
While Texas is well known for its "tough on crime" image, especially its unapologetic support of the death penalty, in 2007, the Lone Star State under then-Gov. Rick Perry's watch also pursued justice reforms undergirded by the concepts of redemption and the enhancement of public safety.
Indeed, it might not have been a sign of the apocalypse exactly, of cats and dogs living together — but it's close — when the liberal Brennan Center for Justice of the New York University School of Law last spring published on its website an essay, "Follow the Texas Model," by Perry, a conservative, suggesting that other states would be well-served by doing just that.
In that essay, Perry recalled how in 2007, faced with skyrocketing state expenditures on prison and parole, "Texas fundamentally changed its course" on criminal justice.
"The amount Texas spent on prisons and parole had ballooned to nearly $3 billion a year ... and it was nowhere near enough," wrote Perry, who left office in January 2015 after more than 14 years in the governor's mansion. "Something needed to change."
The first big change was the way Texas handled first-time, nonviolent drug offenders, focusing on diverting "low-level offenders" with drug-addiction issues "from entering prison in the first place and programs to keep them from returning."
The second reform was to the state's approach to parole and probation, focusing resources on treatment and rehabilitation programs, thereby reducing recidivism and making it easier for those who have done their time to re-enter society.
Just last year, the Texas Legislature built on Perry's reforms, which the former governor said had saved the state $2 billion, while reducing the state's crime rate to its lowest point since 1968. At the same time, the population in Texas' juvenile institutions had plunged nearly 80 percent, from about 4,800 to about 1,025.
Still, no one would ever accuse the Lone Star State of being "soft on crime." To the contrary, the legislature and Perry's successor, Gov. Greg Abbott, who was endorsed by FreedomWorks, have been "smart on crime" and have continued to "follow the Texas model" on justice reform.
Among the many forward-thinking justice reforms enacted in 2015 by the Legislature and signed into law by Abbott:
HB 1546, which streamlines the process for state jail felons' eligibility for "diligent-participation" credits (time off a sentence for participating in education or work programs). It took effect September 1 and is expected to result in significantly more inmates who earn those credits actually receiving them.
SB 487, which allows for post-conviction forensic DNA analysis when there is a reasonable likelihood of obtaining relevant material. (It also took effect Sept. 1.)
HB 324, which requires police to obtain a search warrant before conducting a body-cavity search during a traffic stop.
HB 1083, which requires a mental health assessment before inmates can be placed into solitary confinement and stipulates that such placement can only occur if it's appropriate, based on the assessment's results.
HB 2286, which enables individuals convicted of prostitution to obtain an order of nondisclosure if they were victims of human trafficking.
HB 875, which requires prisons and jails to verify the veteran status of inmates and requires county jails to assist vets in filling out forms to obtain veterans benefits.
SB 1024, which allows inmates to complete the requisite hours to obtain high school diplomas. Previously, the prison education system could only issue GEDs.
Many of these reforms passed with broad bipartisan support in the Texas Legislature, and there's no reason to think similar reforms to federal criminal justice policies wouldn't likely find wide support in both parties in Congress if, as the next president, any of the Republican candidates were to propose them.
Adam Brandon is the president and CEO of FreedomWorks.
–
TheBlaze contributor channel supports an open discourse on a range of views. The opinions expressed in this channel are solely those of each individual author.