November 24 would have been the 90th birthday of William F. Buckley Jr. The presidential race makes me think of him often. He, more than any other person, established the conservative platform that is the Republican Party.
Some years ago I was speaking to a college group at Georgia State College. I had been in public life for a good while and was asked, "How have your views changed over those years?"
After some thought I said, "Not at all. I had a clear set of principles before I got into this business and they haven't changed." I should have added that Bill Buckley had a lot to do with that.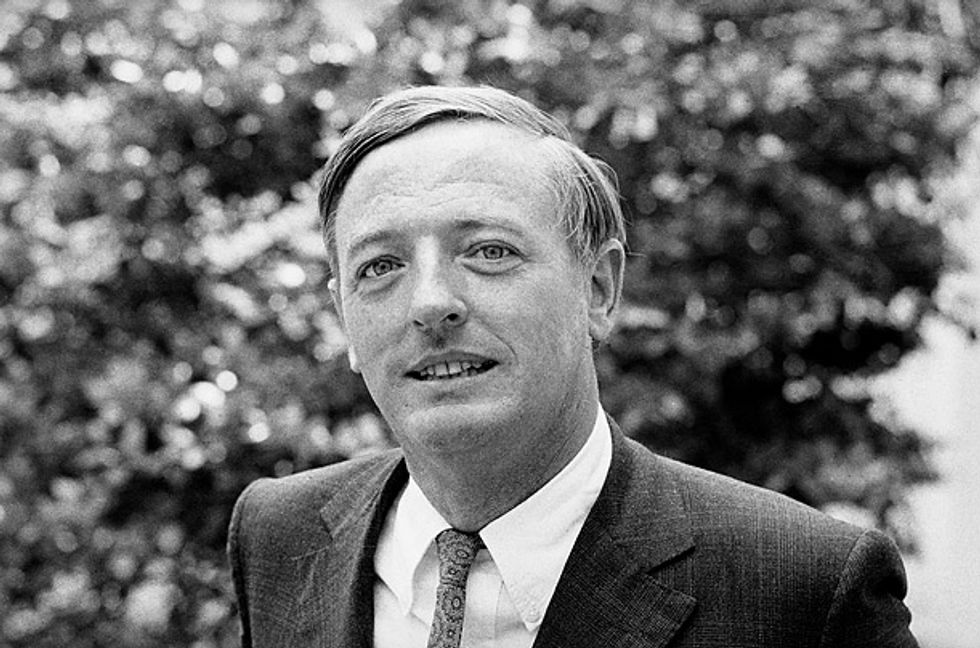 AP File
I stumbled across Buckley while a student at the University of Minnesota, Duluth in 1961. College students were hugely interested in the hearings of the House Committee on Un-American Activities. I fell lazily into the loud side that raged against authoritarianism.
After a discussion on the issue at Macalester College in St. Paul a member of Young Americans for Freedom quietly approached me. He had recently attended the organizing meeting of YAF at Buckley's home in Sharon, Connecticut.
He took an opposing view to the one I was supporting. He made his argument in reasonable and intellectual terms. His arguments made more sense than the arguments I was supporting.
He talked to me about the Sharon meeting and how much it meant to him. After that meeting I never fell lazily for any argument again and I began reading everything I could by Bill Buckley.
Bill Buckley's influence on many of us was one of affirmation. Those of us with conservative instincts always felt alone and apart. Buckley's defense of freedom and the individual, in the face of so much public support for more government, gave us the affirmation that we weren't alone in the world.
It was liberating to find an intellectual explication of issues that affirmed my faith in my viewpoint.
While I was in college I discovered National Review. Its intellectual rigor, great wit and good humor gave us sustenance in our examination of public issues. For the first time ever it became fun to be conservative.
That journal also gave intellectual heft to political figures who knew in their hearts that they were right, but lacked the intellectual underpinning to defend their beliefs in the public square.
For over 40 years I believed that Bill Buckley had the best job in America. He founded and supervised the content of National Review that became the North Star for conservative politicians.
He hosted the longest running television show devoted to public issues. He spoke and debated in front of college audiences and on television. And he enjoyed the ultimate luxury of public life. He could propose solutions without having to do the heavy lifting to make them happen.
Over the years Buckley wrote over 50 books. I particularly enjoyed the four books on crossing the oceans in a sailboat with friends. They were about navigating the oceans to be sure, but also about life.
In 1973 he wrote Four Reforms, A Program For The 70's. His proposals on Welfare, Taxes, Education and Crime seemed revolutionary at the time, but are mainstream now.
Four Reforms was my first exposure to the flat tax. That issue has been part of the general debate now for 30 years. Dick Armey introduced it in Congress and wrote a book about it. Steve Forbes ran for president on it.
In the end it doesn't really matter whether we agreed entirely with Buckley's ideas. What matters is that they became part of the debate and we had to deal with them.
In 1990, in a book he entitled Gratitude, Buckley asked us to give thanks for our good fortune of living in the most generous nation in history by volunteering for National Service. While the idea failed to take root in the political world, the book exposed his deep and abiding love for his country. His gratitude.
I got to meet Bill Buckley at the memorial service for President Reagan at the National Cathedral. His nephew, Brent Bozell, introduced us. I told Buckley that in my 30 plus years of serving in office he was the only person I ever looked to as a hero. He thanked me. I failed to thank Brent then. I do so now.
–
TheBlaze contributor channel supports an open discourse on a range of views. The opinions expressed in this channel are solely those of each individual author.