Poor Hillary.
I don't care for her politics or her person, but her "if-you-can't-find-'em-grind-'em" ambition to be president makes me wince for her. Could the woman have sacrificed any more of herself in the public eye or gained any less by doing so? She is a study in how not to become the first woman president of the United States of America.
Timing is everything, and Hillary Clinton missed "historical" by eight years. Yeah, yeah, she would be the first woman president, but we've already had the first black president, so the thunder clap for first woman won't be quite as loud as it could have been. And is it not the height of irony that millennials will be less impressed by her gender because they grew up with female secretaries of state? For women in their late teens and early 20s, a woman president smacks of "duh, already."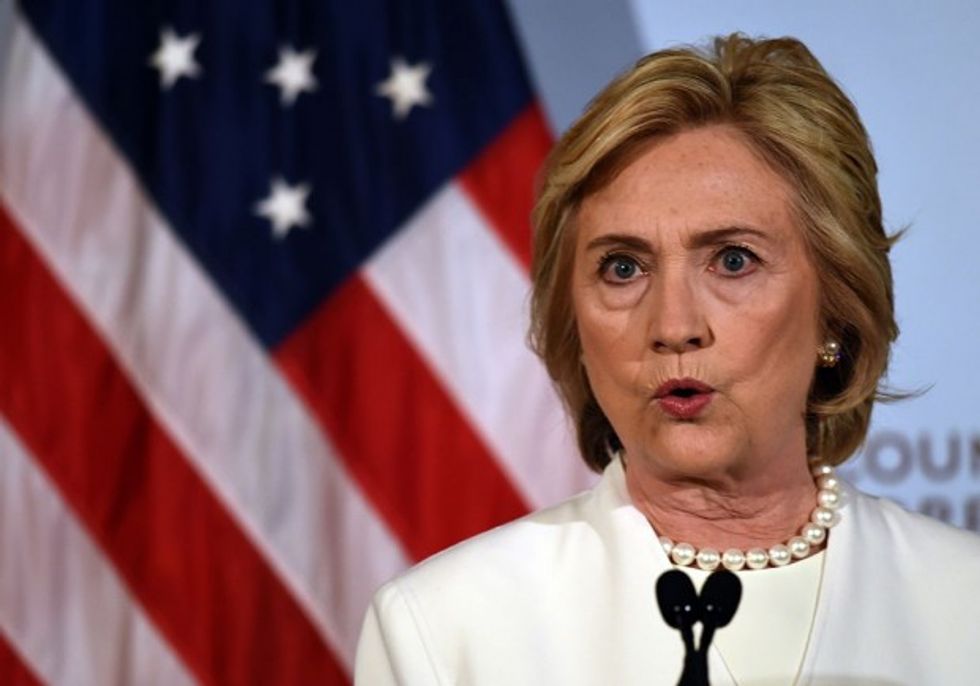 Hillary Clinton delivers a national security address at the Council on Foreign Relations in New York, Nov. 19, 2015. (Getty Images/DON EMMERT/AFP)
Young women who are old enough to vote for the first time in 2016 were only 11 when Hillary Clinton became secretary of state; they were only 3 when she became a New York state senator. Since young women's adult selves weren't around to witness her birth as a political figure in her own right, they likely have no idea that President Bill Clinton was her labor and delivery coach; his coattails her epidural.
Those of us who do remember her nepotism-drenched election to the New York state senate are influenced by its tarnish even if we rejected it at the time. It would be better, we quietly acknowledge to ourselves (if ourselves align with Mrs. Clinton's politics), if she had started at the bottom and clawed her way to the top à la Carly Fiorina. As it is, she comes with the taint of affirmative action and the niggling doubt that she might not have made it on her own.
Truly the most insurmountable obstacle is 21st century Hillary vs. 20th century Hillary vis-à-vis female sexual assault. Shakespeare himself could not have crafted a more deliciously diabolical plot, complete with an impeached former president—the candidate's husband no less—as her campaign's secret weapon; a weapon whose power derives in large part from his captivating charm with women. You can't make this stuff up.
Mrs. Clinton represents the epitome of a no-win situation. To capitalize on her femaleness requires her to emphasize her connection to women; to emphasize her connection to women opens a can of worms whose top billing is Paula Jones and Juanita Broaddrick. Even more exquisitely ironic, the very thing that could redeem her—an Oprah moment where she is "real" about her heartaches, weaknesses, and lessons learned—is by definition not in her wheel house of facsimile living. Hillary Clinton is a woman whose life is chock full of irony.
First lady Hillary stood by her man and disparaged women who accused him of sexual assault; would-be President Hillary announces, "I want to send a message to every survivor of sexual assault: Don't let anyone silence your voice. You have the right to be heard. You have the right to be believed, and we're with you."
I'm sure Juanita Broaddrick will be relieved to hear it. Sounds like she could use some support. On January 6, she tweeted:
I was 35 years old when Bill Clinton, Ark. Attorney General raped me and Hillary tried to silence me. I am now 73....it never goes away.— Juanita Broaddrick (@atensnut) January 6, 2016
In the way of the powerful who are never told "no" by their sycophants, Mrs. Clinton is doubling down on the gender card. Frequently at the end of her campaign speeches, she invokes a Madam President-elect America "where a father can tell his daughter, 'Yes, you can be anything you want to be, even president of the United States.'" Tragically for Hillary Clinton's lifelong political ambitions, the golden ticket of gender she thought she would ride straight into the White House is expired.
Hillary Clinton can't win (take that however you like). College-educated women in their 50s and 60s, who fought a cultural war to fill the pipeline with female candidates, are turned off by her "naked political ambition" and her "vilification and destruction of female victims of her husband's serial abuse …"
Millennials and other younger-than-middle-age female voters don't care about Paula Jones, Juanita Broaddrick, or Hillary Clinton's nepotism stepping stone path to the New York state senate, but only because they don't care about Hillary Clinton being a female candidate. What they care about is what everybody cares about irrespective of gender: immigration reform, healthcare, terrorism, etc. Younger women know that a woman will be elected president soon enough, and it doesn't have to be Hillary now.
Maryland voter Jean Primm Purcell boiled it down this way: "It's both insulting and a serious step away from true feminism to say that just because Clinton is a woman, we somehow owe her."
Irony of ironies of ironies: her gender is a turn-off to the ones who care about such things and irrelevant to the ones who couldn't care less. What's a girl—I mean a presidential candidate—to do?
Donna Carol Voss is an author, blogger, speaker, and mom. A Berkeley grad, a former atheist, pagan, and hot mess, she is now a Mormon on purpose and an original thinker on 21stcentury women. Her memoir, "One of Everything," traces the path through one of everything she took to get here.www.donnacarolvoss.com
–
TheBlaze contributor channel supports an open discourse on a range of views. The opinions expressed in this channel are solely those of each individual author.