The Clinton campaign and the Democratic Party have been engaged in a covert plot to infiltrate and undermine the Catholic Church. That is a crazy Republican conspiracy theory, and the craziest thing about it is that it also happens to be the truth. This demonstrates one of the major problems conservatives have always had in dealing with the Clinton Machine: They're so absurdly corrupt and villainous that simply reporting on their actual behavior makes you sound like a fringe nutcase in an aluminum foil hat.
But the truth is the truth, regardless of how outlandish it sounds. And we know about this truth because it was clearly outlined in leaked emails between top officials in the Clinton campaign. During the course of several conversations, they complained bitterly about conservative Catholics, calling them "severely backwards" and accusing them of being people attracted to "systematic thought," duped by a "bastardized" faith, and harboring terrible, sexist views about gender. Oddly, it was concluded that wealthy and influential Catholics are only Catholic because they want to seem "sophisticated." I'm not quite sure how someone can be both backwards and sophisticated at the same time, but I suppose hateful prejudices are rarely coherent or consistent.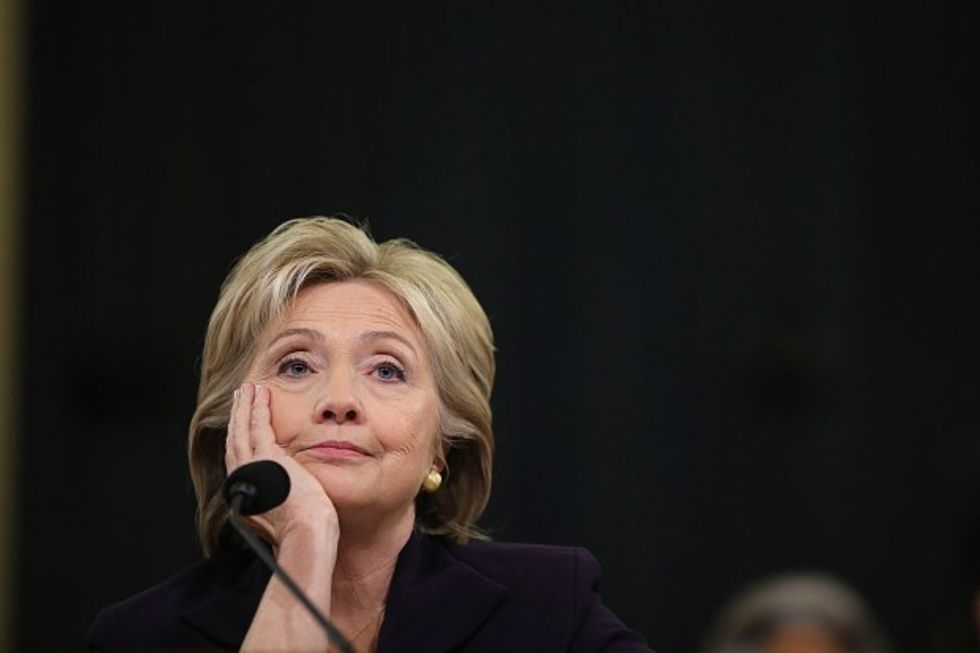 Democratic presidential nominee Hillary Clinton (Getty Images/Chip Somodevilla)
Of course, we're all familiar with and hardly surprised by these common complaints about the mean old Christians who refuse to give up on 2,000 years of teachings for the sake of conforming to the ideological trends of the moment. More noteworthy was the conversation in one of the email chains about the need to "plant the seeds of revolution" within the Catholic ranks. The campaign plotted to rid Catholicism of its doctrines and orthodoxy by fomenting a progressive rebellion. It was agreed that they need to spark a "Catholic spring" to "end the Middle Ages dictatorship." Clinton's campaign chairman, John Podesta, assured his co-conspirators that Trojan horse groups had already been created for this purpose:
We created Catholics in Alliance for the Common Good to organize for a moment like this. But I think it lacks the leadership to do so now. Likewise Catholics United. Like most Spring movements, I think this one will have to be bottom up.
We need not even point out how the media would react if these same emails were leaked from top Republicans -- as long as "Catholic" and "Catholic Church" were replaced with "Muslims" and "Islam" or even "Jews" and "Judaism." If it were revealed that the Trump campaign not only griped about the "backwards" American Muslims or the "bastardized" Jews, but actually had a hand in creating fake Muslim or Jewish groups as vehicles to sneak in anti-Muslim or anti-Jewish ideology, anchors on CNN would be having actual heart attacks on camera. Hillary Clinton would weep publicly over the "hatefulness" and "cynicism" and "discrimination" and so on and so forth. "We're stronger together," she would cry out in a robotic voice straining to sound at least somewhat emotional.
Yet, because the Democrats did it, and they did it to those bastard Catholics, they won't even be forced to say they're sorry. The Clinton camp came out and dismissed the whole issue as a "faux controversy," which is the same thing they said about Clinton breaking federal law and then deleting emails to cover it up, and the same thing they said about Clinton getting four Americans killed in Benghazi, and the same thing they've been saying for 30 years. I'm starting to suspect that these people don't know what the word "faux" means. In fairness, they did agree that an apology should be forthcoming in this case -- but they said the apology should come from Donald Trump for colluding with the Russians.
As for them colluding with each other to destroy a religion that 70 million Americans belong to, they see no reason to express remorse. And why should they? The media has dutifully shelved this story, along with every other negative Clinton story (it's a very crowded shelf at this point), and now we've moved back to dwelling on Donald Trump's dubious sexual exploits. Don't get me wrong: It is certainly relevant that the GOP nominee is an alleged serial abuser of women, but it's also relevant that the Democratic nominee is a crook, a liar, and a bigot engaged in a plot to overthrow our religious institutions and reshape them in her own image. A fair minded and honest person would find the time to be outraged by both. But in our country there is a severe shortage of those kinds of people, particularly in the media.
Unfortunately, I can't force the news to report this story, and I can't make anyone care about it even if they did. But I can at least point out that, despite the slogan she constantly repeats, Hillary Clinton does not intend to be a president "for all Americans." While we hear so much about Donald Trump's "bigotry" and "divisiveness," let's keep in mind that Hillary Clinton is the one who thinks that millions of Americans are "irredeemable" and millions more are "backwards" misogynists who subscribe to a "Middle Ages" faith. And it's not only Catholics that Clinton hates. Recall that just last year she announced at the Women in the World Summit that "deep seated religious beliefs have to be changed."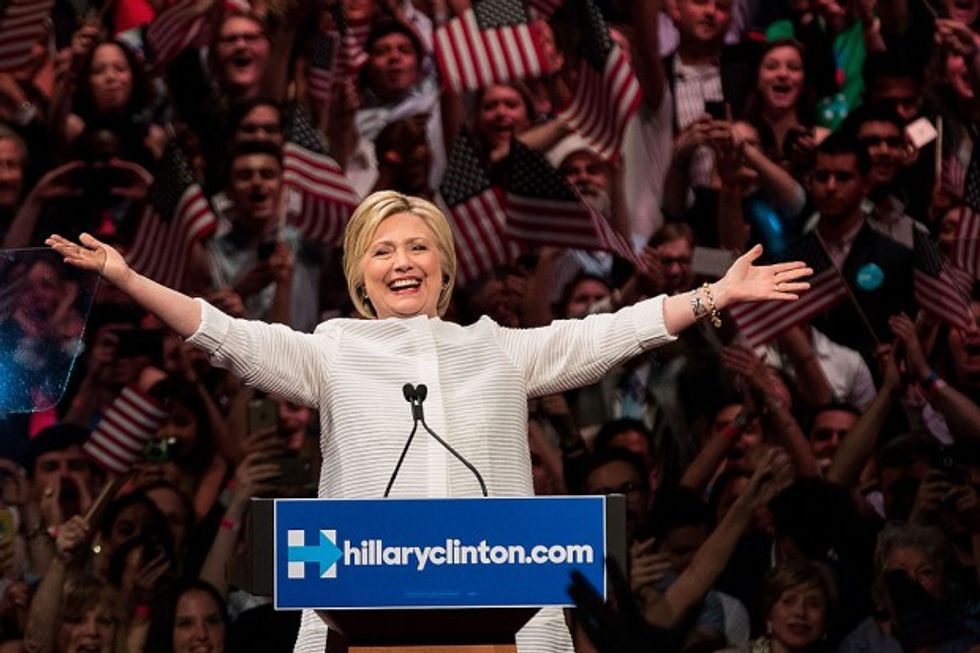 Hillary Clinton (Drew Angerer/Getty Images)
It was around that time that her people were emailing back and forth about infiltrating the church, so we know that she meant what she said. And what she said is quite terrifying when you break it down. Religious beliefs have to be changed. She does not think that those of us who harbor the beliefs should have a choice in the matter. And they must bechanged, which is noticeably different than saying that the members of these faiths should change them. No, they must be changed. As in, some more enlightened, progressive force must come in from the outside and make the necessary alterations. After all, the silly, ridiculous fools who buy into this religious crap can't well be expected or trusted to do it themselves.
Hillary Clinton is not for all Americans. She is for a very specific sort of American, and those who do not fit that mold should be forced to change or pay the price. She does not intend to be a president for Christians, or orthodox members of any other faith, or conservatives. Nor will she be a president for the unborn, we should note. In Hillary's view, the only real Americans are those who have met her standards of physical and intellectual development. Anyone who falls outside of those requirements does not deserve respect, nor do we really deserve our constitutional rights. As far as she's concerned, we're modern day neanderthals. She's not for us. And if — as will very likely be the case — she becomes president simply and solely because she had the great fortune of running against Donald Trump, we Christians ought to remember this fact.