© 2023 Blaze Media LLC. All rights reserved.
Clinton's positions are anathema to an America founded on the basis of protecting political and religious dissent, which requires free expression.
Democratic presidential candidate Hillary Clinton has suggested that a key litmus test in evaluating prospective Supreme Court appointees would be their willingness to challenge "the right of billionaires to buy elections."
Presumably, a suitable judge would indicate a desire to overturn the Citizens United decision that struck down a ban on political expenditures by corporations and unions ruled to violate the First Amendment protection of free speech – a case coincidentally centered on Citizen United's attempt to advertise for and air a film critical of none other than Clinton.
Hillary Rodham Clinton speaks to the reporters at United Nations headquarters, Tuesday, March 10, 2015. (AP Photo/Seth Wenig)
In light of recent allegations swirling around the presidential favorite, Clinton's support of such a position is highly ironic.
For while the former secretary of State may oppose the rights of the wealthy to spend money on politics, she seems to have no such concern with the wealthy spending money on the Clinton Foundation and her husband Bill – all while Hillary served in the Obama administration.
Would Clinton seek a Supreme Court justice who would protect the rights of the likes of Carlos Slim and James Murdoch to contribute to the favored cause of a politician and shower the politician's spouse with millions for speaking engagements?
If so, this apparent hypocrisy can be read in one of two ways:
Clinton believes that money does not have a corrupting influence so long as it is funneled through "indirect" channels
Clinton believes that the wealthy and powerful ought to bypass funding elections and simply pay politicians outright.
Appearances of impropriety aside, there are a few substantive questions around political speech that Clinton should be required to address.
Why does Clinton believe that the government has a compelling interest in stifling the political speech of any American, rich or poor?
How does Clinton square her supposed advocacy of human rights with her belief in inhibiting the right to free speech -- which facilitates the robust and vigorous debate essential to a liberal society?
More generally, given a system in which millions of dollars are spent on losing causes each election cycle on both the left and right, what have Americans to fear about spending so long as laws are enforced equally and impartially regarding "pay-to-play" schemes and other politically corrupt activity?
[sharequote align="center"]If we want money out of politics, the answer is not to stifle speech, but to shrink government.[/sharequote]
Spending is a symptom of our system, and an all-intrusive government its proximate cause.
This is well known to Clinton, who seeks to raise a record $2.5 billion for her own campaign.
She is aware that people spend money on politics because there is the perception that there is something to be bought.
This perception becomes a reality when government creeps into every aspect of our lives, creating an unfortunate two-way street: Individuals and businesses spend money in order to maintain competitive advantages. Politicians in effect extort individuals and businesses by threatening to take away said competitive advantages, or threatening to mitigate them.
If we want money out of politics, the answer is not to stifle speech, but to shrink government.
***
While Hillary Clinton's aversion to political speech is well-documented, less scrutinized is her support of limitations on speech of an entirely different kind: Religious speech.
During her time as secretary of State, Clinton championed the Organization of Islamic Conference-backed United Nations Human Rights Commission Resolution 16/18, which calls for "combating intolerance, negative stereotyping and stigmatization of, and discrimination, incitement to violence, and violence against persons based on religion or belief."
Retired Maj. Stephen Coughlin, the Pentagon's leading adviser on Islamic law as it relates to national security, makes a compelling case in his book "Catastrophic Failure" that the resolution is actually a Shariah-based Trojan Horse meant to stifle all criticism of Islam.
Coughlin writes that the Islamic Conference, through the resolution, seeks to criminalize incitement to violence by imposing a "legal standard designed to facilitate the "shut up before I hit you again" standard associated with the battered wife syndrome."
He convincingly argues that the Islamic Conference desires that...
the United Nations, the European Union, the United States and all other non-Muslim countries pass laws criminalizing Islamophobia. This is a direct extraterritorial demand that non-Muslim jurisdictions submit to Islamic law and implement shariah-based punishment over time. In other words, the OIC is set on making it an enforceable crime for non-Muslim people anywhere in the world—including the United States—to say anything about Islam that Islam does not permit.
For believers in the sanctity of the First Amendment, Clinton's support of this policy as secretary of State should be disqualifying.
This is made crystal clear when we consider that Clinton has shown her support for the resolution in practice.
In the wake of the Sept. 11, 2012 attack in Benghazi, then-Secretary of State Clinton and President Barack Obama felt compelled to film an address for the Muslim world. In the video, Clinton and Obama disavowed any link between the U.S. government and the "Innocence of Muslims" movie that critically depicted Muhammad, which the Obama administration infamously argued prompted the jihadist attack.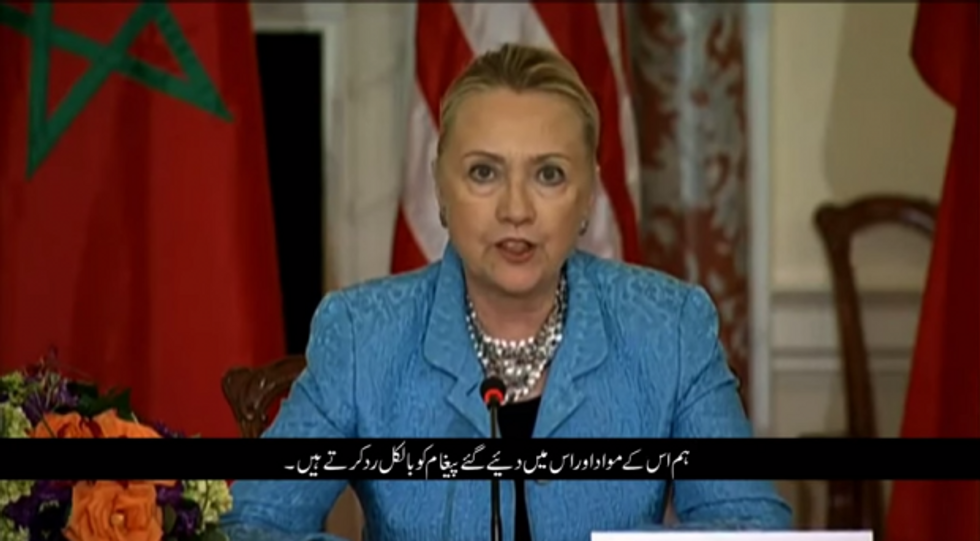 Hillary Clinton delivers a message to the Arab world disavowing any ties between the U.S. government and the "Innocence of Muslims" video following the Sept. 11, 2012 Benghazi attack. (Image Source: YouTube screengrab)
That address we may chalk up to political correctness.
But a related fact we cannot.
In spite of Judicial Watch's bombshell report indicating that the Obama administration knew about the Benghazi attack 10 days in advance – and knew that it had nothing to do with "Innocence of Muslims" -- as revealed in an October 2012 interview with Glenn Beck, Charles Woods, father of slain Navy SEAL Tyrone Woods, told Beck that Clinton had personally vowed to "make sure that the person who made that film ["Innocence of Muslims"] is arrested and prosecuted."
The "Innocence of Muslims" filmmaker and former bank fraudster Nakoula Basseley Nakoula was later arrested and charged with violating the terms of his probation, spending one year in prison.
Consequently, the U.S. government -- as promised by Clinton -- in effect enforced Shariah compliance concerning blasphemy consistent with the Islamic Conference-backed resolution, and did so knowing that the film had nothing to do with the Benghazi attack.
Of course, even if a jihadist declared explicitly that he killed Americans because of a film, or a Muhammad cartoon or a burned Koran, it is the jihadist and the jihadist alone responsible for such actions. This point is apparently lost on the U.N.'s policy advocates, who in their victomology fail to realize that they are exhibiting the soft bigotry of low expectations when it comes to Muslims.
Hillary Clinton has shown herself to be an ardent opponent of free speech, notably with respect to politics and religion.
Her positions are anathema to an America founded on the basis of protecting political and religious dissent, which requires free expression.
Absent such protections, an America under Clinton will look increasingly like the totalitarian Islamic world that she seeks to protect, rather than the Liberal Judeo-Christian America with which we have been so blessed.
Feature Image: AP Photo/Charles Dharapak 
–
TheBlaze contributor channel supports an open discourse on a range of views. The opinions expressed in this channel are solely those of each individual author.
Follow Ben Weingarten (@bhweingarten) and TheBlazeBooks on Twitter and Facebook.
Listen to Ben's Blaze Books podcast featuring interviews with leading conservative and libertarian thinkers on Soundcloud and Stitcher, and subscribe to it automatically via iTunes.
Want to leave a tip?
We answer to you. Help keep our content free of advertisers and big tech censorship by leaving a tip today.
more stories
Sign up for the Blaze newsletter
By signing up, you agree to our
Privacy Policy
and
Terms of Use
, and agree to receive content that may sometimes include advertisements. You may opt out at any time.