Every conservative in America likes Ted Cruz a lot...
But the Grinch named Marco apparently DOES NOT!
Christmas is here; it's time to be Merry.
But believing the Grinch is both foolish and scary!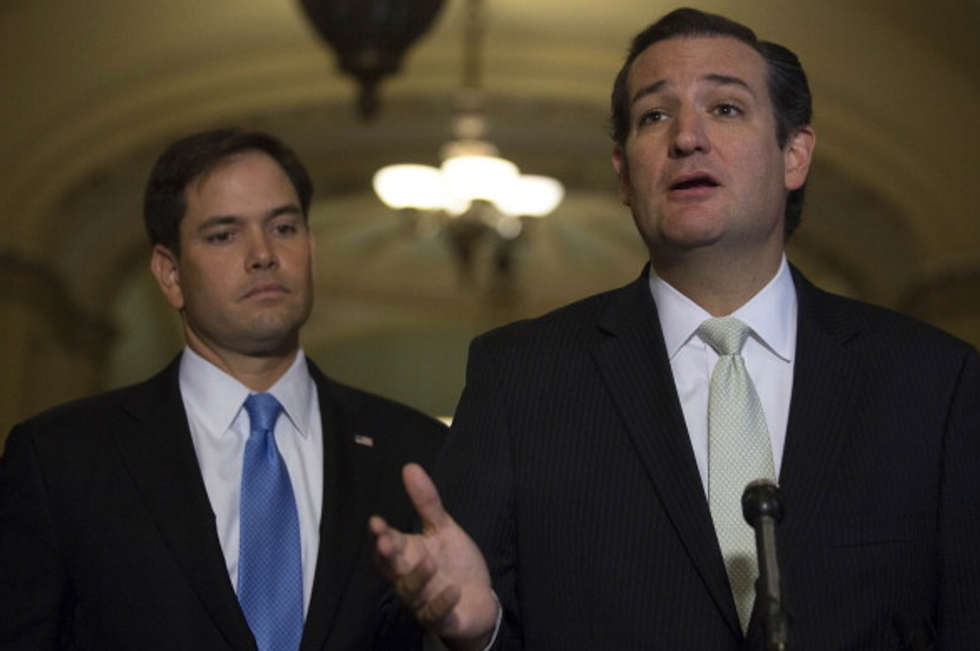 Senator Ted Cruz, a Republican from Texas, right, speaks during a news conference with Senator Marco Rubio, a Republican from Florida, following a vote in Washington, D.C., U.S., on Friday, Sept. 27, 2013.  Andrew Harrer/Bloomberg via Getty Images
Standing in Vegas, Marco sold out again.
He stood on the stage with a dubious grin.
He thought to himself as he piddled his notes,
"These voters are naive and some are just dopes!
"I fooled them once; I can fool them again!
"Lying about Ted Cruz might deliver a win."
Never forget the Grinch's inclination to lie.
Remember when he swore to be a Tea Party guy?
Sure, the Grinch claimed to oppose amnesty once.
But John McCain and Chuck Schumer must have called him a DUNCE.
So amnesty the Grinch supported -- in fact, still he does.
That's not Ted Cruz's record, but the Grinch wishes it was.
The betrayal on amnesty tarnished Marco's good reputation.
Now, he's lying about Ted Cruz in pure desperation.
Cruz -- for AMNESTY? The Grinch's charge is UNTRUE!
Cruz authored an amendment that was a satirical ruse.
Ted mocked the Grinch; he ridiculed the Gang of Eight.
Cruz almost snickered at his sharp amendment's doomed fate.
Even Rush Limbaugh and Jeff Sessions agree,
As if they weren't enough, so does Mike Lee.
Mark Levin too noted Marco's Alinsky-like game.
The Grinch's lies are simply more Republican shame.
Loyalty and trust are not qualities the Grinch can tout.
Unfortunately Marco behaves like an establishment lout.
Rubio, Schumer, McCain, and Graham?
The Gang of Eight peddled a scam, scam, scam!
Amnesty is not about some imaginary-legal-non-citizen status;
It's about the Washington Cartel plotting to laugh at us.
Voting, citizenship, entitlements, and more!
Amnesty is everything undocumented Democrats could ask for.
How does the Grinch deal with all this?
He lies, lies, lies with an unflinching twist.
"Limbaugh, Levin, Sessions, and Lee?"
"Don't listen to them. Listen to me!"
But when Marco last won, it wasn't a win.
If you supported the Grinch before, don't do it again.
He just skipped the vote on the Omnibus bill.
That's Marco Rubio on Capitol Hill.
But Ted Cruz's record is faithful and smart.
Cruz has done everything he promised right from the start.
Alas, the establishment continues to whine.
Nevertheless it was the Gang of Eight -- NOT the Gang of Nine!
Cruz keeps fighting and holding the Constitution dear,
So conservatives can celebrate Christmas with promise and cheer.
–
TheBlaze contributor channel supports an open discourse on a range of views. The opinions expressed in this channel are solely those of each individual author.