Where I am from in Texas, a word that has been tossed around a lot lately is "affluenza," mainly because a headline-making teenager, Ethan Couch, was just sentenced to almost two years in prison for the four deaths he caused in a 2013 car crash.
Initially, Couch's attorney argued that he was not to blame for his actions. Instead, he had been subjected to privilege and wealth for so long, that he had become "affluent," and instead, his wealthy parents were to blame. They had coddled him into a sense of irresponsibility.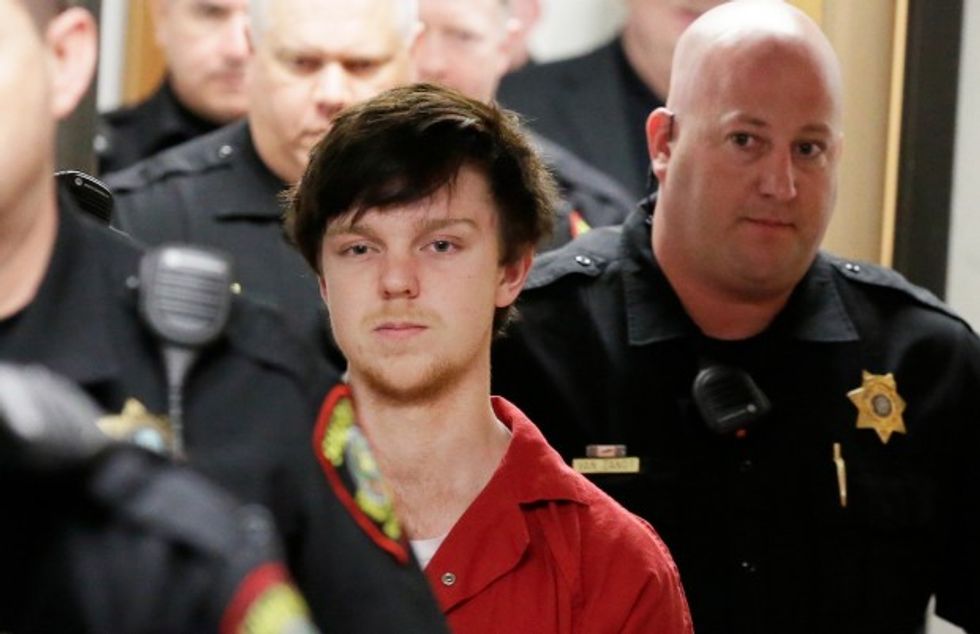 Ethan Couch is led by sheriff deputies after a juvenile court for a hearing Friday, Feb. 19, 2016, in Fort Worth, Texas. A Texas judge ruled Couch, who used an "affluenza" defense in a fatal drunken-driving wreck will be moved to adult court, meaning the teen could face jail time for the 2013 wreck that killed four people. (AP Photo/LM Otero)
While it has been confirmed that affluenza is not a recognized psychiatric condition, I think I can say that affluenza isn't to blame for Ethan's actions; poor parenting and a lack of basic life skills that he was never taught by his parents is what is to blame. And if you disagree, explain to me why his mother took him to Mexico to evade the law?
Ethan should be held accountable for his actions, but his problems started way before he refused to admit wrongdoing in court, before he decided to run away from the law and before he drank and drove underage. They probably started when he was a toddler. After hearing his parents' responses and seeing their actions in this case, I learned they are just as much a part of the problem as Ethan. They have reflected no boundaries and no discipline. He was likely never told no or confronted for his bad behavior.
What's sad is that Ethan is not the only one that is a victim of poor parenting. As I read article after article, all I could think was that in 10-15 years, these children will be adults. What kind of life will they lead when they find out that boundaries and responsibility are a part of it? How will they make it through college to earn a degree? Will professors not expect homework and papers due on time? What happens when their boss doesn't like their ideas or they have deadlines to meet? The world is not a place, where we are always accommodated or "reasoned with."
Children are not born with instruction manuals. While all children are different, depriving them of developing basic character skills - such as taking responsibility for their actions and having authority figures in their lives - is setting them up for failure. There is a huge need for parents to be parents. By not directing and holding kids accountable, we are dooming the next generation of adults. Not teaching and disciplining them is failing them. As a mother of four, I know that parenting and discipline can be difficult to execute, however, more importantly, I know that if I don't begin to teach my kids character skills now, they will become more difficult to teach as they grow up.
Basic skills are easy to teach with consistency when children are young. Here are some to begin with:
Respect: Teaching children to address adults with respect starts with how you let them speak to and treat you as a parent. Correct them when they show you disrespect because it will teach them to ultimately respect other authorities.

Hearing the word "no": No is not a bad word. In fact, it is a huge part of life. Rather than reasoning with children, try saying "no." Your children will begin learning how to navigate inevitable situations in their future.

Boundaries: Rules are a normal part of life, and if a child never has to adhere to rules at a young age, normal everyday functions such as going to school, driving, and paying taxes will be brutal awakenings.

Accountability: Hold your children accountable for their actions. If they misbehave, punish consistently. This is hard when children are young, but as they learn what they can and cannot do, they will respond and act accordingly.

Thankfulness: Kids will learn this if they are shown how to be thankful. In America, we desire abundance and excess. Teaching kids to be thankful will stop the attitude of entitlement.
No parent is perfect, but we can parent on purpose. Teaching your children these basic character skills early on will benefit them for the rest of their lives. Not teaching them will bring them challenges they are unprepared to meet. It is not too late to spare our children and Ethan Couch legacy.
Autumn Miles is the founder and CEO of The Blush Network, a women's ministry dedicated to spiritually challenging the way women think. She is also the author of "Appointed." For more information, please visit AutumnMiles.com.
–
TheBlaze contributor channel supports an open discourse on a range of views. The opinions expressed in this channel are solely those of each individual author.