I had a bad feeling the morning after President Barack Obama's first inaugural in 2009. It was the first time he had appeared publicly in a non-formal setting, and what he set was an unsettling tone for his administration.
He had traveled on Air Force One for the first time, and his exact words escape me, but they were something to the effect of "pretty cool." I remember my stomach lurching as I thought, "Wait! I want my president to be presidential!"
The leader of the free world is not supposed to be just like you and me.
[sharequote align="center"]I want my president to be smarter, more capable, more self-controlled, and more mature than I am.[/sharequote]
I want my president to be smarter, more capable, more self-controlled, and more mature than I am. I want my president to be worthy of the office and dignified in presiding over it.
President Obama's "pretty cool" was anything but. It sounded more like a teenager who had just driven his first convertible. Be excited if you want, but at least pretend it's no big deal.
If he gets that excited over Air Force One, where is his head when Trayvon Martin is shot, Syria crosses the red line, or Fox News says something unflattering about him?
Can he please, please, please command respect? If only for the sake of the office he is honored to hold.
Years ago, my family and I visited the home of a man who was not a fan of President George W. Bush. On his refrigerator was a magnetized George Bush "doll" in cowboy hat, cowboy boots, and skivvies. All around the doll were magnetized outfits one could dress him in, each one more demeaning than the last.
I would never offend a gracious host, and he had every right to dislike President Bush. But it made my stomach lurch because it mocked not just the man but the office of the president itself.
I took my son, who was 9 at the time, over to the refrigerator, and very quietly told him, "No matter what we think of the person in power, we respect the office." I would have taught him the same lesson if it had been Jimmy Carter or Bill Clinton being mocked.
There are probably plenty of people who liked President Obama's "pretty cool," and the fact that he appears on David Letterman and The Daily Show, even laughing when Jon Stewart calls him "Dude."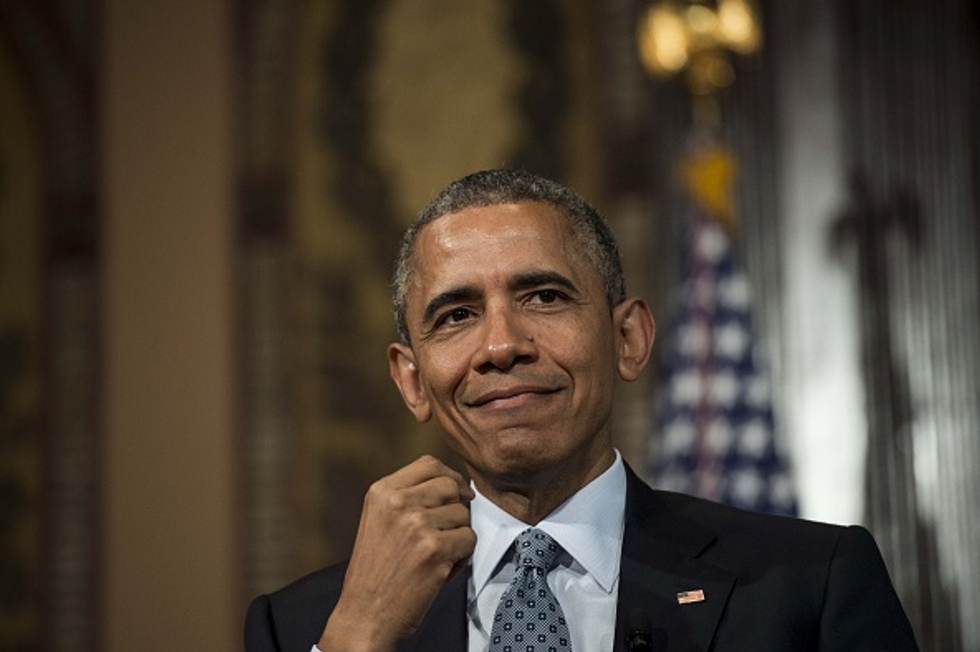 President Barack Obama addresses the Catholic-Evangelical Leadership Summit on Overcoming Poverty at Georgetown University in Washington, May 12, 2015. (NICHOLAS KAMM/AFP/Getty Images) 
These same people are probably the ones who tell children, "Call me John. My father is Mr. Doe." The same people as parents who want to be their children's friend, who value love more than respect in their role as parent.
There is an implicit message that hierarchy and authority are bad. I must be old school because obedience to authority is understood as non-negotiable in our home. Ask a teacher or police officer today what happens when children (and teens in bathing suits) don't respect authority.
President Obama, like the culture at large, wants to be egalitarian, reality show intimate, and "pretty cool." So he used the N-word. Totally in keeping with the tone and flavor of his persona. Totally unacceptable as the president of the United States.
Men don't wear suits and ties to baseball games anymore. (Most) women don't wear gloves to church. Instead women now brawl like animals in the aisles at Walmart. Language in the public square couldn't get much coarser, could it?
I get why he used the N-word. I even get why it's okay for Blacks to use but no one else. I get that we tend to be a little more intense, sometimes with more dramatic language, when we're passionate about making a point.
What I don't get is why my president used the N-word in public. The only thing that separates us from animals, besides opposable thumbs, is civility. If even the person holding the highest office in our land steps down from the honor of civility, look for more brawls at Walmart.
–
TheBlaze contributor channel supports an open discourse on a range of views. The opinions expressed in this channel are solely those of each individual author.