Jeb Bush has made his candidacy for president official, and he's instantly won the "electable" candidate endorsement from the GOP establishment.
The label itself means nothing considering the fact that "electable" candidates have done notoriously bad at the polls. Electability is a notion that needs to be thrown out the window. The term is a joke, electable candidates are not getting elected, and Republicans haven't had a success story from using this tactic in recent history.
[sharequote align="center"]Electability is a notion that needs to be thrown out the window.[/sharequote]
First, let me start with the label "electable."
We've heard it used time and time again from the GOP establishment. In reality, the "electable" label has come to mean the most watered down candidate - in other words, the boring one. Bush is a decent guy, and he's been an average governor.
But he's just that; average. He's not going to get anyone excited about his campaign, he won't bring anyone out to the polls, and he doesn't have a strong argument for why he wants to be president.
The GOP establishment needs to stop pushing these candidates as the "most reasonable choice," as that's clearly not working. Mitt Romney and John McCain were both the middle-of-the-road candidates, and we saw how well that worked out.
Romney's plan of separating himself from and taking down the Democratic president fell flat when he wasn't able to establish himself as a new and different alternative. He tried to appeal to too many by being well rounded, but he misjudged the numbers. Although he won many of his target states, he ultimately still lost the popular vote by 3.9 points.
McCain, on the other hand, didn't distance himself enough from the previous president, George W. Bush. As a Republican candidate during a "democratic year" his campaign was a long shot to begin with. He lost his identity during the election by trying to pander to the sectors he needed to win, caving to what the establishment wanted and damaging his legacy in the process. Instead of keeping his status as a Maverick senator, he tried to appeal to evangelicals and women by choosing Sarah Palin as his running mate, ultimately leading him to be the butt of many jokes. He transformed into the "electable" candidate to win votes, and he ended up losing the popular vote by a landslide to the Obama campaign.
Adding insult to injury, last week Jeb Bush hired a campaign manager that previously worked on both the McCain and Romney campaigns. This has solidified his ties to these boring presidential losers.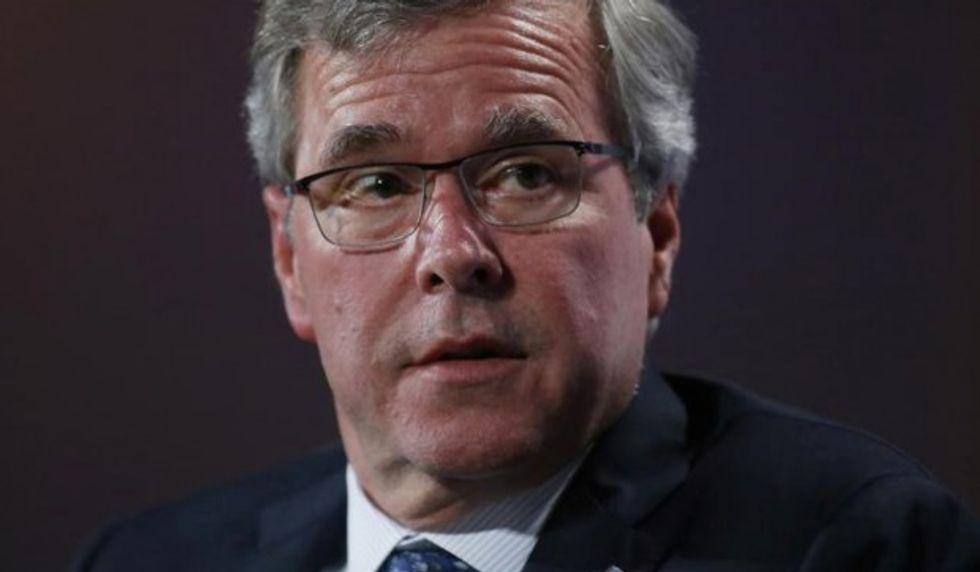 Former Florida Gov. Jeb Bush listens to a question as he speaks at the winter meeting of the free market Club for Growth winter economic conference at the Breakers Hotel, Thursday, Feb. 26, 2015, in Palm Beach, Fla. (AP Photo/Joe Skipper)
We need a candidate that is going to rock the boat, not one that is just going to be average and "reasonable." These whitebread candidates need to brand themselves and actually stand for something, or they'll never get voters excited about their plans. They're living down to the label, not up to the standards that they should be.
One candidate from the Republican Party that got voters excited was the "unelectable" Ronald Reagan. Reagan was, in my opinion, the last true Republican success story. Voters loved him, and the excitement he stirred up was something that wasn't seen again until Obama's pop-culture fueled campaign. While his approval rating during office was average, a Gallup poll showed that he was one of the most-loved Presidents looking back. No "electable" Republican candidate has been able to do that since, and Jeb Bush is not going to be the exception.
If the Republican Party wants any chance of having a GOP candidate in office, they need to steer clear of labeling them electable. Candidates branded with this political death sentence have shown time and time again just how boring they truly are. Until Bush shows voters that he's going to rock the boat and make a change, his "electable" status will never change to "elected."
Chris Markowski has carried the titles of author, investment banker, equity analyst, muckraker, all around trouble-maker, and most importantly consumer advocate. He is the personality behind Watchdog on Wall Street and founder of Markowski Investments.
–
TheBlaze contributor channel supports an open discourse on a range of views. The opinions expressed in this channel are solely those of each individual author.