Uber and Lyft, gone. That's what Austin, Texas - one of the most liberal cities in America - voted for earlier this month.
If you think Austin's local politics don't affect your life, think again. First, this debate is probably also taking place where you live. Second, the concepts surrounding it impact more than just these popular ride-sharing apps.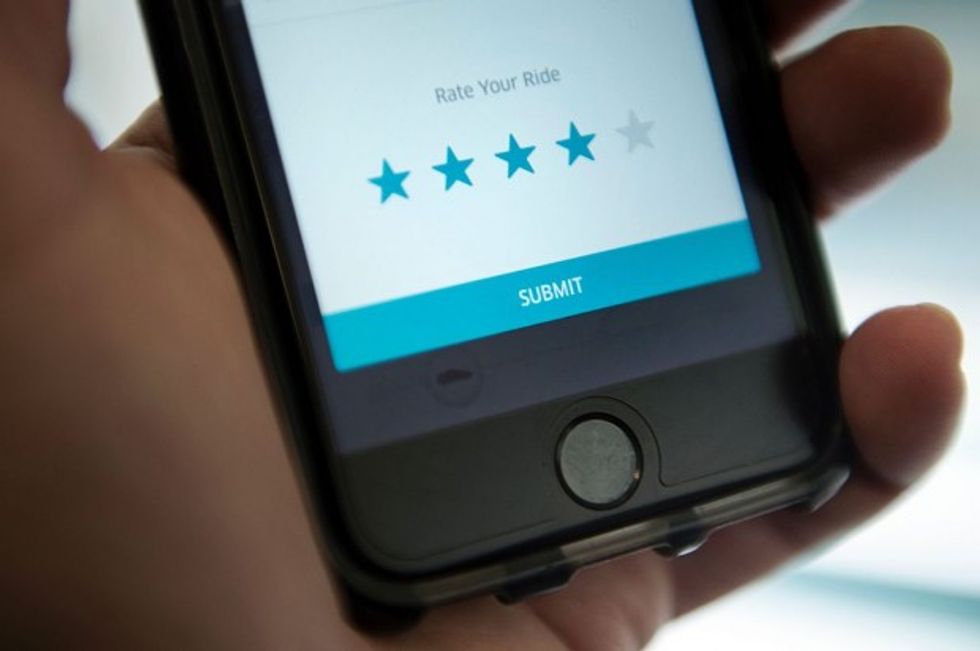 The driver rating screen in an Uber app is seen February 12, 2016 in Washington, DC. (BRENDAN SMIALOWSKI/AFP/Getty Images)
When it comes specifically to Uber and Lyft, it's a safe bet that many of you are regular users of one or both services. But the debate around them is also symbolic of the larger debate about the impact of government policy on our economy.
Simply put, one side thinks that government bureaucrats are better at making decisions for you than you are for yourself. We call this the "nanny state." The other side treats you like adults.
With its driver and passenger rating systems and the sheer force of market competition, "ride-sharing" is an incredible example of the free economy at work, basically unencumbered by government rules and regulations. The system itself is designed to hold both drivers and riders accountable to one another - a new and unique tool in an otherwise stagnant industry.
If people don't like a particular Uber driver, they can give the driver a low rating. If enough people feel this way, that driver will fail in the marketplace. If people do not like Uber generally or find it unsafe, they will not use it. Similarly, if enough people feel this way, Uber as a whole will fail. That's how the free-market works, without any intervention from the government in the process.
But apparently that consumer-driven system wasn't good enough for Austin. More specifically, it wasn't good for Austin's politically powerful taxicab unions who are stuck in an antiquated, over-regulated 20th-century mold.
So instead of improving or innovating, they used government to eliminate their competition, by placing new requirements on Uber and Lyft that would fundamentally transform them away from the model that has proven so great for consumers and drivers alike.
This is called "regulatory capture." It results in over-regulation of competitors in an industry, which crushes businesses and innovation, which leads to fewer choices for you and fewer jobs for people who need them. It is what happens when people place too much faith and control in government rather than in individuals, and it happens all the time. When government chooses to impact business, business will choose to impact government.
Austin residents pride themselves in the "Keep Austin Weird" catchphrase - homage to the idea that their progressive culture keeps their city unique from the mundane and normal "establishment." Unfortunately, in voting away Uber and Lyft as we know it, they've chosen to "keep Austin stagnant" rather than to "keep Austin weird." Nothing about it seems very "progressive."
For Austin, this vote regulating away ride-sharing means more drunk drivers, more traffic, more pollution, over 10,000 fewer jobs (many of whom were students, immigrants, part-time workers, and veterans benefitting from Uber and Lyft's unique employment model) - and ultimately a much harder time finding parking. It means a much less enjoyable experience for South by Southwest (SXSW) and UT football games.
More broadly, hopefully Austin residents and others around the country - especially young people - will remember the basic principles behind Uber and Lyft the next time they consider whether the government should impose new rules on the private sector – and what it would mean for innovation, startups, jobs, and the choices we have available to us.
Imagine if Apple had been caught by regulatory capture. Imagine what we might miss out on in the future.
One side places their trust in the government to solve problems. The other side places their trust in you. Choose wisely.
Akash Chougule is the Director of Policy at Americans for Prosperity, the nation's largest free-market grassroots advocacy organization with over 2.8 million activists across all 50 states. He specializes in labor, healthcare, and education policy.
–
TheBlaze contributor channel supports an open discourse on a range of views. The opinions expressed in this channel are solely those of each individual author.