Walking naked down Pennsylvania Avenue is not necessarily in fashion these days, but don't tell that to King Barack Obama, who's naked as a jaybird in his new world leader duds.
Not only did the new Saudi King Salman snub the president and his Middle East Summit, just completed at Camp David, but other Gulf State leaders snubbed him as well.
The leaders of Bahrain, Oman and the United Arab Emirates all informed His Majesty Obama that they have better things to do. Only the leaders of Kuwait and Qatar attended.
The White House is trying to save face by saying other very important people attended, but that's like saying Vice President Joe Biden attended the funeral, not His Majesty Obama. Message sent, and message received.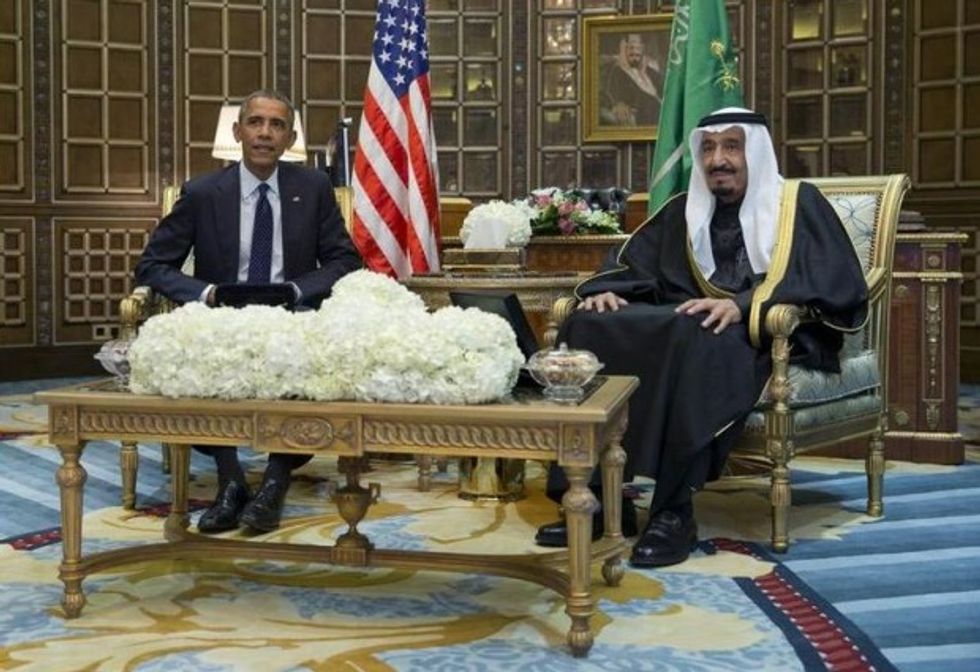 President Barack Obama and new Saudi Arabian King Salman bin Abdul Aziz, are photographed as they participate in a bilateral meeting in Riyadh, Saudi Arabia, Tuesday, Jan. 27, 2015. The president has come to expresses condolences on the death of the late Saudi Arabian King Abdullah bin Abdulaziz al-Saud. (AP Photo/Carolyn Kaster)
In the age old game of diplomacy thrones, the absence of the leader at another leader's summit can mean only one thing: The leader doesn't care. If the leader doesn't care, then you have a problem.
The summit ended with predictable results: no "permanent" mutual defense agreement, and no decernable assurances that the U.S. won't acquesce to Iran and their ambitions for nuclear proliferation.
This prompted Saudi Arabia to assert that they "will have what Iran has" with regard to nuclear weapons. And they will probably acquire the technology from Pakistan, all too eager to peddle their wares. This is the exact opposite of what King Obama pledged for his legacy, to reduce neclear proliferation, not be the catalyst for it.
Prince Turki bin Faisal, the 70-year-old former Saudi intelligence chief, was quoted by the New York Times recently saying, "We were America's best friend in the Arab world for 50 years." Note the past tense.
One of Obama's biggest problems is his chief charlatan advisor, who has sold him his invisible foreign policy clothes, namely (Iranian-born) Valerie Jarrett. His Royal Court (cabinet and czars) is strikingly absent of anyone with any Army or Marine Corps officer combat experience. In fact, only five of 55 advisors have ANY military experience, and the most prominent of those, Secretary of State John Kerry, is a former war protestor. Imagine Kerry's lack of gravitas amongst the leaders of the world!
Another of Obama's biggest problems is that every time Jarrett or Kerry open their mouths he questions nothing and then goes full steam ahead, damning torpedoes and real clothes. He has yet to realize his own nakedness.
We must all see him for who he truly is, as the Saudi King and other important leaders of the Gulf States have done, and like the little boy from the fable, call out: "The King is naked!"
Only if enough of us and our representatives in Congress call out to him might he get a clue about his embarrassingly profound state of undress in the realm of foreign affairs.
Blunder after blunder has rendered the current result: no one important came to his party.
The enormity and significance of the snubs cannot be overstated. When the former closest Arab ally to the U.S., Saudi Arabia, decides the President's attention is not worth his, others pay attention.
Like Russian President Vladimir Putin, or Syria's Bashar Assad, Obama's charm and wit are no match for ACTIONS. Few speak about the Crimea anymore, wrested forcefully from the Ukraine in full view of useless rhetoric from Obama. No one speaks about the "red line" in the sand over Syria's use of chemical weapons, even recently alleged to have been deployed against Islamist rebels.
Swept under the "yesterday's news" rug by big media, these and other screaming examples of complete incompetence, e.g. Egypt, Libya, Yemen, Iraq, Afghanistan, et. al., have yielded exactly what Obama is facing today. A lost Saudi Arabia.
Having surrendered the high ground (Iraq) in the Global War on Terror in 2011, Obama's retreat continued. His clothes became more and more transparent as he gave back territory and global prestige along the way.
Physically leaving a country doesn't just affect that nation, but all the others around it. Influence and prestige are hard to come by, and won only with a toll of blood and treasure not easily replenished.
Power projection platforms, like we have in Germany and Italy and Japan, even now, over 70 years after defeating those countries in WWII, allow us to assert our influence into nearby areas of trouble. Without them, others would surely fill in the gaps. Russia, China and Iran are all too eager to oblige as Obama has withdrawn and floundered in this real life game of Risk.
If you've ever played the addictive world domination board game you know full well that to give up territory is usually a sign of weakness that will come back to haunt you. Your literal power increases with every state taken. The fewer states you control, the fewer reinforcements you earn. Obama has not only given back territory, but he has reduced our military to pre-2001 levels. Game over.
The Saudi and other Gulf States snub of our President's summit, and the inefectual results have many consequences. Trust? Gone. Confidence? Eliminated. Friendship? Never really had it. Loyalty? You must be kidding.
Obama's lack of decisive action against Iran's nuclear ambitions is at the heart of the Saudi palm to the face. Anyone who is wishy-washy with Iran might as well kiss their alliance with Sunni Arabs good-bye, tout-suite.
And guess what? There is no turning back from this. There is no tomorrow. Once the die is cast it is time to move on. Obama's new world order has arrived, and we are all in it with him.
If you've ever been cornered by a threat to your life, you know the feeling of fight or flight, our singular survival instinct shared with other animals. Feel it now.
That sinking feeling you get just before something really bad happens, like when you hear the whistle of a mortar round that gets louder and louder as it descends on top of your head, is what we should all be feeling right now.
We don't even have time to think anymore, we must react. The canary is dead in the cage we're holding and we're a mile deep in the tunnel. It may be too late to run, and as we do we begin to get tunnel vision, feeling dizzy, blacking out.
No! Wake up!
Call your representatives in Congress and tell them you're mad as hell and you're not going to take it anymore! Tell them you're tired of being the victim. Tell them you're tired of the U.S. being the laughing stock of the world, the global town fool. Tell your representatives in Congress that you want them to take control and do what's necessary to end this time of constant blunder and deceit.
Our King is naked and we all need to rise up and tell him together.
Montgomery Granger is a three-times mobilized U.S. Army major (Ret.) and author of "Saving Grace at Guantanamo Bay: A Memoir of a Citizen Warrior." Amazon, Blog, Facebook, Linked-In, Twitter: @mjgranger1
–
TheBlaze contributor channel supports an open discourse on a range of views. The opinions expressed in this channel are solely those of each individual author.