© 2023 Blaze Media LLC. All rights reserved.
From his limousine Michael Moore sneers at this Cuban-American veteran and his Band-of-Brothers as "wimps and crybabies with yellow stripes down their backs."
The "military hero as coward" motif has a long tradition with Michael Moore. But his earlier oinkings in this regard--well before the release of "American Sniper"--were aimed at much safer targets.
"Wimps," writes Moore in "Downsize This." "These Cuban exiles, for all their chest-thumping and terrorism, are really just a bunch of wimps—that's right: Wimps."
In a manner that would instantly arouse and mobilize the politically–correct police (were it any minority group except overwhelmingly Republican Cuban-Americans) Moore was dissing Cuban-Americans in general but singling out the Bay of Pigs freedom-fighters for special spite and scorn.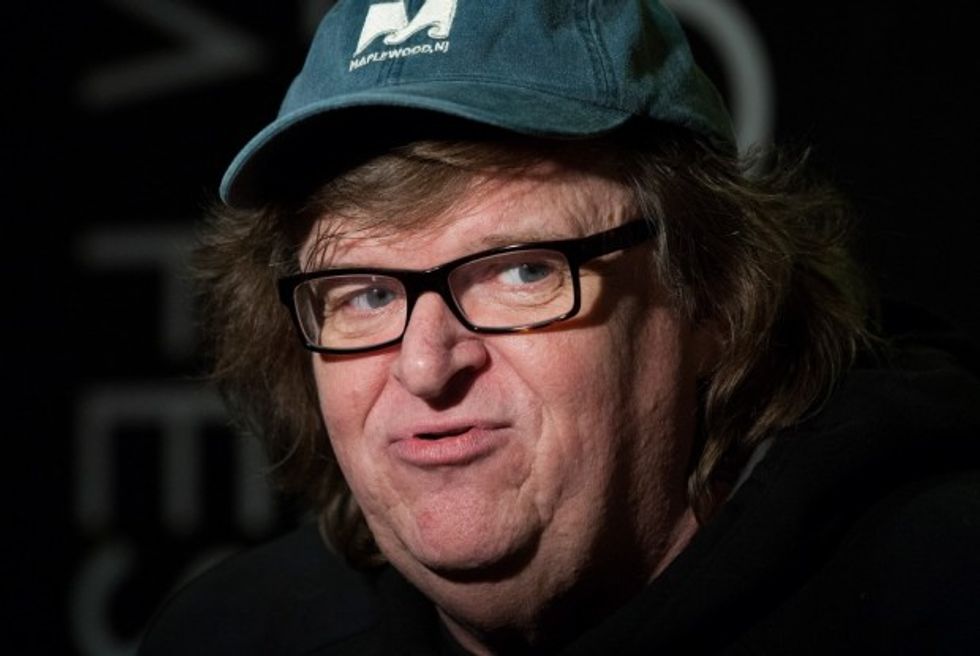 Michael Moore (Image source: Gabriel Grams/Getty Images)
"Ex-Cubans with a yellow stripe down their backs," he wrote about Brigada 2506 veterans, "and crybabies too."
At the Bay of Pigs, the objects of Moore's scorn and ridicule (mostly civilian volunteers, some as young as 16) battled savagely against a Soviet-trained and led force 10 times theirs size, inflicting casualties of 20-to-1.
"They fought magnificently—and they were NOT defeated," stressed their trainer Marine Col. Jack Hawkins, a multi-decorated veteran of Bataan, Iwo Jima and Inchon. "They simply ran out of ammunition after being abandoned by their sponsor, the U.S. Government."
"They fought like tigers," wrote a CIA officer who also helped trained these Cuban freedom-fighters, and actually hit the beach alongside them. "But their fight was doomed before the first man hit the beach."
That CIA man, Grayston Lynch, also knew a bit more about combat than Michael Moore (we're guessing). He carried scars from Omaha Beach, The Battle of the Bulge and Korea's Heartbreak Ridge. But in those battles, Lynch and his band of brothers could count on the support of their own chief executive.
"Florida's Cubans" continues Michael Moore in his book "are responsible for sleaze in American politics. In every incident of national torment that has deflated our country for the past three decades…Cuban exiles are always present and involved."
By the way, can you imagine someone writing, say: "New York Jews," or "Detroit Blacks," or "California Mexicans are responsible for sleaze in American politics," and escaping the wrath of the usual watchdogs in these matters as did Michael Moore?
"When you don't like the oppressor in your country," writes Moore. "You stay there and try to overthrow him. You don't just turn tail and run like these Cubans. Imagine if the American colonists had all run to Canada and then insisted the Canadians had a responsibility to overthrow the British down in the States!...So the Cubans crybabies came here expecting us to fight their fight for them. And, like morons, we have."
Members of Fidel Castro's militia gather in Cuba's Escambry Mountains during the ill-fated 1961 Bay of Pigs invasion. Photo Credit: Three Lions/Getty Images
Here's a much better analogy, Professor Moore (and for simplicities' sake let's go ahead and equate the level of repression and police control of British Colonial rule with that of Stalinism.)
Let's say that France, rather than backing George Washington's rebels (more French troops fought and died at Yorktown than did American troops, Professor Moore)— let's say France not only yanked the rug out from under Washington's rebels, but then turned around and signed a deal with King George (he was the British King at the time, Professor Moore) pledging France to prevent, by force of arms or political blackmail, any other power-- say Spain or Holland (these are nations in Europe that at the time did not get along with King George, Professor Moore) from aiding the rebels in any way, shape or form.
What might the prospects for a successful Colonial rebellion been then, Professor Moore?
With a solid ally (by which I mean Republicans, ask Nicaragua's Contras) for Cuba's freedom-fighters in 1961 - 62 Miami radio stations today would feature much more Tim Mc Graw and Miranda Lambert than Pit-Bull and Gloria Estefan. And some "Fidel Castro" fellow would merit a teenzy quarter page in a Time-Life book on "Those Fabulous Fifties."
More importantly, given Cuba's economic record in her brief 55 years as an independent republic (not to mention her expatriates' record in Florida) Cuba would today be a Caribbean Singapore or Japan, rather than a sister to Haiti and Zimbabwe economically and to North Korea politically.
By the way, after the Bay of Pigs backstab, hundreds of those Cuban "wimps with yellow stripes down their backs" promptly joined the U.S. Army and many volunteered for action in Vietnam. One of these was Felix Sosa-Camejo.
By the day Mr. Sosa-Camejo died while rescuing a wounded comrade, he'd already been awarded 12 medals, including the Bronze Star, three Silver Stars and two Purple Hearts. I'll quote from his official citation:
"On February 13, 1968, the lead platoon was hit by an enemy bunker complex manned by approximately forty North Vietnamese Regulars. Upon initial contact the point man was wounded and lay approximately 10 meters in front of the center bunker. The platoon was unable to move forward and extract the wounded man due to the heavy volume of fire being laid down from the enemy bunker complex.

"Captain Sosa-Camejo immediately moved into the firing line and directed the fire against the enemy bunker. With disregard for his safety, Captain Sosa-Camejo ran through the intense enemy fire and pulled the wounded point man to safety. After ensuring that the wounded man was receiving medical treatment, Captain Sosa-Camejo returned to the fire fight and again exposed himself to the intense enemy fire by single handedly assaulting the center bunker with grenades killing the two NVA soldiers manning the bunker. As he turned to assault the next bunker an NVA machine gun opened up and he was mortally wounded. Captain Sosa-Camejo's valorous action and devotion to duty are in keeping with the highest traditions of the military service and reflect great credit upon himself, his unit, and the United States Army."
From his limousine Michael Moore sneers at this Cuban-American veteran and his Band-of-Brothers as "wimps and crybabies with yellow stripes down their backs."
–
TheBlaze contributor channel supports an open discourse on a range of views. The opinions expressed in this channel are solely those of each individual author.

Want to leave a tip?
We answer to you. Help keep our content free of advertisers and big tech censorship by leaving a tip today.
more stories
Sign up for the Blaze newsletter
By signing up, you agree to our
Privacy Policy
and
Terms of Use
, and agree to receive content that may sometimes include advertisements. You may opt out at any time.