For decades, palm trees have been synonymous with California's coastline.
Today, however, there are new items dotting the scenic hillsides in California: Portable potties.
Portable outhouses have begun popping up along California's coastal towns due to water restrictions amid a government-mandated drought.
The johns are an unfortunate new symbol of how far the state has fallen and perfectly illustrates a state whose water policies have, pardon the pun, absolutely gone to crap.
Portable potties are even appearing in posh areas such as the Central Coast of California near the legendary Hearst Castle - once home to publishing magnate William Randolph Hearst.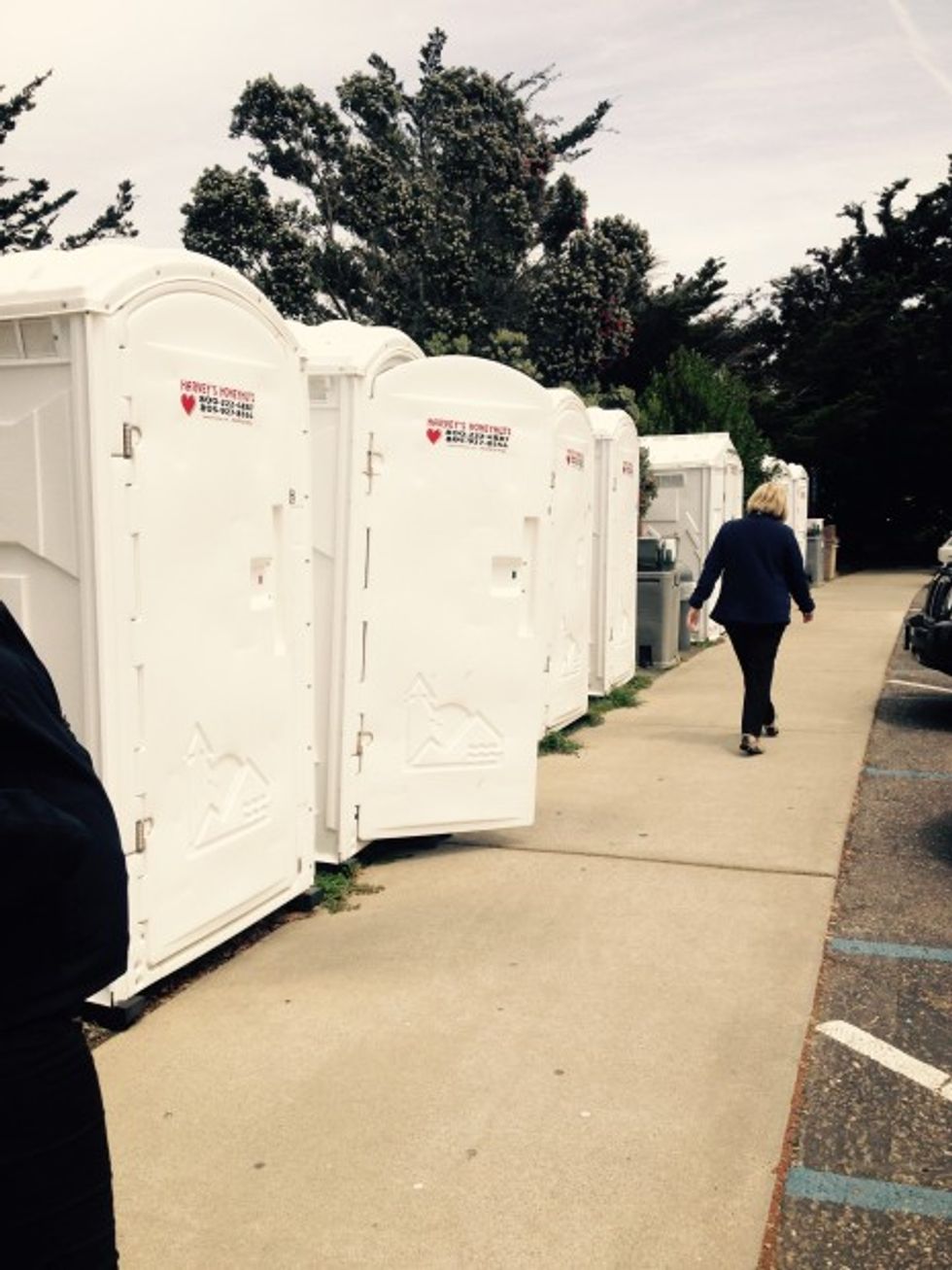 Portable potties line a parking lot near the legendary Hearst Castle in San Simeon, California. Built for newspaper magnate William Randolph Hearst, the property was once a great jewel of the California coastline. (Jennifer Kerns)
At a rest stop near the town of Cambria - where the average home price is $640,00 - signs appear on rest area doors explaining the restrooms are closed until further notice due to the water shortage. Portable potties sit out front, attracting flies but not many visitors.
Closer to home, reminders abound on Californians' own water bills including admonishments to customers about rations, fees, and fines. It harkens back to Jimmy Carter-era fuel rationing.
To understand California's water crisis - and most political and government coups - one needs to know only the three little words: Follow the money.
Radical environmentalists and Democrats have a symbiotic relationship.
It is no secret that campaign endorsements and donations have flown from environmentalist organization to Democratic campaigns for years.
Of course, as with any "campaign cash" the donor expects a payback.
In 2009, they got it.
Then-Speaker of the House Nancy Pelosi and her Democratic majority in Congress ordered the water supply from Northern California to Southern California be choked off at the source in order to protect a 4-inch minnow, whose value to the ecosystem and California's fishing industry is still debatable to this day nearly six years later. Thanks to Pelosi's order, to date more than one trillion gallons of fresh water have been dumped into the ocean. A trillion gallons of water, wasted.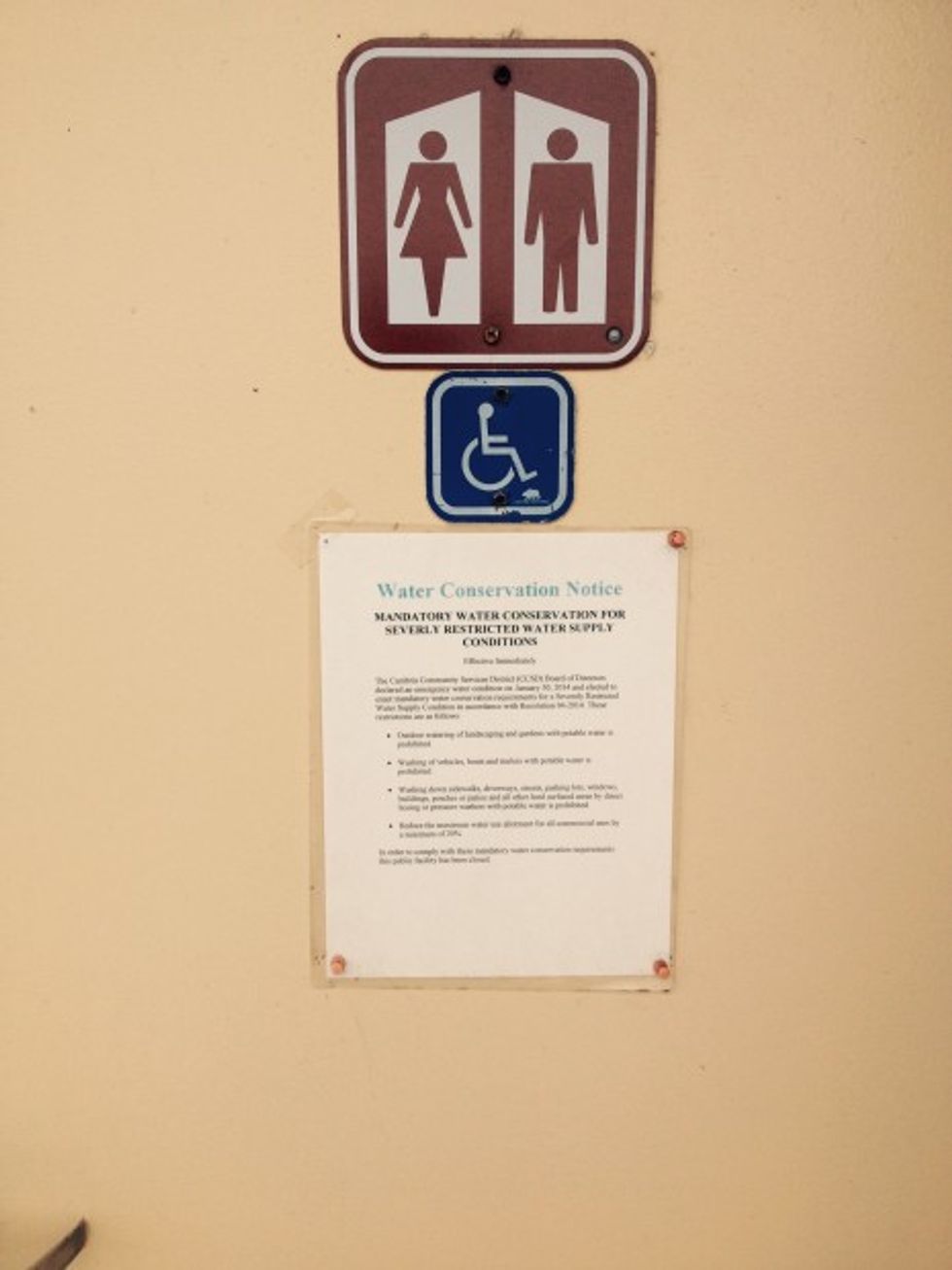 A sign on a public restroom near Cambria, California explains its closure due to the state's water shortage. (Jennifer Kerns)
But it's a small sacrifice for environmentalists in order to attain their longer-range goal: Stopping growth altogether in the Golden State.
That's right.
Democrats in California have boasted for years that they could "stop growth" in California by shutting off the water supply - so that new residential and business areas along the coast and California's inland areas could not be built upon.
If there is no water, the theory goes, then those areas cannot inhabit people. If there are no people, there will be fewer cars on the road, less pollution, fewer trees sacrificially killed, and all of the things that keep liberal environmentalist fools up at night.
As with so many liberal agendas, in order to push their policies all of California had to suffer - neighborhood families, farmers, restaurants and other small businesses. Under mandatory water rationing, California's 39 million residents are affected.
Now, there is no end in sight for the water rationing. There is no end date for the "State of Emergency."
That's precisely how environmentalists want it.
In fact, Gov. Jerry Brown has said his Executive Order mandating a 25 percent reduction in urban water usage is a good thing and is something that the residents of his state ought to be doing anyway.
Meanwhile, the cost to businesses has been high. The water crisis has cost California businesses a whopping $2.2 billion and tens of thousands of jobs already. Those figures are on top of the already-staggering figures of nearly 2 million people out of work and many more who have exited the state to search for a job entirely.
California farms which have been the hardest hit, with costs are a staggering $1.5 billion.
For households, the costs are relatively as high. Water prices are hitting a record high, and households who don't cut back on water will pay higher rates.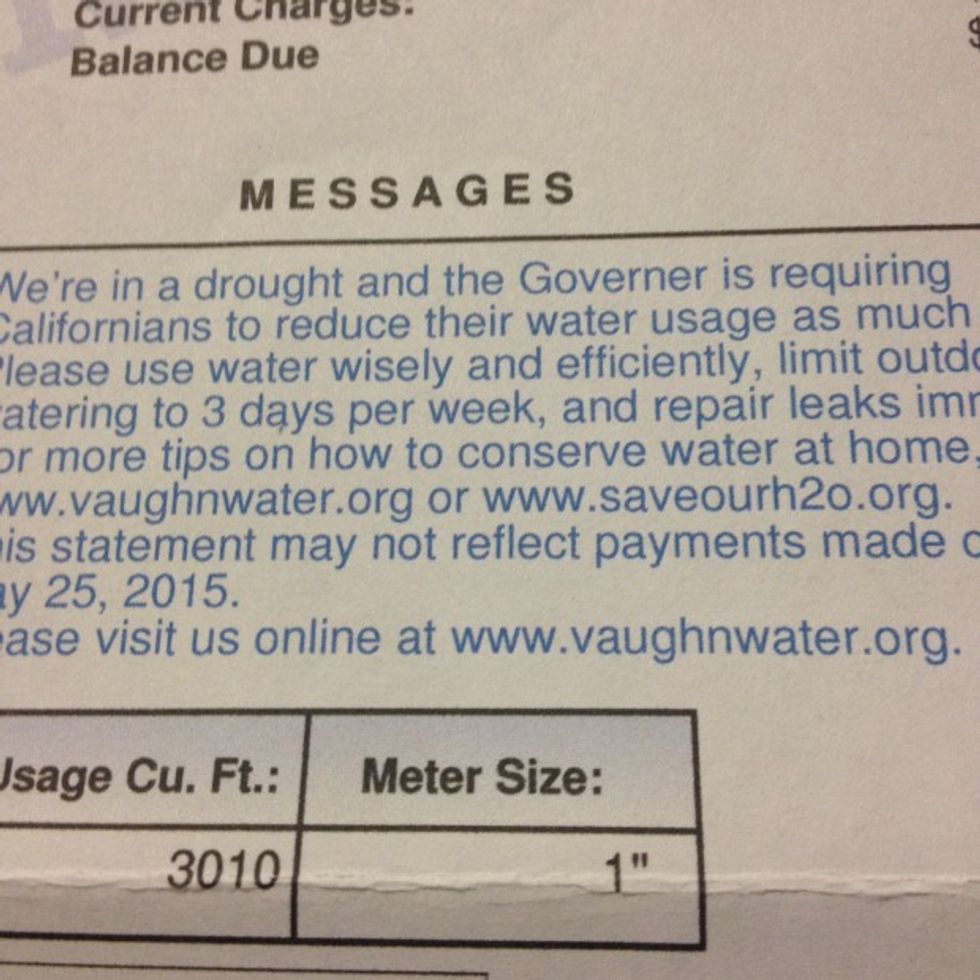 One of many water rationing warnings on a residential water bill in Bakersfield, California - a farming community hit hardest by the drought. (Jennifer Kerns)
Some in the state are even reverting to 5,000-year-old ancient techniques for finding water. How's that for "progress"?
To survive this crisis and future water crises, California must not rely upon the environmentalist playbook; the state must invest in new technology.
"As a state, we must explore additional water resource development in order to provide a sustainable future for our children," said Phil Paule, Board Member of the Eastern Municipal Water District in Riverside County, California. "We have one of the greatest resources sitting next to us and that is the Pacific Ocean. For us not to explore the possibilities of desalination is simply foolish."
For now, however, the only businesses that seem to be making money are the companies that deliver those portable potties, while what was left of California's future is flushed out to sea.
–
TheBlaze contributor channel supports an open discourse on a range of views. The opinions expressed in this channel are solely those of each individual author.