Why did President Barack Obama talk about an Indonesian women in his Paris speech on climate change? That comment reflects a disturbing disconnect between President Obama's sophomoric perspective and the reality of global insecurity.
Obama joined representatives from 195 countries in Paris for climate talks under United Nations auspices (COP 21). Obama began his remarks with condolences to the victims of the "barbaric" Paris terrorist attacks. He then suggested that work on climate change was one appropriate response to terrorism: "What greater rejection of those who would tear down our world than marshaling our best efforts to save it?" The speech went on to talk about carbon and rising sea levels and even quoted Martin Luther King, Jr.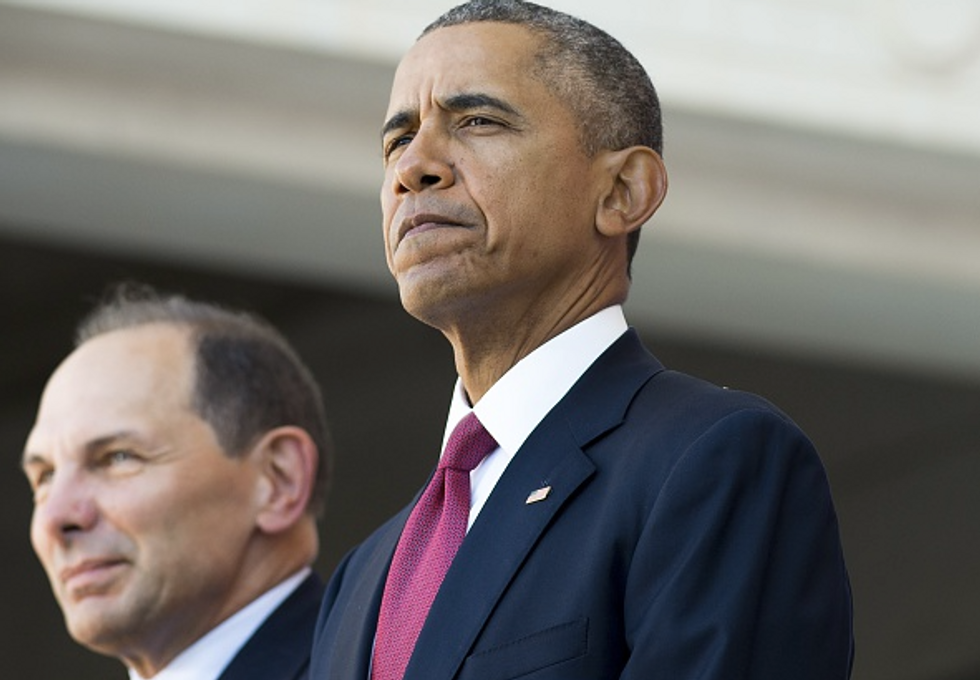 President Barack Obama stands alongside Secretary of Veterans Affairs Bob McDonald (L) during a ceremony in honor of Veteran's Day at Arlington National Cemetery in Arlington, Virginia, November 11, 2015. AFP PHOTO / SAUL LOEB (SAUL LOEB/AFP/Getty Images)
But, a remarkable moment occurred when he reflected on a recent visit to Malaysia. Obama recounted:
"Just over a week ago, I was in Malaysia, where I held a town hall with young people, and the first question I received was from a young Indonesian woman. And it wasn't about terrorism, it wasn't about the economy, it wasn't about human rights. It was about climate change."
Although Obama used this anecdote without apparent irony, the irony is nonetheless quite apparent. Of course the young woman would not talk about Islamist terrorism or human rights violations, either at home in Indonesia or in neighboring Malaysia!
The Paris attackers, like Islamic State, Al Qaeda, and other violent Islamist movements, are willing to use violence against civilians and use their interpretation of the Muslim faith to justify it. Despite the tragedies of 9/11, 7/7, and now 11/13, the vast majority of victims are not Americans, Europeans, Christians, or Jews. The vast majority of victims killed by violent Islamists are fellow Muslims: Muslims who are either of the wrong brand (Shiite), wrong race (Kurds), wrong gender (women), or are just in the way. This happens from North Africa to Central Asia to the Far East.
Obama's female questioner was most likely a Muslim woman as Indonesia hosts one of the world's largest Sunni Muslim populations. Could she safely ask about Islamist violence in a public setting? Indonesia consistently ranks as "partly free" by Freedom House. Although it has a vibrant press and recently held open and fair elections, civil liberties—especially religious freedom—are regularly curtailed at the local level. The report talks about the persecution of Ahmadiyyah and Shiite Muslims and cites a National Human Rights Commission report indicating that there have been twice as many human rights complaints in 2014 as in 2013.
Freedom House also records:
"In recent years, hardline Islamist groups [in Indonesia] such as the Islamic Defenders Front have engaged in raids and extrajudicial enforcement of Sharia (Islamic) bylaws, and pressured local governments to close churches and non-Sunni mosques…they often have the support of high-ranking government officials. Security forces have been criticized for tacitly aiding them by ignoring their abuses."
Obama's female questioner was in Malaysia when she asked the question. Freedom House reports Malaysia as having a downward (negative) freedom trend, scoring lower than Indonesia:
"In Malaysia, 114 Shiites were arrested in Perak while attending a religious celebration. Mainstream media outlets regularly attack the religious minority. In the last several years, UMNO has called for a government commission to protect Sunni Islam against 'deviant' religious sects and LGBT people. The party has also tabled a constitutional amendment that would identify Malaysia as a Sunni Muslim nation..."
Reports by other organizations, such as the U.S. government's U.S. Commission on International Religious Freedom (USCIRF) and the U.S. Department of State's International Religious Freedom Office, offer similar analyses. The 2015 USCIRF report says of Indonesia, "Hardline groups that incite violence against religious minorities or Muslims with whom they disagree continue to operate freely and with relative impunity."
In Malaysia, USCIRF report:
"…the government, ruling party, and religious leaders put forth laws, policies, statements, and fatwas (religious edicts) broadening the application of Islam and potentially limiting religious freedom. Religious groups deemed "deviant," such as Shi'a, Ahmadiyya, and Baha'i, are banned. Both civil and Shariah courts have the power to police religious belief and expression; in 2014 the government sought to expand this power through the establishment of a religious police force and by amending the Sedition Act to restrict speech to prevent perceived insults to Islam."
Here is the point: of course Obama's questioner was not going to ask about terrorism and Islamist violence. Not only was she and the rest of the audience likely hand-picked; it is simply inconceivable that this individual would have asked such questions of Obama. To have done so, as a woman in particular, could have invited draconian repercussions while she was in Malaysia or upon returning home to Indonesia. It is even possible that this person had some sympathy for the perpetrators of violence, at least at home via shariah courts and persecution of "deviant" Muslims.
In short, climate change or Islamist terrorism?
Obama called climate change the greatest threat of the 21st century and the greatest challenge faced by our children. It seems to me that the greatest threat faced by millions of people around the world, especially in places like Libya, Afghanistan, and Syria, is violence at the hands of other Muslims. This is true for American allies like Jordan and the Kurds as well as for civilians under religiously-repressive regimes such as Saudi Arabia.
And from a U.S. national security perspective, American citizens (and their allies) have every reason to be deeply concerned about the next bombing at a mall, marathon, movie theater, concert hall, railway car, or other public venue. One wonders if Obama is really so out of touch with the violence facing human beings around the world that he can continue to fiddle while the greater Middle East burns?
Eric Patterson, Ph.D. is Dean of the Robertson School of Government at Regent University and author or editor of a dozen books, including "Politics in a Religious World" and "Ending Wars Well."
–
TheBlaze contributor channel supports an open discourse on a range of views. The opinions expressed in this channel are solely those of each individual author.