The victory of Israeli Prime Minister Benyamin Netanyahu last week has been reported as a huge loss for President Barack Obama.
I beg to differ. I think Obama will happily seize this opportunity to put distance between the United States and Israel and isolate Israel in the international community.
In keeping with Saul Alinsky's "Rules for Radicals," the White House has misconstrued campaign events in order to demonize Netanyahu.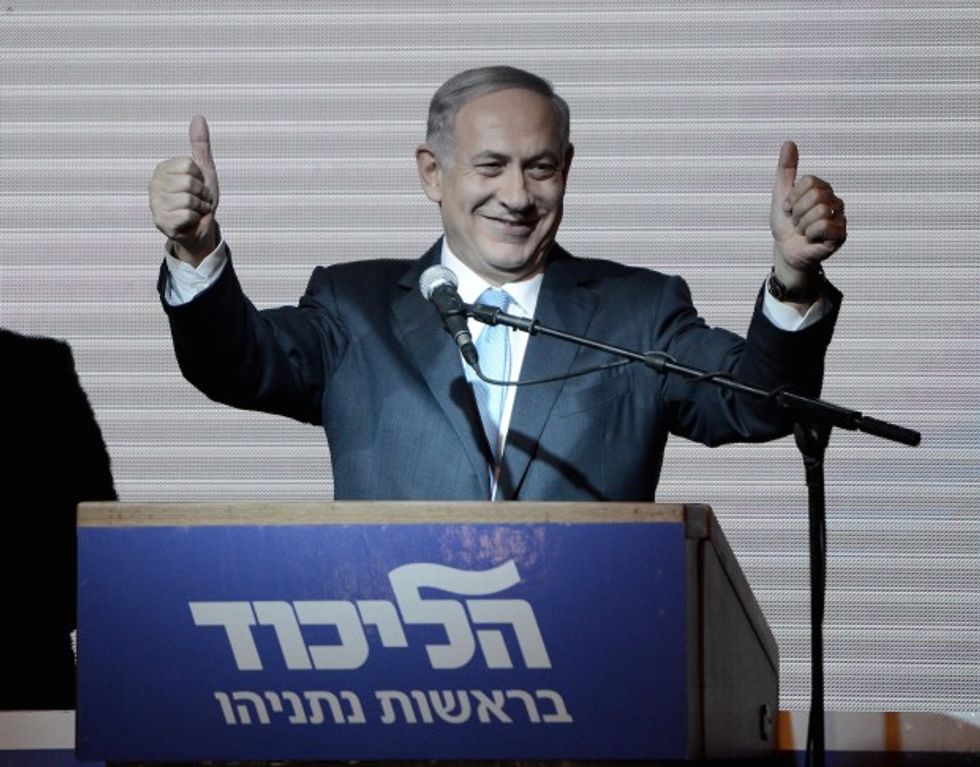 Israeli Prime Minister and the leader of the Likud Party Benjamin Netanyahu greets supporters at the party's election headquarters after the first results of the Israeli general election on March 18, 2015 in Tel Aviv, Israel. (Anadolu Agency/Getty Images)
Toward the end of the campaign Netanyahu responded to a question about the two-state solution by saying it was not possible during his next term. To students of the Middle East that is an obvious statement of fact.
Just last year Hamas fired thousands of rockets at civilian targets in southern Israel. Israel's response was brutal and thorough. Israel took the brunt of the criticism from the United Nations.
In a phone call from President Obama, Netanyahu explained that he still supported a two-state solution, but that it requires an opponent willing to stop bombing and start talking. The White House refused to accept that explanation and suggested that it will be difficult for the United States to continue on the current path.
When asked about our continuing relationship with our ally, Israel, the president stated that we would continue to work together on military and intelligence issues. When asked about our support of Israel at the U.N. the president demurred.
The president, who blatantly lied about you keeping your doctor in order to get re-elected should be a bit more cautious about pointing fingers.
The second complaint is that the Netanyahu campaign, in a Facebook message, urged its supporters to vote since the opposition was busing Arab voters to the polls "in droves." That is called turning out your base.
The president said that kind of campaign rhetoric starts to "erode the name of democracy." The American media, caught off guard and angry, immediately called it racism.
It had been clear for some time that former Obama campaign leaders were running the campaign to defeat Netanyahu and the Senate is investigating whether money from our State Department found its way into that effort. With such an Obama pedigree it is a forgone conclusion that any setback would be called racist.
To put Netanyahu's "get out the vote" effort into campaign context, compare it with Democrat efforts to turn out their base. In 1998 the Missouri Democrat Party ran an ad on Black radio that said, "When you don't vote, you let another church explode. When you don't vote, you allow another cross to burn. When you don't vote, you let another assault wound a brother or sister. When you don't vote, you let the Republicans continue to cut school lunches and Head Start."
President Barack Obama listens as Israeli Prime Minister Benjamin Netanyahu speaks during their meeting in the Oval Office of the White House in Washington, Wednesday, Oct. 1, 2014. (AP Photo/Pablo Martinez Monsivais)
No racism there, just solid get out the vote politics.
James Bird Jr. was a Black man who was killed by being dragged three miles behind a pickup truck in Texas. During the 2000 presidential race the NAACP ran radio and television ads in which Bird's daughter, Renee Mullins, stated that George W. Bush's failure to support hate crimes legislation was like dragging her father to death all over again.
No racism there, just a legitimate effort to turn out the Democrat base.
The president ought to be a bit more careful in judging others.
There would be less attention paid to the Israeli election were it not for the dicey negotiations currently underway with Iran over their nuclear ambitions.
Iran has been seeking a nuclear capability for nearly 40 years. During that time the policy of the United States and the international community was to not allow that. The economic sanctions under which Iran is chafing were imposed to effectuate that policy and Iran is seeking the removal of those sanctions.
Last week the president delivered a warm message to the people of Iran telling them that forces in our government and elsewhere were opposed to a diplomatic solution to our differences. (That would be Republicans and Israel.) That, of course, was a lie. No one opposes a diplomatic solution. Many oppose Obama's approach that would, for the first time, accept Iran's enrichment of nuclear material.
In the spirit of good will, Iran's supreme Leader Ali Khamenei spoke to a crowd in Tehran the following day and, in response to cries of "Death to America" said, "Of course yes, death to America."
In last Saturday's address to the American people the president said that Iran has kept its agreement to stop enriching uranium. That too is a lie. They haven't even slowed it down.
To change 40 years of policy with respect to the world's leading state sponsor of terrorism requires a reason. President Obama must be rejoicing in the opportunity to demonize and isolate Netanyahu. He can now ignore the concerns of Israel and cave in to Iran and blame Netanyahu for it. That would be dishonest on its face, but he rests assured in the knowledge that we have become inured to that by now.
–
TheBlaze contributor channel supports an open discourse on a range of views. The opinions expressed in this channel are solely those of each individual author.