When President Barack Obama sold his failing healthcare law to Congress and the American people, he made a series of promises.
For example, "If you like your healthcare plan you can keep it" (wrong) and, "we will start by reducing premiums by as much as $2,500 per family" (nope) or, "federal funds are not used for abortion services" (psych!).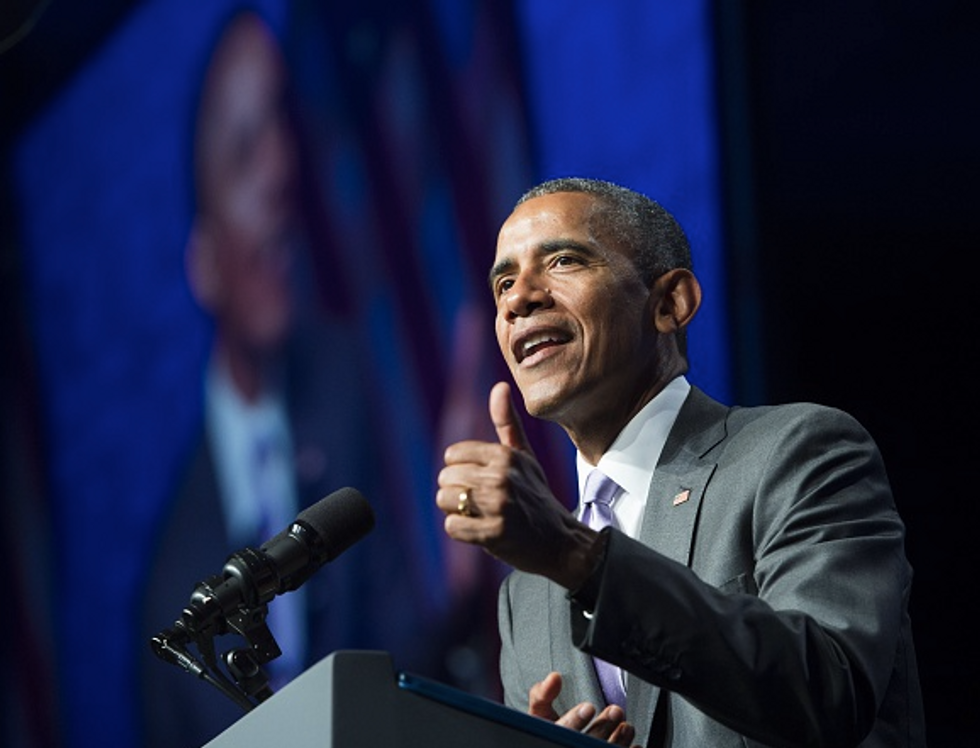 Photo: Saul Loeb/AFP/Getty Images 
But the misleading rhetoric did not end there.
On Sept. 9, 2009, President Obama addressed a joint session of Congress to discuss his proposed health reforms and offered this whopper:
"There are also those who claim that our reform efforts would insure illegal immigrants. This too is false. The reforms I am proposing would not apply to those who are here illegally."
At this point, you may remember that a particular friend and colleague of mine posited, in so many words, that the president wasn't exactly telling the truth. Six years later, that famous charge against President Obama has proven all too correct.
Conservatives have long had reason to question Obamacare's potential benefits to illegal immigrants. In 2014, Secretary of Health and Human Services Sylvia Burwell publicly advocated for extending the law's coverage to so-called DREAMers – undocumented immigrants brought to the United States as minors.
More recently, when the state of California floated a bill allowing illegal immigrants to purchase Obamacare coverage on the state exchanges, the White House was noticeably silent. The legislation was later scaled back to instead allow undocumented children access to the state's Medicaid program (still a direct result of Obamacare's passage, as California has participated in Obamacare's Medicaid expansion).
Now, in the clearest sign of Obamacare's illicit coverage of illegal immigrants to date, a bombshell report from the Senate Homeland Security Committee found that the healthcare law doled out an estimated $750 million in taxpayer-funded insurance subsidies to some 500,000 people of unverified immigration status.
Here's the real problem: this money has already gone out the door. So now the Obama administration has set up a pay-and-chase cycle where they must attempt to recoup taxpayer dollars after they've been spent – and the government does a notoriously poor job of getting that money back.
Last week, I demanded answers on this report in separate Ways and Means Committee hearings with both HHS Secretary Burwell and Secretary of the Treasury Jack Lew.  Interestingly, Secretary Burwell did not deny the report's accuracy, instead deflecting to assurances that "we follow the statutory guidelines" (Hint: they're not working).
Felue Chang who is newly insured under an insurance plan through the Affordable Care Act receives a checkup from Dr. Peria Del Pino-White at the South Broward Community Health Services clinic on April 15, 2014 in Hollywood, Florida. (Joe Raedle/Getty Images) 
Similarly, when I asked Secretary Lew how much of this wasted money the government expected to regain, he stuck to script; replying with "I'll get back to you."
I am preparing a letter with detailed questions to these Obama administration officials so that we can hold responsible parties accountable for ensuring this grave mistake is not repeated. But we can't stop there.
Conservatives have warned all along that Obamacare was vulnerable to this kind of fraud and abuse. To that end, I have carried a bill for nearly three years called the No Subsidies Without Verification Act.
My legislation would require proper verification – including income status and citizenship status – to be completed before Obamacare subsidies are disbursed; something that should have been done all along.
It's worth noting that a bipartisan majority in the House passed the first iteration of my bill back in 2013. The Obama administration issued a veto threat, saying the legislation was "unnecessary" because "the Secretary of Health and Human Services has already put in place an effective and efficient system for verification of eligibility for premium tax credits and cost sharing reductions."
Here we are, $750 million later; maybe they'd like to give my idea a second look.
The simple fact is this: Ensuring that Obamacare customers are truly eligible for taxpayer-funded insurance subsidies is not a partisan issue, it's just commonsense.  That is why I reintroduced this bill and will continue to fight for its enactment.
In light of this latest misuse of taxpayer dollars, Congress must pass the No Subsidies Without Verification Act without delay and put the ball in the President's court.  As President Obama looks to seal a political legacy in the remaining months of his term, finally honoring one of the core promises of his signature law would be a good place to start.
–
TheBlaze contributor channel supports an open discourse on a range of views. The opinions expressed in this channel are solely those of each individual author.