"Someone shot a cop today and a part of America died."
I recorded these words and much more several years ago. As most of America knows, this past week has seen some truly horrifying events take place. Events that should not take place in the "evolved" society that we live in.
On paper, most of America expects this to be a thing of the past. But when we really think about the cultural influences that drive much of America's youth, can we be so surprised about these occurrences?
Pop singers today don't often write or sing songs that praise our police. In the early days of hip hop, groups like 2 Live Crew and NWA were in fact calling for their fans to "off the pigs."
So why are we surprised that we have groups willing to actually kill our police officers? Even today, its not uncommon to see signs that are calling for people to "fry the pigs." That is too close to "off the pigs" to be a mere coincidence is it not?
How do these groups justify it? When they give people reason to murder fellow Americans that just happen to be dressed in blue, how can we sit idly by and allow this?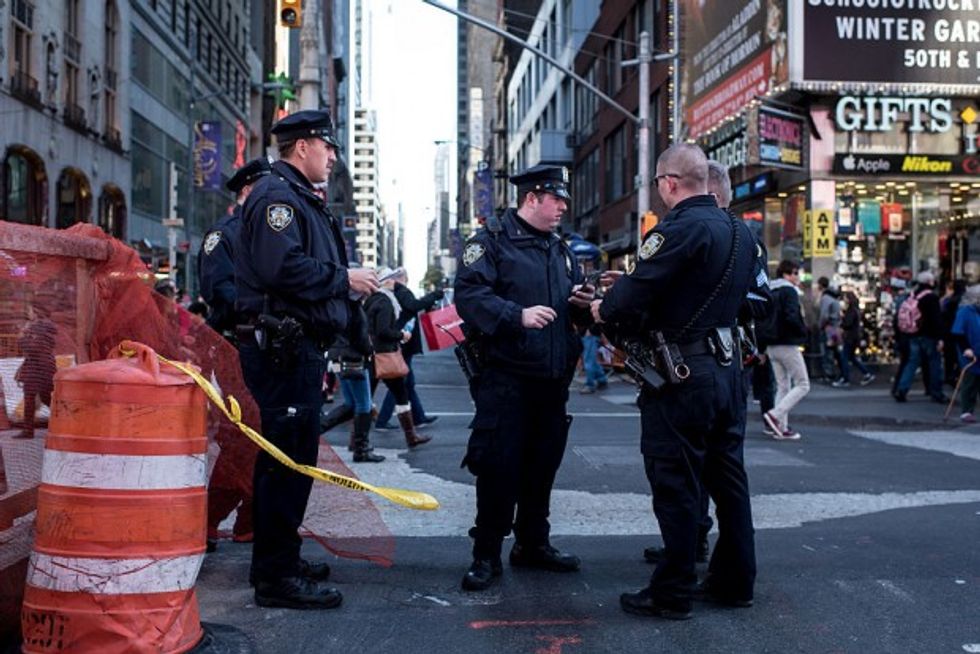 Police officers keep watch in Times Square following a series of terrorist attacks in Paris on November 14, 2015 in New York City. Security in New York City has increased following the coordinated assault on Paris which ISIS claimed responsibility for. At least 120 people have been killed and over 200 injured, 80 of which seriously. (Photo by Andrew Renneisen/Getty Images)
I cannot. I have not been able to be quiet about this. It takes everything in me to not scream back at the protestors and challenge them to be better than that.
They do not seem to realize the role that these "pigs" have in our society. Who exactly do they plan to call when somebody is breaking into their house, robbing their stores, selling drugs to their kids, or committing drive by's while their kids are playing in the yard? Do they think that they can call on the aid of other protestors or their friends? No way.
If it came down to their lives and they were the ones threatened I think that they, like us, would always turn to the valiant men and women in blue. These are the people that put the safety of others over their own. They are the ones trained and armed to keep us from harm through dedication to all that symbolizes this "evolved" civilization that we say we live in.
Without them we would not have any protection from those that are liable to harm us. From the thugs and gangs who would kill or harm us just as quickly as they would make toast in the morning. Without a reliable law enforcement, it has been seen time and again that countries quickly fall under the rule of those with "flexible" morals. If we did not have any protection against organized crime, what stops them from taking over every aspect of our society through fearmongering? This is the only protection that we have on a local level and now some activists are protesting and inciting violence against this protection? How stupid can one be?
While I have not had the opportunity to address those marching hordes in person, I have written and recorded songs that attempt to convey who these heroes are and what we owe them with every minute of every day. People need to realize just how much is at stake with these masses protesting the very thing that keeps most of us safe. It is an issue that can no longer be ignored.
Of course there are some bad actors who make an occasional hasty decision or bad call that gets picked up by the media and warped beyond belief and there isn't a sensible person out there that would condone these acts. But what must be remembered when seeing these reports is that the vast majority of law enforcement, our street soldiers that defend the very way of life that we cling to are human just like us. They have lives just like us. They have families just like us. The police officer that you see patrolling your street is living just as full a life as you are. He has a neighbor, a father, a brother, and a sister. He is more than a blue uniform that protects at all costs. He deserves our praise, not our condemnation. The very fact that our society has fallen to a place that slanders such heroes is a testament to just how little we have "evolved."
My songs are ultimately meant to convey all of this. To make people in America think just what it would be like without these brave people and our first line of defense. To make people understand that much of this could not exist at all. I hope and I pray that you agree.
Pat Boone is a singer and actor whose latest film God's Not Dead 2 releases to home entertainment on August 16. The film can be pre-ordered here.

–
TheBlaze contributor channel supports an open discourse on a range of views. The opinions expressed in this channel are solely those of each individual author.