At a press conference in Ethiopia, President Barack Obama denounced Republicans for their lack of civility:
"The particular comments of Mr. Huckabee are, I think, part of just a general pattern that we've seen that is -- would be considered ridiculous if it weren't so sad. … [P]articularly when it comes to foreign policy, there's been a recognition that these issues are too serious, that issues of war and peace are of such grave concern and consequence that we don't play fast and loose that way. … [I]t's been interesting when you look at what's happened with Mr. Trump … [T]he Republican Party is shocked. And yet, that arises out of a culture where those kinds of outrageous attacks have become far too commonplace and get circulated nonstop through the Internet and talk radio and news outlets. And I recognize when outrageous statements like that are made about me, that a lot of the same people who were outraged when they were made about Mr. McCain were pretty quiet. … In 18 months, I'm turning over the keys -- I want to make sure I'm turning over the keys to somebody who is serious about the serious problems the country faces and the world faces."
This is part of a familiar pattern: Obama chides the GOP for their hyperbole and mentions that he's been a victim of it, while conveniently leaving out that he and his party are also routine perpetrators of such invective.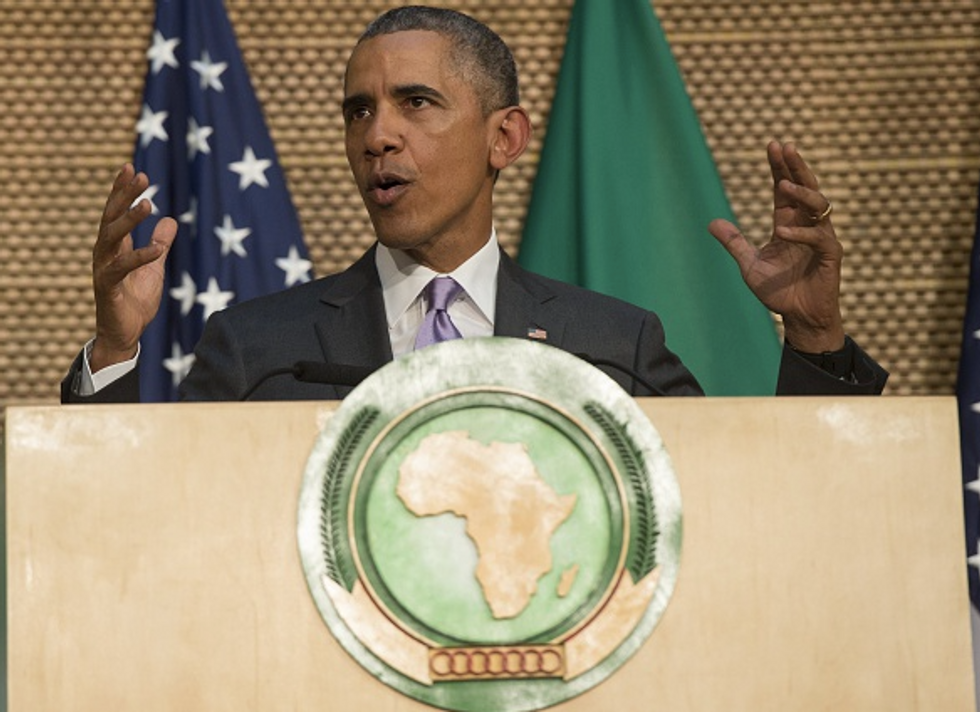 President Barack Obama delivers a speech at the African Union Headquarters in Addis Ababa on July 28, 2015. US President Barack Obama said today that it was time for the world to change its approach to Africa, as he made the first address to the African Union by a US leader. AFP PHOTO / SAUL LOEB
Mike Huckabee's comments at least have the semi-defense of being a prediction – essentially, that the Iranian nuclear deal will be as deadly to Jews as the Holocaust – such that time will tell whether or not his words are true or histrionics (I'm betting it's the latter).
Meanwhile, Obama himself has played "fast and loose with the facts on foreign policy." In 2008, he falsely said Sen. John McCain (R-Ariz.) was – well, let's say "content" – for the U.S. to be at war for another 100 years in Iraq.
And he can turn on a dime when it comes to taking his own advice on civility. Obama gave another 2008 speech in Independence, Missouri, declaring:
"I will never question the patriotism of others in this campaign. And I will not stand idly by when I hear others question mine."
This was a fair assertion to make during the 2008 election and the debate about the Iraq War, when many critics of President George W. Bush's policies had their patriotism challenged. But less than a week later, at a campaign event in Fargo, North Dakota, Obama did just that while castigating Bush for increasing the national debt:
"$30,000 for every man, woman and child. That's irresponsible. It's unpatriotic."
(Naturally, Obama hasn't described his own increases to the national debt in similar terms.)
But Obama has also been like quicksilver in the other direction, eschewing civility and then suddenly adopting it. At a Labor Day rally in 2011, Teamsters president Jimmy Hoffa excoriated the Tea Party movement:
"President Obama, this is your army. We are ready to march. Let's take these son of a bitches out and give America back to an America where we belong."
Obama, speaking after Hoffa at the rally, said nothing to condemn his remarks. Days later, on WMAL's "Morning Majority," White House Communications Director Dan Pfeiffer also demurred, saying Obama would not "serve as the speech police for the Democratic Party."
But just a week after that, Obama's 2012 re-election campaign released AttackWatch.com – a website designed to "Get the Truth" and "Fight the Smears" – essentially serving as the speech police with respect to Republicans who said unfair things about Obama.
In other words, Obama espouses civil debate when it's to his advantage.
When civility gives him the opportunity to criticize Huckabee or Sen. Ted Cruz (R-Tex.) or Sen. Tom Cotton (R-Ark.) or Rush Limbaugh, he advocates it. When civility demands that he criticize himself – say, for suggesting Republicans believe in "freedom without love or charity or duty or patriotism" – or his own party – Rep. Debbie Wasserman Schultz (D-FL) warning that Republicans want to reinstate Jim Crow laws, or ads portraying Rep. Paul Ryan (R-Wis.) as pushing an elderly woman of a cliff – Obama remains strategically silent.
Obama frequently lectures Americans to be civil and to not be cynical. But his blatantly, self-servingly selective commitment to civil debate is precisely the kind of behavior that makes people cynical about politics. Those who realize his hypocrisy on civility are tempted to view the push for civil debate as a partisan scam; those who don't pick up on it get a twisted view of what does and doesn't count as appropriate political discourse.
The president ended his reprimand of the GOP by insisting that, "the American people deserve better." In typical fashion, he neglected to mention that we deserve better than his own smears and duplicity, too.
–
TheBlaze contributor channel supports an open discourse on a range of views. The opinions expressed in this channel are solely those of each individual author.