Last Friday night I sat in the Dallas courtroom where Roe v. Wade was set in motion exactly 43 years ago.
In 1973, that courtroom served as the launch pad to extinguish nearly 60 million American lives from our country's landscape. But Friday night in the courtroom, I was surrounded by pastors from Dallas who came to be encouraged and equipped to speak life from the pulpit and offer healing to those who have been hurt by past abortions.
The courtroom that ignited four decades of chaos, pain and lies was repurposed for boldness, restoration and life.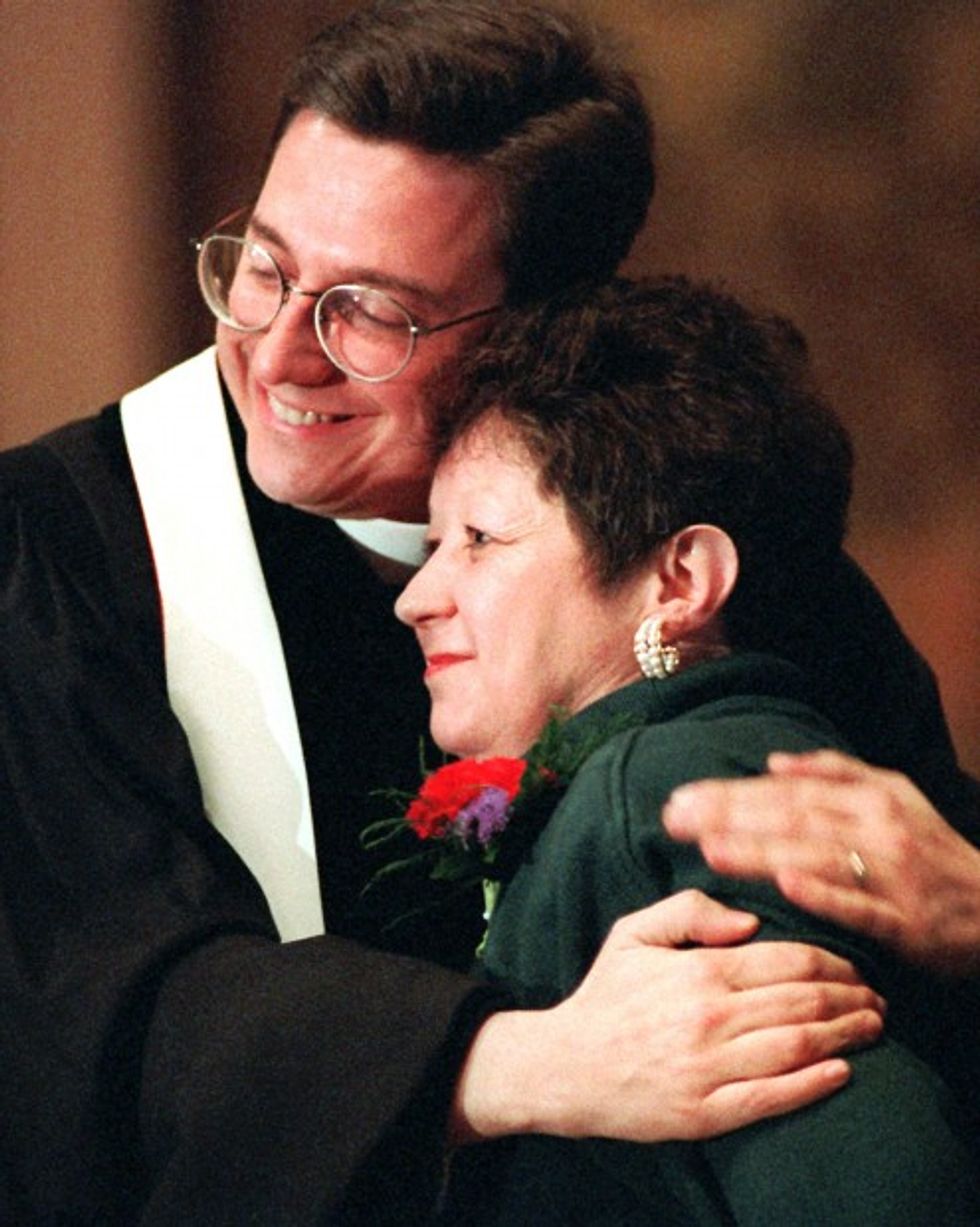 Norma McCorvey, the "Jane Roe" in the 1973 Roe v. Wade decision, is embraced by The Reverend Robert L. Schenck of the National Clergy Council before she addresses a memorial service at Georgetown University in Washington, D.C. Sunday, Jan. 21, 1996. McCorvey, in town to join abortion opponents for their annual protest march Monday, shocked abortion advocates last year by announcing that she now opposes the procedure. (AP Photo/Cameron Craig) 
The event, called Speaking of Life, was orchestrated by Council for Life (of which I am a board member) and First Baptist Church Dallas. Pastors from various denominations were invited to hear Life Training Institute founder and president, Scott Klusendorf, and Watermark Community Church founder and senior pastor, Todd Wagner, equip them to speak about abortion and to provide a place of healing for those who have experienced an abortion.
As I sat in the courtroom, I wondered if the same decision would be handed down today. Perhaps the substantial scientific evidence now available would make legalized abortion unthinkable.
In 1973 sonogram machines were largely unavailable and therefore it was extremely rare to see the life living just under the skin of a pregnant mother. Back then we didn't have pictures of babies sucking their thumbs in the privacy of the womb or clear 4D images of babies in utero, showing vivid details of the tiny human readying itself for birth.
We couldn't accurately pin-point the week-by-week progression of human development that takes place in the womb. Flash forward to today with our advances in medical technology, and only those who choose to remain intellectually dishonest refer to a pre-born baby as a "clump of cells."
With so many ministries aimed at helping women heal from the emotional scars of abortion, we now know terminating a pregnancy isn't an inconsequential do-over or a simple medical procedure as marketed by the abortion industry. And it wasn't even until last summer that we got to see exactly what goes on at abortion clinics with those now infamous videos.
But Friday night was not about overturning Roe v. Wade. It was about renewing the hearts and minds of pastors as they speak about life issues from the pulpit. Klusendorf, who literally wrote the book on pro-life apologetics, equipped pastors to defend the life position.
Both Klusendorf and Wagner likened legal abortion to other legal historical tragedies – the slave trade and the Holocaust. In each case, people groups were treated as less-than-human and therefore mistreated or eliminated at will. A lower value was placed on those people groups just as pro-abortion advocates devalue the human life in its earliest form.
"As awful as the Holocaust and slavery were, we are living in the midst of a more morally obscene moment than Wilberforce, Lincoln, King or Parks could have imagined. And people, in their arrogance believe, 'If I was alive in those moments, I would have been with Wilberforce, I'd have been with King, I'd have been someone who stood up for Rosa Parks. I would have done something,'" Wagner said.
But we know the names of those heroes because they were the outliers. We like to think we'd be an outlier when faced with malevolence, but just as slaves were bought, sold and beaten in broad daylight and the citizens living near concentration camps breathed the air tainted with ashes of Jews, we are the willing custodians of the past 43 years of the legalized obliteration of 60 million of our own children.
Klusendorf and Wagner encouraged pastors to speak about abortion with clarity and boldness, but also with compassion and care. Both men iterated that it does no good to stand against abortion without recognizing those in their congregation who carry the pain of past abortions – both women who chose abortion and men who participated in choosing abortion.
Wagner told his audience of fellow pastors that 20 percent of abortions are being committed by women claiming to be evangelical, born-again, professing Christ-followers. He added, "Those are our people." He then offered pastors resources to implement programs like Watermark's Someone Cares, a post-abortive restoration ministry for women.
The event was inspiring, enlightening and impactful. I'm thankful I had the opportunity to be a part of repurposing that historic courtroom. While it's likely assumed I attended because I was on the guest list, I wasn't. The only reason I was able to attend the event is because there weren't enough pastors in Dallas to fill a courtroom for a pro-life event.
Dallas – nestled firmly in the Bible Belt – couldn't produce enough pastors to fill a small courtroom to stand for life. Some pastors declined because they had previous engagements. But there were others who declined saying they did not want to be any part of the event or have their name on a pro-life roster.
My seat was originally reserved for a pastor who would stand for life. While I will never forget the momentous evening, I hope there isn't a seat available for me at next year's Speaking of Life event.
–
TheBlaze contributor channel supports an open discourse on a range of views. The opinions expressed in this channel are solely those of each individual author.