The process by which the Purple Heart is awarded to qualifying members of the military has been a most telling indicator of how President Barack Obama seeks to keep hidden the true identity of the enemy we fight today.
Simultaneous occupation on the battlefield of the same space by a warrior and an enemy bullet gives rise to the former's immediate entitlement to the Purple Heart Medal. Authorized in 1917, it is the oldest decoration still given military members.
Military commanders understand the importance of expediency in bestowing the medal upon a recipient to recognize the warrior's sacrifice. It is often presented to the wounded personally and, in the case of those killed, their family.
For the wounded, its receipt, while symbolic, also has a positive psychological impact. A certain sense of pride accompanies the medal's award, knowing one has paid one's dues on the battlefield - and survived. It is recognition the warrior has cheated death.
During the Vietnam conflict, some military commanders deemed timely presentation so important they carried a supply of Purple Heart medals to present to the wounded while visiting them in hospitals the day after a combat action.
This bent military rules. The Purple Heart is presented in the name of the president and, as such, should really only be presented when proper documentation supports it. Nonetheless, concerned Vietnam war commanders proved willing to bend those rules, making paperless presentations for the welfare of their warriors - with a staff officer later to follow-up with the necessary documentation.
The Chairman of the Joint Chiefs of Staff, Marine General Joseph F. Dunford, recognizes the importance of the Purple Heart's timely presentation to a qualified recipient.
On March 20, 2016, at a U.S. Marine outpost in northern Iraq, one Marine was killed and four wounded by ISIS mortar fire. Thirty-two days later, Dunford flew to the outpost to award Purple Hearts to the surviving Marines.
The Purple Heart is unique. Unlike other medals, for which recipients are recommended, an immediate entitlement to the Purple Heart arises if specific qualifying criteria are met at the time blood was shed.
Entitlement vests in a member of the U.S. Armed Forces killed or wounded while engaged in action against an enemy of the U.S.
Entitlement criteria were extended by President Ronald Reagan in 1984 to include international acts of terrorism against the U.S., when so recognized by the Secretary of the Army, or jointly by other armed service secretaries where victims of such other services were wounded or killed.
In 1985, entitlement was further extended to those wounded as a result of "friendly fire."
In November 2009, a mass shooting occurred at Fort Hood in Texas resulting in the deaths of 13 soldiers and wounding of 32 others. The shooter was U.S. Army psychiatrist Major Nidal Hasan, who claimed his killing spree was triggered by U.S. aggression against his fellow Muslims and the wars in Afghanistan and Iraq. Hasan was heard shouting the now-all-too-familiar cry of "Allahu Akbar" just before opening fire on his unarmed victims.
In the aftermath of Hasan's act of terrorism, the administration refused to call it such, instead describing the shootings as "workplace violence." From the outset of his presidency, Obama sought to do all in his power to hide any link between Islam and terrorism.
The workplace violence label remained despite radical Muslim cleric Anwar al-Awlaki's revelation the very first email Hasan sent him, almost a year earlier, sought guidance about killing U.S. military personnel. Hasan's inquiring mind wanted to know if such was legitimate under Islamic law.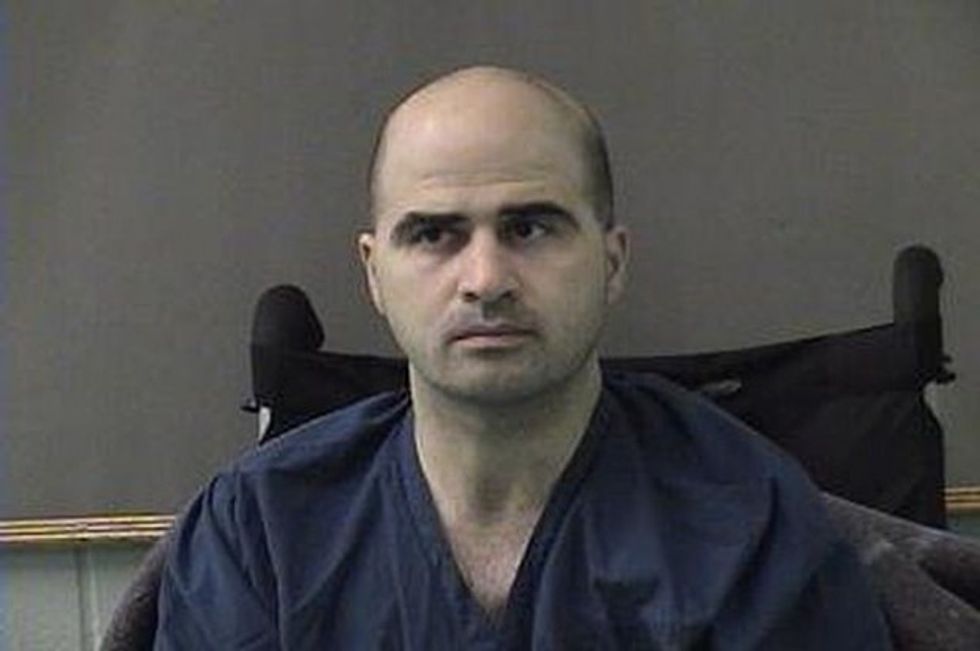 BELL COUNTY, TX - APRIL 9: In this photo released by the Bell County Sheriff's Office, U.S. Maj. Nidal Hasan, the Army psychiatrist who is charged with murder in the Fort Hood shootings, is seen in a booking photo after being moved to the Bell County Jail on April 9, 2010 in Belton, Texas. Hasan was transferred early April 9, 2010 from Brooke Army Medical Center in San Antonio to Bell County Jail in Belton, Texas. (Photo by Bell County Sheriff's Office via Getty Images)
On his website following the attack, al-Awlaki praised Hasan, writing: "Nidal Hasan is a hero, the fact that fighting against the U.S. Army is an Islamic duty today cannot be disputed."
In March 2010, al-Awlaki accused Obama of failing to be truthful with the American public by falsely portraying Hasan's actions as those of a lunatic rather than a soldier of Allah doing his duty. (Al-Awlaki was killed the following year in Yemen in a U.S. drone strike.)
In order to continue the workplace violence lie, victims of the shootings were not awarded the Purple Heart. Although entitlement to it normally arises in combat zones overseas, the U.S. Army criteria did authorize it for international terrorist attacks against the U.S. But the Army, but obviously per Obama's instructions, refused to call Hasan's attack a terrorist attack.
The bitter irony for the shooting victims was, while they were being denied benefits arising from battlefield wounds because they were not combat-related, Hasan was receiving those benefits.
It would take six years of pressure - and an act of Congress - to force the Army to revisit the issue of the Fort Hood victims' entitlement to the Purple Heart, along with the associated benefits. This was ultimately forced by a provision inserted into the 2015 National Defense Authorization Act.
Although victims should have qualified on existing entitlement criteria, the legislative provision redefined an attack to make it Hasan-compliant. A terrorist attack was redefined to include an attacker who had prior communication with, and was motivated by, a foreign terrorist organization. The obvious was simply made more obvious.
With this unnecessary clarification, when five service members were killed and one wounded in July 2015 by a Muslim gunman at a Chattanooga recruiting office, all should have immediately qualified for Purple Hearts.
But a lengthy investigation had to be undertaken that, unsurprisingly, ultimately found the attacker was inspired by a terrorist group. Thus, it took six months for the wounded victim to receive his medal; almost a year for families of the others.
Such delay was inexcusable. But, once again, the administration did not want to make the obvious, obvious.
Sadly, the presentation of a little piece of metal, so symbolic of battlefield courage, has either been denied initially or delayed unconscionably by a presidential priority geared to hiding the truth of Islam's terrorist link.
–
TheBlaze contributor channel supports an open discourse on a range of views. The opinions expressed in this channel are solely those of each individual author.