Former Secretary of State Hillary Clinton's presidential campaign ended last Tuesday afternoon. It may take some time for her to realize this, but it's over.
It will not be because of the Select Committee on Benghazi or because of the media. She will ignore them. The drip-drip-drip of new disclosures won't faze her either. She's been there before.
It will come like the fog "on little cat feet." A Democrat Senate or House member who has been getting elected in a red state or district will quietly decide not to run for re-election. Then another.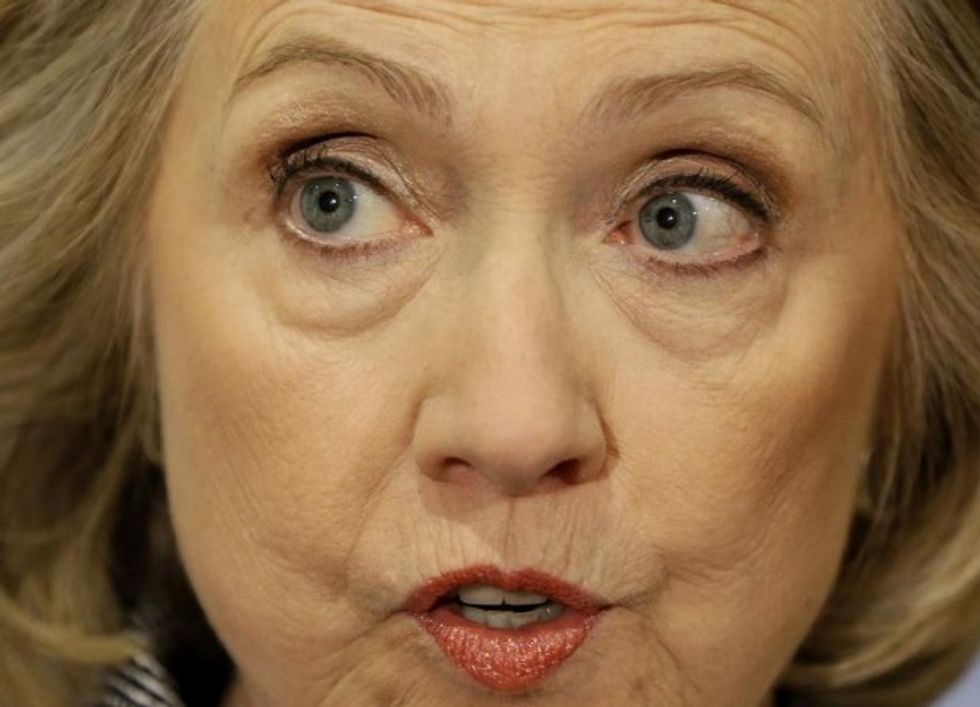 Hillary Rodham Clinton speaks to the reporters at United Nations headquarters, Tuesday, March 10, 2015. Clinton conceded that she should have used a government email to conduct business as secretary of state, saying her decision was simply a matter of "convenience." (AP Photo/Seth Wenig)
Then a respected Democrat, someone like George Mitchell or Barney Frank, will quietly, in a very subdued interview, suggest that, for the good of the party, Mrs. Clinton must get this behind her. She must make the server available for inspection by a neutral party. That will open the door for others to comment. They will be respectful, but they will be clear. This cannot go on.
The preeminent consideration in a politician's world is his or her next election – deservedly so. Even the noblest public servants know that they cannot achieve great goals if not in office.
My Democrat friends fretted over the 1988 presidential contest. They thought that Michael Dukakis lacked passion and that he would depress voter turnout. They were right.
In 1996 Republicans, me included, worried about the campaign of Bob Dole. He was smart, funny, decent, honest…and old. We worried about his ability to excite the base. He didn't.
Regardless of what you hear, Democrats are wondering what everyone else is wondering: What is Mrs. Clinton hiding? They imagine what will happen to their election if their presidential candidate implodes in October of 2016 causing discouraged Democrat voters to just stay home.
Last Friday a judge instructed the State Department to honor the Freedom of Information requests of Citizens United and provide the passenger manifests for 47 of Mrs. Clinton's foreign trips. What if we discover that contributors to the Clinton Foundation were invited to travel with her?
The AP has filed a lawsuit against the State Department to get records sought under FOIA five years ago. It is likely that a judge will instruct State to produce those emails. They will necessarily ask Mrs. Clinton for access to the server. Will she say no in the middle of the campaign? Will she be in contempt of the judge's ruling?
It is conceivable that her server has already been hacked; Guccifer was aware of it two years ago. If not, you can bet that there are approximately 50 to 60 million hackers in China and Russia working on it right now. What might the October surprise be from a successful hack? What will it cost to stop it?
Mrs. Clinton's closest aide, Huma Abedin, also used the clintonemail.com domain. Ms. Abedin's mother is a prominent and active supporter of the Muslim Brotherhood. What might they have communicated about during Hillary Clinton's war on Libya? How about Arab Spring?
During the same time that Ms. Abedin was identified as Clinton's deputy chief of staff she also worked for a consulting firm tied to the Clintons and was also a paid consultant to the Clinton Foundation. What emails might have conflated her three activities?
Dennis Cheng served as a fundraiser for Mrs. Clinton's 2008 campaign. He was deputy chief of protocol at State dealing with the access to U.S. officials for foreign dignitaries. He left State in 2011 and moved to the Foundation where he raised $248 million, some of which came from foreign governments. He will head up fundraising for her presidential campaign. What intermingling of responsibilities might show up in his emails?
Cheryl Mills was chief of staff at the Department of State under Clinton. She has been hiding emails for the Clinton's for years. She led an expedition into the bowels of Foggy Bottom to "separate" negative documents from those that would be turned over to the Accountability Review Board looking into security lapses in Benghazi. She threatened the acting ambassador to Libya, Glen Hicks, to keep him from testifying before Congress. She was also on the private server. What was she telling Mrs. Clinton on the night of the Benghazi attack?
I served in the Republican leadership during part of my time in Congress. I know exactly what is happening in Democrat leadership meetings today and tonight and early tomorrow morning and throughout this week. While in public they are blaming Republicans, in private they are not thinking about Republicans at all. They are frantic about Hillary Clinton and their next election and she is scaring the hell out of them. She will have to go.
–
TheBlaze contributor channel supports an open discourse on a range of views. The opinions expressed in this channel are solely those of each individual author.