What you say on social media has consequences.
We were reminded of this when news of a blog post by former Major League Baseball World Series Champion Pitcher Curt Schilling hit. Schilling tweeted a congratulatory message on February 25 about his daughter being accepted to college and pitching for the Salve Regina Seahawks.
What followed this sweet message from a dad bragging on his daughter were a series of vile and offensive replies. Schilling immediately took to the Internet to identify the individuals behind the tweets and on March 1 posted a blog calling out two boys, in particular, for their comments.
"I was a jock my whole life," wrote Schilling. "I get it. Guys will be guys. Guys will say dumb crap, often. But I can't ever remember, drunk, in a clubhouse, with best friends, with anyone, ever speaking like this to someone…"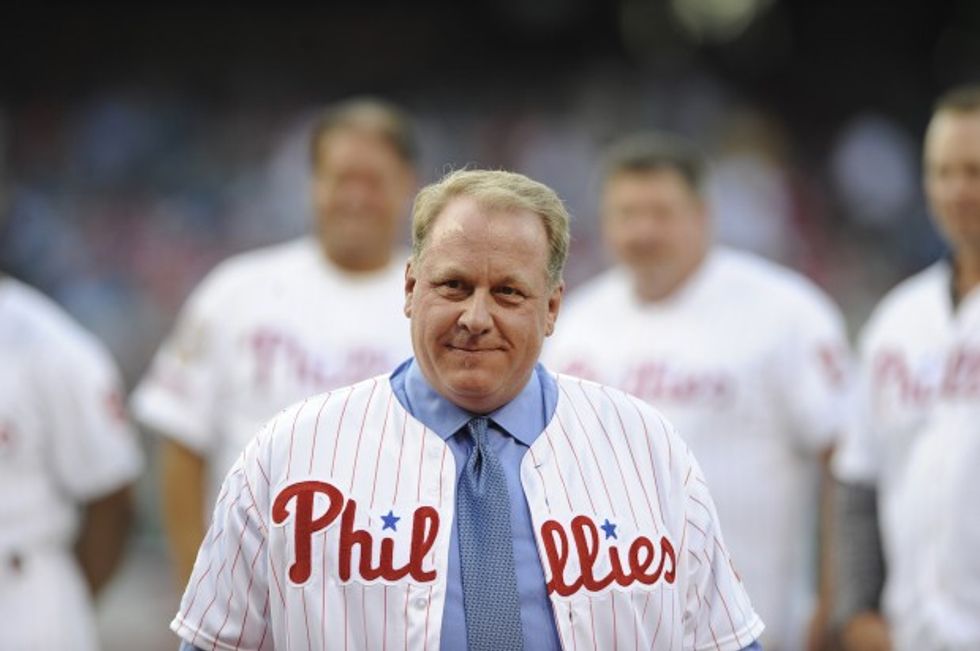 In an Aug. 2, 2013 file photo, former Philadelphia Phillies pitcher Curt Schilling is inducted into the Phillies Wall of Fame during a baseball game between the Philadelphia Phillies and the Atlanta Braves in Philadelphia. (AP Photo/Michel Perez, File)
Schilling went on to post information about the boys' identity and personal life – all of which he found through a simple Google search.
"These boys have yet to understand one of life's most important lessons," Schilling said. "In the real world you get held accountable for the things you say and if you are not careful that can mean some different things."
Since Schilling's blog post, one of the men was suspended from college while the other, a part-time ticket seller for the New York Yankees, was fired.
As a user of Twitter and dad of a daughter, I commend Schilling on his bold response. But a contingency of people have pointed the finger at Schilling, blaming him for some of the perpetrators losing scholarships, jobs or face with friends and family.
Some verbal snipers are commenting that Schilling should stay off of Twitter if he doesn't like what is said or that he should turn the other cheek and ignore the vile things being written. This mindset is equate to the thought that if we see someone driving down the road under the influence of alcohol that we should not notify the authorities when we know they are a potential danger to themselves and others.
Don't blame Schilling; blame the paper-mâché lions whose vulgar comments are worth less than Monopoly money.
Have we forgotten the mass shootings that have taken place over the last few years where people surrounding the shooter might have stopped the carnage if they had chosen not to be silent? Aren't we weary of our kids committing suicide because they are verbally assaulted while others do nothing but "turn the other cheek"?
Shutterstock
I believe we should not be silent when we see injustice and potential personal harm – whether physical or mental – to a potential victim and give Schilling a resounding applause for taking a stand.
Even more so, I thank Schilling for bringing attention to a situation that provides parents, grandparents and guardians to teach valuable lessons about social media to the next generation.
What you put on social media can follow you for the rest of your life. And ruin it.
[sharequote align="center"]Don't believe you can remain anonymous because anonymity is a fable in today's society.[/sharequote]
It's easy to hide behind a computer screen and feel completely invincible and disconnected from the damage your words can have, but this is no excuse for cyber bullying. Don't believe you can remain anonymous because anonymity is a fable in today's society.
It is incomprehensible to me that critics are angry at Schilling for exposing the men who verbally defiled his daughter. If you are brazen enough to take shot at a 17-year-old minor, then you need to be brazen enough to handle the rebound. It's social media decorum – if you write it then you should own it. Up to and including the backlash. Boomerangs always return to those who launch them.
"This is a generation of kids who have grown up behind the monitor and keyboard," Schilling wrote in his blog post. "The real world has consequences when you do and say things about others. We're at a point now where you better be sure who you're going after.
"If I was a deranged protective dad I could have been face to face with any of these people in less than four hours," Schilling continued. "I know every one of their names, their parents, where they go to school, what they do, what team they are on, their positions, stats, all of it. I had to do almost nothing to get ANY of that information because it is all public."
We must teach the younger generation that they need to think before they tweet, post or upload. I believe we – as parents, grandparents and responsible adults – must be shining examples of this philosophy. Freedom of speech is your right but it always carries with it positive or negative repercussions.
No one can deny the power of social media. Just ask Schilling, Sacco or Richards. And as we are reminded by Jesus in the Gospel of Luke and even by Peter Parker a.k.a. Spiderman's wise Uncle Ben, "With great power comes great responsibility."
–
TheBlaze contributor channel supports an open discourse on a range of views. The opinions expressed in this channel are solely those of each individual author.