Last week, the U. S. Food and Drug Administration approved OxyContin for use in children ages 11 to 16.
Doctors can prescribe OxyContin to children who can already tolerate a minimum dose of 20 milligrams of oxycodone, the drug ingredient in OxyContin. Some pediatricians cheered the decision as progress for those children suffering with major illnesses, including cancer, trauma, and undergoing painful procedures. Others cautioned that it is dangerous to administer the highly addictive drug to preteens and teenagers.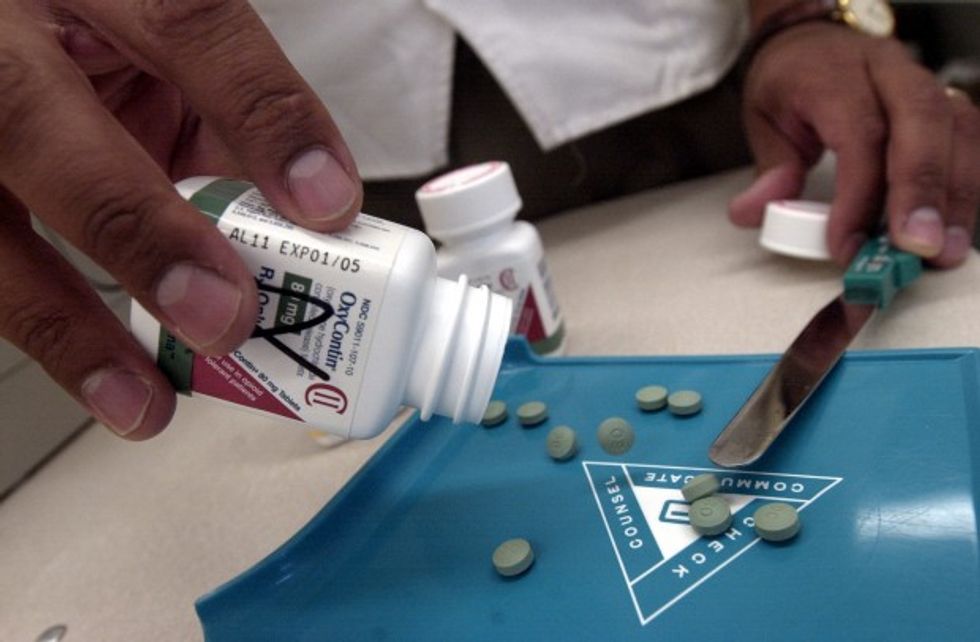 The prescription medicine OxyContin is displayed August 21, 2001 at a Walgreens drugstore in Brookline, MA. The powerful painkiller, manufactured to relieve the pain of seriously ill people, is being used by some addicts to achieve a high similar to a heroin rush. Its popularity among abusers of the drug has resulted in a string of pharmacy robberies nationwide. Armed robbers raid the pharmacies for the painkiller which has a street value of $40 for a 40mg pill. (Darren McCollester via Getty Images)
As a mother of two young children, FDA's decision surprises me. The same agency that has adopted a "nanny state" role by banning trans fat and recommending a population-wide sodium reduction (contrary to medical studies), now has decided to expose kids to one of the most addictive narcotics available.
The FDA claims that OxyContin can be prescribed to children without other pain alternatives, specifically, children who need "daily, round-the-clock, long-term" pain relief. Currently, the Duragesic patch, which releases fentanyl, is the only other opioid approved for children. Doctors believe that kids can take OxyContin for a limited time with close supervision. Fewer daily doses may allow kids to start physical therapy sooner, reduce hospital stays, and sleep through the night.
I am still not convinced. We do have nights when illnesses and fevers keep everyone awake in my household, so I sympathize with parents of children with life threatening illnesses. As parents, we do not want to see our babies suffer – even for one night.
Drug abuse prevention experts have sounded an alarm about the FDA's decision. Some worry that parents are not educated enough about the drug to fully understand what they are giving to their children. I have read the warning labels accompanying prescriptions and believe they would confuse any concerned parent.
Prescription drug use is on a rise in our country, especially among younger people. According to the National Institutes of Health, approximately 2.1 million Americans are struggling with an addiction to prescription painkillers. And similar to marijuana, these type of opioids are a gateway to heroin addiction.
Equally concerning is the potential abuse by parents and others in the household. The demanding needs of a severely ill child, coupled with health care bills and additional stress, could tempt some parents to dip into a pill bottle. Even worse, they could be driven to sell the drug to help pay the bills.
Sen. Joe Manchin (D-WV.). also has expressed concern about the approval of OxyContin in teens. The senator issued a press release and is asking for a Senate investigation. He wants the FDA to reconsider its decision and correctly calls attention to the existing problem of prescription drug use and the impact this decision could have on the teen population and wider community. Sen. Manchin mentions the devastating effect of prescription drug abuse in West Virginia.
Another recent example citing OxyContin abuse developed in the aftermath of the Freddie Gray riots in Baltimore. Media reports of the rising crime wave are attributed to gang activity, caused by the looting of 17 pharmacies in the riot areas. Drug Enforcement Agency officials noted that gangs targeted pharmacies carrying "OxyContin, oxycodone, Vicodin and Percocet."
The FDA claims that OxyContin's manufacturer, Purdue Pharma LP, must send reports for the next three years regarding adverse side effects of the drug, including respiratory problems, accidental injury and, of course, overdose and misuse. Since children's brains are not fully developed until the age of 25, I guess we will not know the full impact of OxyContin on teens and their health for years to come. This is yet another "brilliant decision" from the FDA.
–
TheBlaze contributor channel supports an open discourse on a range of views. The opinions expressed in this channel are solely those of each individual author.