By Larry Salzman
Silicon Valley has some of the most expensive housing prices in the nation, and no one can deny that more housing is needed for people earning less than a millionaire's wage.
But should government force landlords to pay years of rent subsidies or other compensation to their tenants before being permitted to withdraw their rental property from the market?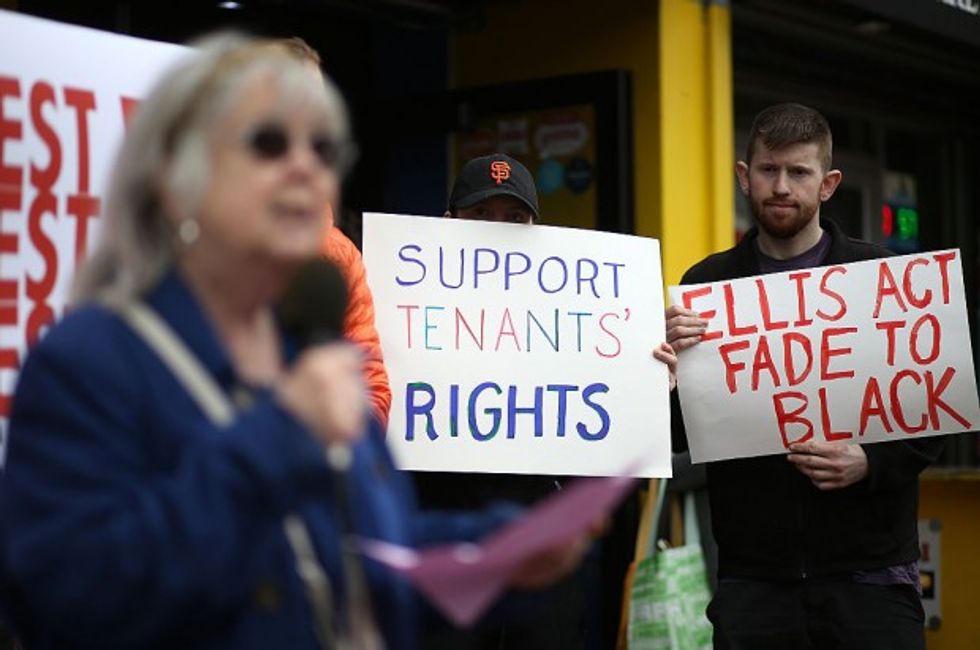 Activists and tenants of 1049 Market Street hold signs as they stage a protest against the landlord's attempts to evict them from the building on March 8, 2016 in San Francisco, California. The current landlord has filed an Ellis Act eviction to remove residents in the entire 84 unit, rent-controlled building. (Photo by Justin Sullivan/Getty Images)
A federal court is Northern California is considering that question right now, in a constitutional lawsuit brought by the Jisser family, owners of the Buena Vista mobile home park in Palo Alto. The Jissers would like to retire, close the park they have run for more than 30 years, and someday use their land for another purpose. They brought a federal constitutional lawsuit to prevent Palo Alto from forcing them to pay an estimated $8 million dollars to their tenants as a condition of getting the permit to close the park. There are approximately 90 mobile homes parked in Buena Vista.
Just up the coast in San Francisco, a federal court said a little over a year ago that a very similar demand was unconstitutional. In a highly publicized case, Judge Charles Breyer struck down a San Francisco ordinance that required the Levin family to pay roughly $117,000 to their tenant (whose lease had expired) for the right to reoccupy the downstairs unit of their duplex. The payments were needed, argued the city, because the rent charged by the Levins was lower than the notoriously high prevailing market rents in San Francisco - and someone should pay to make new housing affordable for their tenants.
The same underlying arguments are in play in the Palo Alto case. The Jissers contend that no one should be forced to carry on a business that they want to close. Yet Palo Alto has told the Jissers that they must choose: pay millions of dollars to offset the unaffordable cost of new homes for the tenants or be forced to forever run the mobile home park. These demands are unconstitutional conditions on the Jissers' freedom to use their land for their own benefit - something they have a right to do under California law and the U.S. Constitution.
Both the Levin and Jisser families are represented without charge by Pacific Legal Foundation - known nationally as the leading public interest legal organization defending property rights. The cases aim to vindicate a simple principle: Government may not leverage its permit power to force individual property owners to pay the tab for solving general social ills that, in fairness, should be paid by the public as a whole.
Put another way, why is it right for the Jisser family to be held uniquely responsible for the economic well-being of their tenants? They didn't cause the lack of affordable housing in the San Jose area; if anything, they did more than almost anyone else to provide low-cost housing for years.
If government can shift those affordable-housing costs to individual landlords as part of a permit process rather than paying for them through general taxation (or reducing the cost of housing generally by permitting more of it to be built), bureaucrats could demand fees from anyone who needs any kind of permit and use that money for any purpose. And this is precisely what a string of U.S. Supreme Court cases has held that government may not do.
In the Levins' case in San Francisco, Judge Breyer relied on those Supreme Court precedents to rule that the city's rental ordinance unconstitutionally "force[d] the property owner to pay for a broad public problem not of the owner's making." The same principle applies to the Jissers' case in Palo Alto.
No one denies the need for more - and more affordable - housing in these communities. It is a tragic problem that must be solved. But scapegoating individual property owners like the Levins or the Jissers is wrong. Any serious discussion of the problem must begin by recognizing constitutional protections for property rights and the basic principle that the way to make housing more affordable is to build more housing.
LARRY SALZMAN is a Pacific Legal Foundation attorney and Director of PLF's Liberty Clinic project, which sponsors a property rights and economic liberty trial litigation clinic at Chapman University's Dale E. Fowler School of Law in Orange, Calif.
–
TheBlaze contributor channel supports an open discourse on a range of views. The opinions expressed in this channel are solely those of each individual author.