Suicide, addiction and self-violence are plagues that overtake so many. What do you do when this plague hits you or someone you love?
The confusion, despair and crippling loss leaves footprints of pain that seldom lead to understanding or answers. Rather, they often take the afflicted on a despairing journey trying to follow a compass whose needle swings in a million different directions.
I understand; not just through books and research but also from personal experience. At 21, I decided I would quit life. An abrupt, unexpected, interruption from a close friend was the only thing that stopped a bullet from sealing my fate.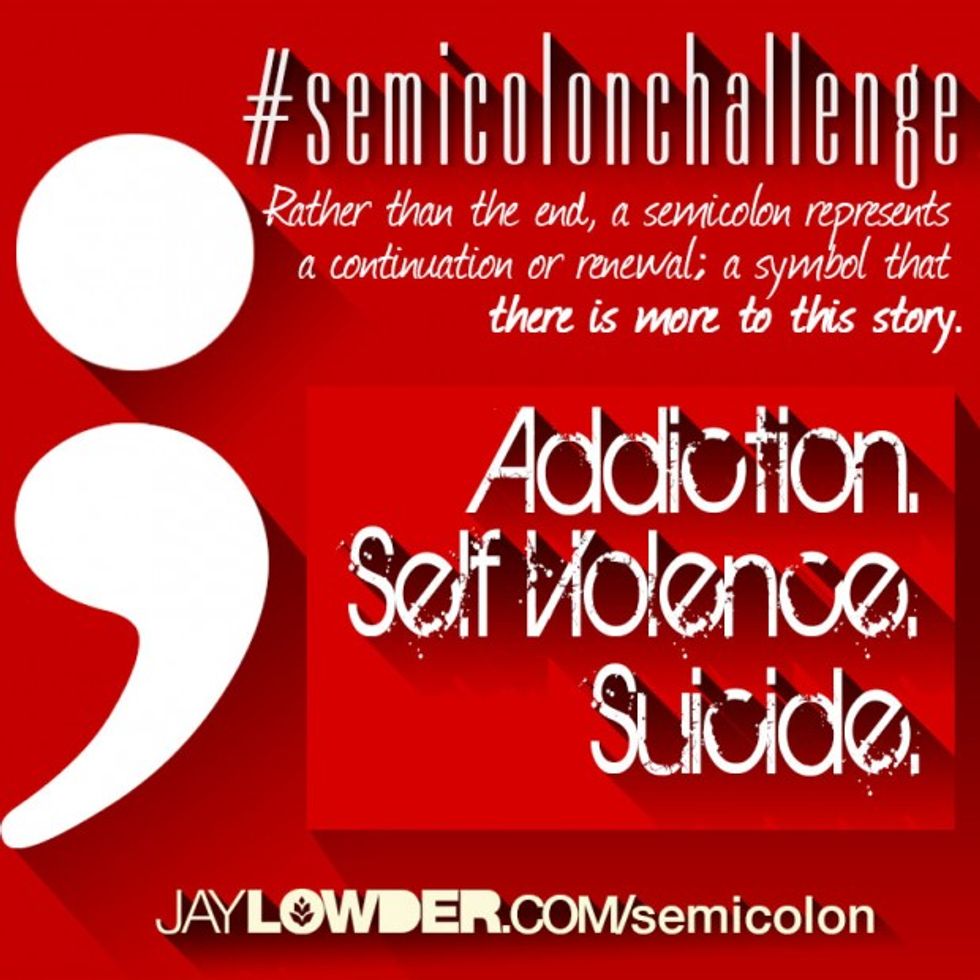 One simple act on social media could be the difference between life and death for some people. (Jay Lowder, http://www.jaylowder.com/semicolon)
A business colleague and friend of mine didn't receive the same intervention and was found by his wife hanging from their bathroom door. I was pallbearer at his gut-wrenching funeral. I can still hear the primitive, animalistic screams emanating from his wife during his funeral and see her sister as she gently tried to stroke her hair as an offer of solace. I have also met face-to-face with countless students all over the world who have chartered these same troubled waters.
Because of this, I have committed my life toward trying to help rescue others who have been swallowed up by this darkness.
Last week I became aware of "Project Semicolon." Its goal is in the same ballpark as my own: raising suicide awareness. As I read about its efforts, I began to contemplate how I might "piggy back" on its endeavors and remembered the "ice bucket challenge," which overtook social media feeds worldwide last year to raise awareness for ALS.
This motivated me to create a video and social media project called the #SemicolonChallenge that I hope will bring more attention to the suicide epidemic as well as facilitate two of the most important steps toward prevention.
Step one is connection. People who struggle with addiction, suicidal tendencies and depression often feel isolated and alone. It can be easy to believe the lie that no one understands or that they are the only ones battling hopelessness. By linking people together who have similar feelings or the experience of losing a loved one, survivors are enabled to develop relationships with others who can serve as support, solidarity and encouragement.
Step two is communication. One of the greatest deterrents to self-violence is communication. For those suffering, the order of the day is accessibility to compassionate dialogue: a sounding board of reason and concern. The myth that talking about suicide leads to suicide is incorrect. Furthermore, some people are intimidated to talk with those closest to them.
That's why the #SemicolonChallenge is so important. It doesn't take much. Simply drawing a semi-colon on your arm with a marker and posting a video on your social media can help reduce the apprehension of sharing with someone who may think no one understands what they are going through. Sometimes, exterior friends or acquaintances are the easiest to approach.
I hope everyone will participate in the #SemicolonChallenge. You can find out more about it at jaylowder.com/semicolon. Joining the movement could be the simplest way to save a life.
Cursing darkness never brings light. People do… people who are willing to take risks in order to save the lives of others. I hope you'll join the mission.
–
TheBlaze contributor channel supports an open discourse on a range of views. The opinions expressed in this channel are solely those of each individual author.