© 2023 Blaze Media LLC. All rights reserved.
Supreme Court Encourages Passage of Laws Targeting Christians for Discrimination
"If this is a sign of how religious liberty claims will be treated in the years ahead, those who value religious freedom have cause for great concern." - Justice Alito
The Stormans family owns a pharmacy in Olympia, Washington. As devout Christians, they were committed to run their business according to their convictions.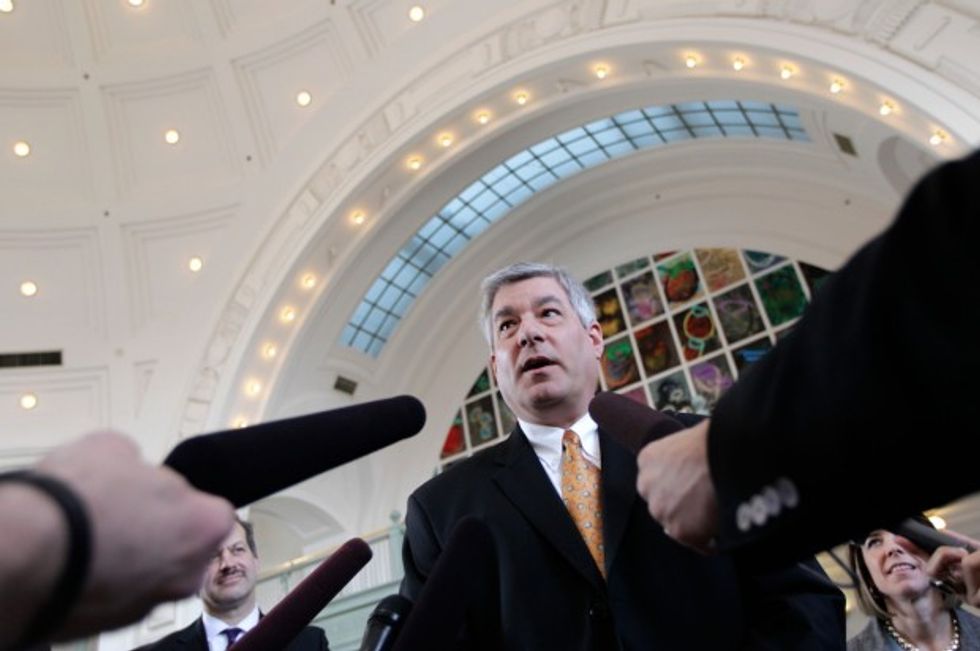 Kevin Stormans, one of the owners of Ralph's Thriftway, in Olympia, Wash., talks to reporters, Wednesday, Feb. 22, 2012, in Tacoma, Wash., after a federal judge ruled that Washington state may not force pharmacies to sell Plan B or other emergency contraceptives. Ralph's and two licensed Washington pharmacists sued in 2007, saying that dispensing Plan B would infringe on their religious beliefs because it can prevent the implantation of a fertilized egg. (AP Photo/Ted S. Warren)
The government hates that. And they hate it with special animus in the context of abortion or "reproductive rights," as they call it.
The Stormans did not carry abortifacients in their store, instead referring customers to the more than 30 other pharmacies within five miles of their store that carried it. No customer has ever been denied timely access to abortifacients. But their refusal to betray their deeply held religious beliefs and bow down before big abortion won them the ire of their business partners, big government.
Therefore, the Washington State Board of Pharmacy set to the task of coming up with new regulations. The task, according to Steven Saxe, the Board's executive director, was to "draft language to allow facilitating a referral for only these non-moral or non-religious reasons."
The governor quickly jumped in with unusual enthusiasm, sending a letter opposing allowing a pharmacy to refer customers for "personal or conscientious reasons." The States Human Rights Commission also sent "a letter threatening Board members with personal liability" if they allowed pharmacists to refer customers because of their religious convictions.
So the Board passed the law prohibiting a pharmacy from refusing "to deliver a drug or device to a patient because its owner objects to delivery on religious, moral or other personal grounds."
Essentially, Christians should get out of the pharmacy business.
Not surprisingly, with such a clear record showing the whole purpose of the law was to target religious beliefs, the District Court struck down the law. It seems fairly clear that if there is any meaning at all to, "Congress shall make no law respecting an establishment of religion, or prohibiting the free exercise thereof …" it would be that government should not specifically target religious beliefs for discrimination, but as we know, reality has broken down in our culture.
So the Ninth Circuit Court of Appeals, the official emperors of personal reality and relative truth in law and culture, reversed the District Court to preserve the bigoted law.
Naturally the Stormans, represented by our friends at the Alliance Defending Freedom, appealed that decision to the U.S. Supreme Court who should have granted cert to correct this clear violation of the First Amendment, but fresh off the ecstasies of declaring commonsense abortion regulations unconstitutional, the Court decided not to hear the case and allow Washington state's discrimination to continue.
Justice Samuel Alito, joined by Chief Justice John Roberts and Justice Clarence Thomas, published a dissenting opinion objecting to the denial of cert . In it he calls the decision to deny cert "an ominous sign," and wrote, "If this is a sign of how religious liberty claims will be treated in the years ahead, those who value religious freedom have cause for great concern."
And so we have — great concern, that is. The Supreme Court's inaction will undoubtedly encourage other liberal states to infringe on religious liberty in the same way Washington has, in direct violation of the First Amendment and clear Supreme Court precedent.
As Justice Alito pointed out, "The Free Exercise Clause commits government itself to religious tolerance, and upon even slight suspicion that proposals for state intervention stem from animosity to religion or distrust of its practices, all officials must pause to remember their own high duty to the Constitution and to the rights it secures."
Thankfully, the Court's refusal to hear the case does not preclude other cases from challenging similar laws, and, hopefully, a Supreme Court with more justices committed to the Constitution as written will rectify the violation they authenticate with their denial this term.
Mario Diaz, Esq. is Legal Counsel at Concerned Women for America, the nation's largest public policy women's organization. His book Be Spent: Winning the Fight for Freedom's Survival is available now at Amazon. Follow him on Twitter @legalblurbblog.
–
TheBlaze contributor channel supports an open discourse on a range of views. The opinions expressed in this channel are solely those of each individual author.

Want to leave a tip?
We answer to you. Help keep our content free of advertisers and big tech censorship by leaving a tip today.
more stories
Sign up for the Blaze newsletter
By signing up, you agree to our
Privacy Policy
and
Terms of Use
, and agree to receive content that may sometimes include advertisements. You may opt out at any time.