It was another close call at the U.S. Supreme Court. A 4-4 tie gave us the right outcome in US v. Texas, the case that challenged President Obama's executive overreach on immigration.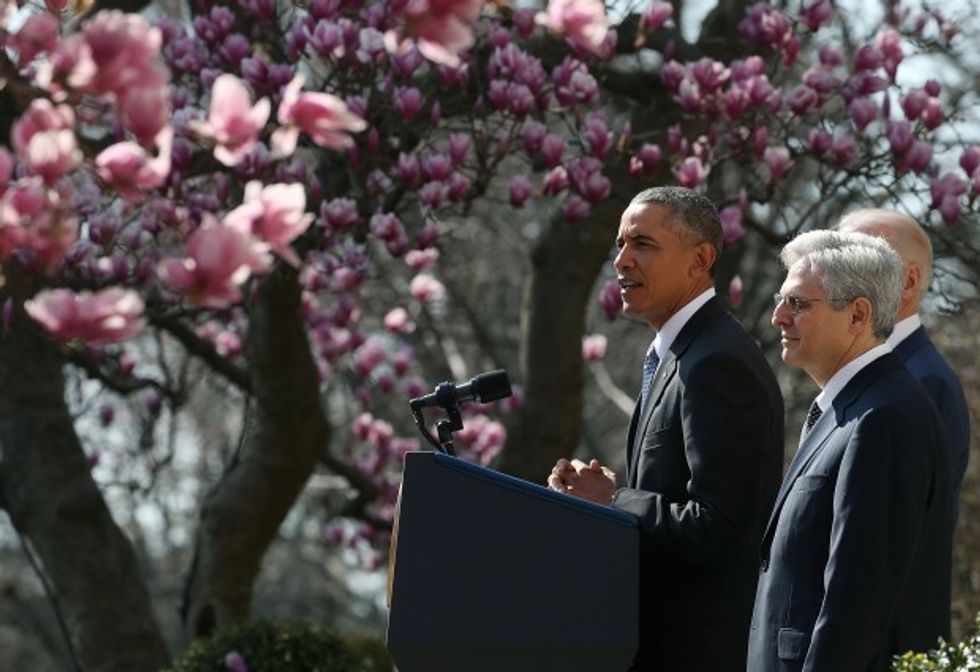 WASHINGTON, DC - MARCH 16: US President Barack Obama (L), nominates Judge Merrick B. Garland (R), to the US Supreme Court, in the Rose Garden at the White House, March 16, 2016 in Washington, DC. Garland currently serves as the chief judge on the United States Court of Appeals for the District of Columbia Circuit, and if confirmed by the US Senate, would replace the late Justice Antonin Scalia. (Photo: Mark Wilson/Getty Images)
Twenty-six states had filed suit to block the president's executive order. District Judge Andrew Hanen issued an injunction blocking implementation of the order, concluding that the president was trying to enact through executive action something that violated existing law. The president was, once again (as he so often has been), reminded that there are constitutional boundaries to his role as president. The Fifth Circuit Court of Appeals affirmed the injunction.
Now the Supreme Court has also affirmed the lower court's opinion rebuking the president for appropriating the legislative role by bypassing Congress to enact new legislation by fiat.
That's the issue in this case. Not immigration.
We must get this right. Whatever your personal position on the immigration debate, this case has nothing to do with it. What the court rightly protected here are the structures of government that guard our liberties. They only answer who gets to decide on this issue that is so important to our nation. The answer is that the president cannot act alone, as dictators do.
We must think clearly and rightly on this. Obama continues to try to bully the country into supporting his legislative agenda. This is not the way our constitutional republic is set up to work. In America, anyone wanting to support a particular policy has every opportunity to convince his fellow Americans and bring about, through the legislative process, the policies they seek.
This is hard work, no doubt. It is meant to be that way, so that the process itself will ensure only the best policies make their way through. But the president refuses to do the hard work necessary to persuade policy makers and bring about the changes he seeks. It is not that he has tried and failed. He has not even tried. Instead, the president usually gives a speech asking for something, and if he doesn't get it, he goes ahead and does what he wants anyway, bypassing Congress (and therefore the people) hoping activist judges will uphold his unconstitutional actions.
But the courts are supposed to block the president in such instances. When one branch of government oversteps its constitutional role, it is the duty of the other branches to push back.
This is why the Republican leadership is correct in making the proper role of Supreme Court Justices an issue in the upcoming elections by withholding consent from President Obama's nominee to replace the late Justice Antonin Scalia, Judge Merrick Garland.
It is fairly clear the president would have had his way if Garland would have been sitting on the Court today. That would have been catastrophic for our country. Truly.
Again, not because of immigration, but because of the breakdown in the separation of powers established by the Constitution. Our immigration policy is a legitimate issue that must be addressed by Congress hearing the voice of its constituents and coming up with the best solutions to address their concerns. But if a president can just enact and repeal legislation as he pleases, we all lose.
Even proponents of immigration will lose when all of a sudden a president comes along to undo by another unconstitutional executive action, something contrary to what Obama has done.
We need judges with an unflinching commitment to the Constitution, not ones who make decisions based on their personal policy preferences.
We have seen the damage cases like Dred Scott v. Sandford, Roe v. Wade and Obergefell v. Hodges have done. It is time for us to move away from this model that is destroying our nation from within.
When we preserve our constitutional structures, regardless of policy outcomes, we protect freedom and liberty for all.
Mario Diaz, Esq. is Legal Counsel at Concerned Women for America, the nation's largest public policy women's organization. His book Be Spent: Winning the Fight for Freedom's Survival is available now at Amazon. Follow him @legalblurbblog.
–
TheBlaze contributor channel supports an open discourse on a range of views. The opinions expressed in this channel are solely those of each individual author.