Is Barack Obama dissatisfied with his title as president? Does he want to be called king, sultan, czar or tyrant? Because tyranny – the very thing we rebelled against 240 years ago – is where his executive orders are taking us.
Meanwhile, the people who are supposed to keep him honest – the fourth estate, aka the news media – clearly support his progressive agenda. Worst of all, our ultimate defense against tyranny, the upholder of the Constitution and its separation of powers, the Supreme Court, seems to encourage the restoration of tyranny.
Maybe I am wrong. I hope I am wrong. We shall see in June 2016, one year after the King v. Burwell fiasco. That is when the Supreme Court will announce its decision in United States v. Texas.
[sharequote align="center"]The executive branch cannot change, much less reverse, a law established by the legislative branch.[/sharequote]
Separation of Powers
The legislative branch of government creates the law. So says the U.S. Constitution. The executive branch carries out those laws. Again so says the U.S. Constitution, which quite overtly separates their powers.
This separation of powers ("trias politica") is the way devised by our Founding Fathers to avoid a return to the aristocratic system/ruling class that we rejected in 1776. Anything that weakens separation of powers by definition promotes its concentration and thus encourages a return to tyranny.
U.S. law establishes a legal process by which people enter this country and obtain citizenship. Only those here legally are entitled to privileges such as eligibility to work, and to receive benefits such as Social Security, disability, Medicare, unemployment insurance, and even driver's licenses. Those who do not follow the legal process are in contravention of the law. They are behaving illegally. There are punishments established for such behavior, such as deportation.
That is the law, established by the duly constituted authority, the legislative branch. The executive branch, in the person of President Obama, did not like this law. So, in 2014, he changed it. His executive order shielded approximately 4.5 million illegals (or as he called them "undocumented") from current immigration law and conferred on them the privileges listed above.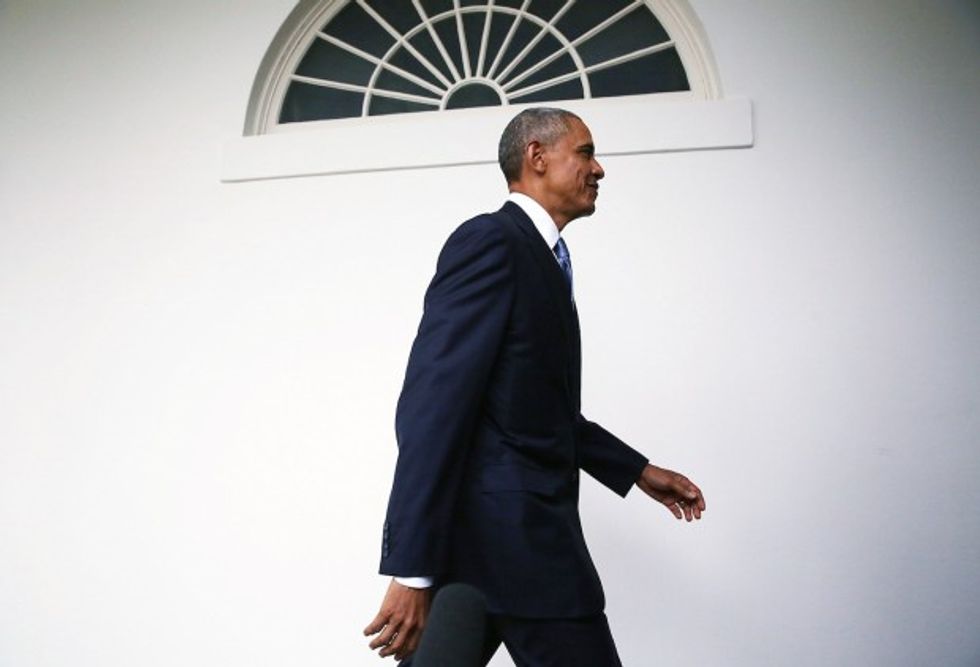 President Barack Obama walks through the Colonnade at the White House January 12, 2016 in Washington, D.C. (Photo by Alex Wong/Getty Images)
People tend to get caught up in the "game" aspect of politics. It's like football, boxing or even the Tour de France (my sport.) Score keeping dominates. The big picture is lost.
All we hear or read about is Republican versus Democrat forgetting that both are Americans; word parsing–distortion of meaning for tactical gain; acrimonious debates and ad hominem attacks; disinformation; and the endless legal maneuvering – they all distract us from simple, basic principles. The forest is no longer in view because we are too busy studying the veins on the leaves of one tree.
Let's not do that.
The law on people here illegally is established. Complex, confusing, sometimes even contradictory, but still there. The executive branch can only implement it. The president cannot change it. Yet that is precisely what Mr. Obama with his 2014 executive order that stopped deportations and began to confer citizen-like privileges on illegals. George Will very appropriately calls this "constitutional vandalism."
U.S. v. Texas
Twenty-six states led by Texas joined in a suit, called U.S. v. Texas (Docket No. 15-674), saying the federal government did not have the legal authority to do what it did.
This case is straightforward as long as you don't get caught up in all the legal-speak, political nuance, self-justification and rationalization. The executive branch cannot change, much less reverse, a law established by the legislative branch. Period.
Children who have had their fathers deported, attend a protest in response to US President Barack Obama's delay on immigration reform in front of the White House in Washington, DC, September 8, 2014. Demonstrators voiced their displeasure in President Obama's decision to delay executive action on immigration until after the midterm elections and his acquiescence to pressure from Senate Democrats. AFP PHOTO / Saul LOEB
It's that simple, if you believe in the Constitution. The primary defender of the constitution, the Supreme Court, should say the same thing, thereby defending freedom over tyranny. It is possible, even likely, they will side with tyranny.
Past Supreme Court Behavior in King v. Burwell
I write that last sentence based on how the Supreme Court decided in King v. Burwell. In that 2015 Obamacare case, stripped of all intentional legal obfuscation, the facts are as straightforward as in U.S. v. Texas.
Obamacare law allows subsidies to flow only through exchanges "established by a State" [italics by this author.] The president wanted to allow a federal exchange, healthcare.gov, to distribute subsidies. He ordered the IRS to issue a ruling that allowed the federal government to do what he wanted. The IRS complied, of course, and healthcare.gov has been offering subsidies since the 2011 rule issuance.
David King and three other ordinary citizens sued the federal government represented by Sylvia Burwell, the Secretary of Health and Human Services who succeeded Kathleen Sibelius. The case called King v. Burwell went to the Supreme Court, which decided in June 2015 (6-to-3) that it was okay for the IRS ruling to reverse the Obamacare law. In other words, the Supreme Cort said the White House could contravene a law established by Congress.
The justices had their reasons, primarily based on mind reading and a belief in their own economic acumen. Six justices said that, even though the law was written one way, they knew in their hearts that Congress wanted something different. Also, they feared that disrupting federal subsidies would lead to insurance death spirals. So they allowed the IRS ruling to stand.
Constitution? Who cares about the Constitution when six justices can establish public policy from the bench?
Concentration of Power Leads to Tyranny
With King v. Burwell, the Supreme Court began our slide back to tyranny. If the Justices are consistent (oh, I hope not), they will hold for the federal government in U.S. v. Texas and against 26 states.
Such a decision would eliminate the co-equality of power between the two branches of government. It would concentrate power in the executive branch and make the legislative branch subservient, possibly even irrelevant. At that time, Mr. Obama could change his title to king, czar, sultan or tyrant, whatever he wants.
Dr. Deane Waldman MD MBA is author of just released "The Cancer in the American Healthcare System;" Host of www.wecanfixhealthcare.info; Professor Emeritus of Pediatrics, Pathology and Decision Science; and Adjunct Scholar (Healthcare) for the Rio Grande Foundation, a public policy think tank. Dr. Deane sits on the Board of Directors of the New Mexico Health Insurance Exchange as Consumer Advocate. Opinions expressed here are solely his and do not necessarily reflect the opinions of the Board.
–
TheBlaze contributor channel supports an open discourse on a range of views. The opinions expressed in this channel are solely those of each individual author.