Ted Cruz's new national spokesman, who replaced ousted spokesman Rick Tyler, came under fire last week for once hiring illegal immigrants and abusing the H-1B program when he was chairman of the Republican Party of California.
However, Cruz's new spokesman is now being exposed for an offense that Cruz supporters might find even more egregious: trying to stop the Tea Party movement.
In the spring of 2009 when Americans were told their government and big banks were "too big to fail,"Tea Parties began to spring up across the United States.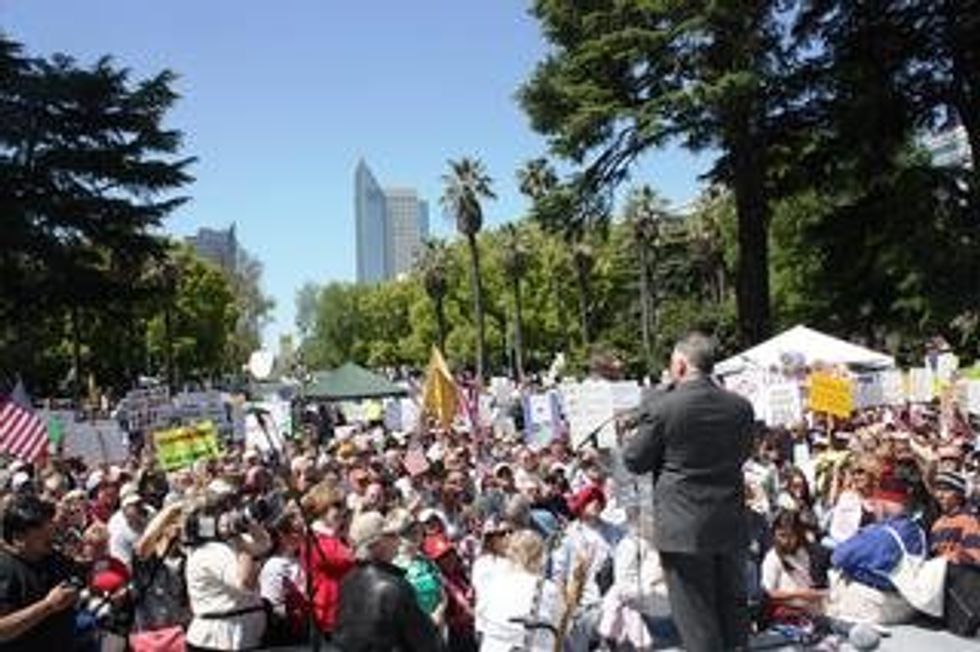 The "Tax Day Tea Party" on April 15, 2009 drew an estimated 28,000 people. (Jennifer Kerns) 
Night after night, audiences witnessed Americans taking back their government on live TV.
FOX News host and talk radio personality Sean Hannity headlined the Tea Party in his home city of Atlanta; FOX News provided wall-to-wall coverage of the Tea Party in midtown Manhattan; and FOX News' Neil Cavuto covered the Tea Party in California, for which I served as the official event director and communications director.
The Tea Party was going strong except for one hitch: both myself and my event team received word that some inside the GOP were working to get the events cancelled.
One of those people was Ron Nehring, then-chairman of the California Republican Party and the man who just last week was named Ted Cruz's new national spokesman.
It turns out, our Tea Party wasn't alone in the obstruction.
"When we started the Tea Party in California, we expected that the GOP would open theirs arms and welcome us in," said Dawn Wildman, founder of the California Tea Party Groups Coalition, responsible for several successful Tea Party rallies and tax revolts in California. "Instead, Ron Nehring and many other GOP leaders fought against us at every turn. They hijacked media at events claiming successes for themselves. They warned the rank and file to not join us."
Wildman wasn't alone.
According to sources who spoke on anonymity due to their current jobs in state government, there were a series of threatening phone calls in 2009 from Nehring to legislators claiming that anyone offering aid and assistance to the Tea Party would become an "enemy" of the Republican Party.
The threats were enough to get Wildman and others to leave the party.
"The threats were so destructive that after that, I burned my Republican Party registration card and became a 'no party preference' voter," said Wildman.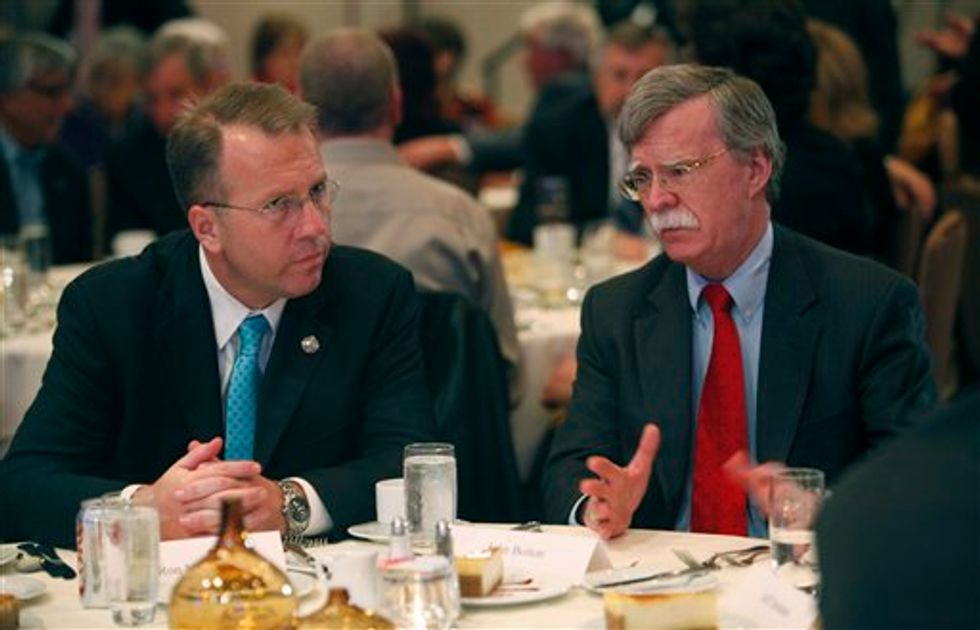 Former U.S. Ambassador to the United Nations John Bolton, right, and California Republican Party Chairman Ron Nehring talk during the opening night dinner of the California Republican Convention in Sacramento, Calif., Friday, March, 18, 2011.(AP Photo/Steve Yeater)
Again, Wildman wasn't alone. According to the Associated Press, Republican voter registration in California plummeted during Nehring's chairmanship while both Independent ("no party preference") and Democrat registration rose.
Some attribute the fall to Nehring.
"Ron Nehring is an elitist GOP leader who never thought the grassroots mattered," said Tamara Colbert, grassroots activist and a Tea Party co-founder of the group, TeaPAC, based in Southern California and one of the first Tea Party groups to appear on FOX News. "Ron always thought the elite GOP knew better than the grassroots. We are seeing the same pattern now, just on a national scale."
At the end of the day, the Tea Party went forward.
The "Tax Day Tea Party" march on the capitol - whose funding was provided by Americans for Prosperity Foundation and another prominent taxpayers organization with deep roots in California - allowed the event to operate independently from the Republican Party and be immune to Nehring's threats.
If it hadn't been for the independent groups, the West Coast Tea Party would have undoubtedly been silenced by Nehring's GOP.
Mark Meckler, co-founder of the Tea Party Patriots, had a different experience with Nehring.
Meckler said "it would be highly unfair and inaccurate" to say that Nehring tried to stop the Tea Party movement.
He instead recalls inviting Nehring to speak at the Tea Party but being told by staff that Nehring was too busy to attend. In the 11th hour, Nehring's staff called and reversed themselves.
"When it became clear that this was going to be a big deal, I got a call from his staff saying he'd like to speak at the event," Meckler said. "I advised his staff at that [point] we were far too busy to make room for him."
At the event itself, however, Meckler did challenge Nehring from the stage over a $16 billion tax increase Nehring had supported financially.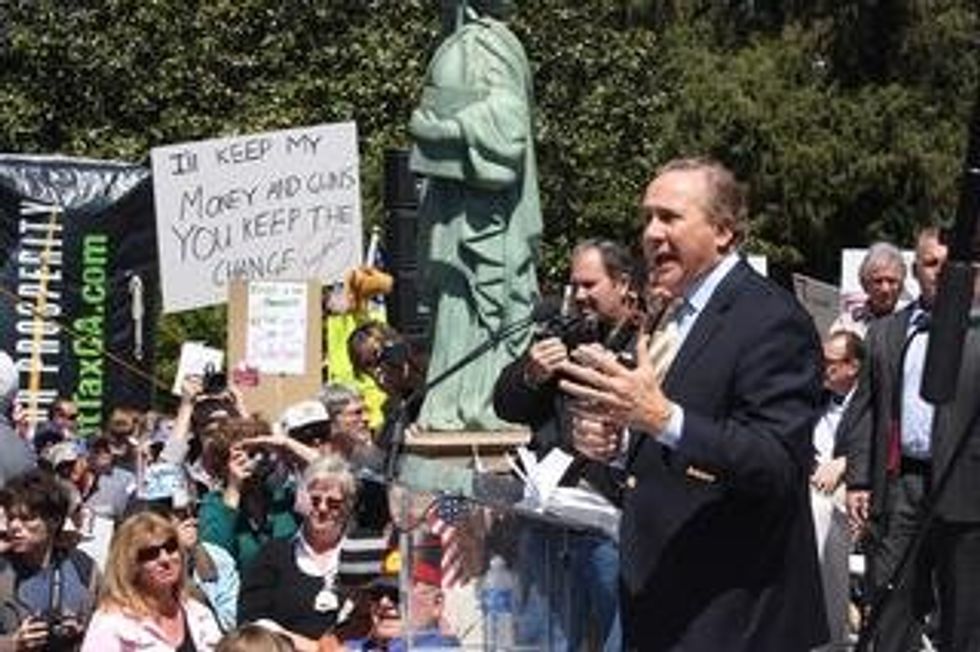 Michael Reagan, son of President Ronald Reagan, rallies a crowd at the "Tax Day Tea Party" in Sacramento in 2009. The rally was an event that Ted Cruz's now-national spokesman tried to stop. (Jennifer Kerns) 
"...I heard he was in attendance, and from the stage challenged him to be a man and come up and explain to the large crowd why as the head of the California Republican Party, he would not take a position against Proposition 1A, the largest proposed tax increase in California history," said Meckler. "Of course, he wasn't willing to do that, and I heard that he ducked inside the Capitol after that."
In a roundup of the Tea Party events across the nation that day, conservative columnist and author Michelle Malkin covered the Meckler remarks and reported that attendees at the Tea Party had in fact "greeted Nehring... with a roar of boos and catcalls."
Seven years later, the photographs have faded but for some, the memories of who helped and who fought against the movement have not.
Voters deserve to know what Ted Cruz knew about Nehring before his hiring.
On the one hand, if Ted Cruz knew that Nehring was a sworn enemy of the Tea Party (as well as an employer of illegal immigrants), it speaks materialistically to assertions by Donald Trump that "Ted Cruz is a liar" and suggestions by Sen. Marco Rubio that Cruz does not "walk the walk" when it comes to his policy positions.
On the other hand, if Cruz was not aware of Nehring's past it speaks to Cruz's inability to properly vet candidates for the job.
Either way, voters must decide whether Ted Cruz is a candidate Americans trust with campaign decisions, White House staff appointments and eventually, as many as four Supreme Court vacancies.
Feature Image: Courtesy of Author
–
TheBlaze contributor channel supports an open discourse on a range of views. The opinions expressed in this channel are solely those of each individual author.