Coauthored by Myra Adams, a media producer, writer, and political observer who served on the McCain Ad Council during the 2008 McCain campaign, and on the 2004 Bush campaign creative team. Myra's web site TheJesusStore.com contributes all profits to Christian charity. Follow Myra on Twitter @MyraKAdams.
–
The Civil War of 2016 is looming large even though Nov. 8, 2016's "Mother of All Battles" is still 20 months away.
One can see and feel the dark, ominous clouds gathering on the horizon. Hopefully, the war will not involve the use of any deadly weapons but this red verses blue battle could prove to be the most brutal, expensive, nasty, long and divisive election campaign in our nation's history.
As in the last presidential election, the usual contentious domestic issues such as big government, entitlement programs, tax reform, jobs, education, Obamacare, federal debt, income inequality, culture wars, immigration and race will all be hotly contested. But what will turn the 2016 election into the Civil War of 2016 is a concept we call: "Polarizing politicians for a polarized nation."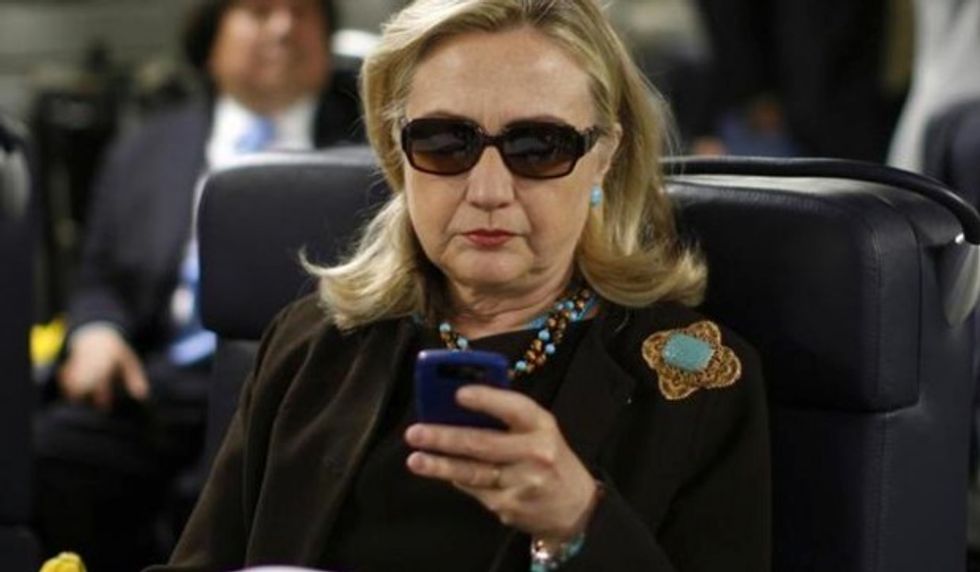 In this Oct. 18, 2011, file photo, then-Secretary of State Hillary Rodham Clinton checks her Blackberry from a desk inside a C-17 military plane upon her departure from Malta, in the Mediterranean Sea, bound for Tripoli, Libya.  (AP Photo/Kevin Lamarque, Pool, File)
Sure, the last several presidential contests have all been polarizing. However, the growing belief that our nation is in decline, losing its stature and ability to influence world events -- coupled with the desperate need for a leader who can turn things around -- positions our nation atop a high emotional pyramid.
It is precisely those raw emotions, stemming from a fear that our once great country is slipping away, that places us on a collision course with three highly flammable potential presidential nominees all of whom are uniquely positioned to ignite the Civil War of 2016.
Let's begin with Democrats.
Even though former Secretary of State Hillary Clinton is embroiled in an embarrassing personal email scandal, she is still overwhelming favored to be the Democratic Party's 2016 presidential nominee.
Democrats have no real alternative candidate which explains why their high command is so heavily invested in Clinton's candidacy. However, the Democrat "powers that be" are also comforted by a whopping 86 percent of likely Democrat primary voters who support Clinton's quest for the nomination according to a recent Wall Street Journal/NBC poll.
Hillary Clinton potentially leading the Democrat ticket represents the gold standard of a polarizing politician for a polarized nation.
Long before Clinton has declared her official presidential intentions, Republican leadership and conservative media have been on a war footing attacking her past, present and future actions. Republicans will fight to take her down with a "you cannot trust the Clinton's" mantra, while Democrats will do almost anything to defend and elect her.
Shifting to the Republicans, the polarizing politicians for a polarized nation concept is personified by two leading men, Wisconsin Gov. Scott Walker and Former Florida Gov. Jeb Bush. At this moment, it appears that one of them is likely to emerge and win the GOP nomination.
A Hillary Clinton/Jeb Bush presidential match-up would be a "conventional" Civil War compared to an all out nuclear meltdown if Scott Walker were to win the Republican nomination.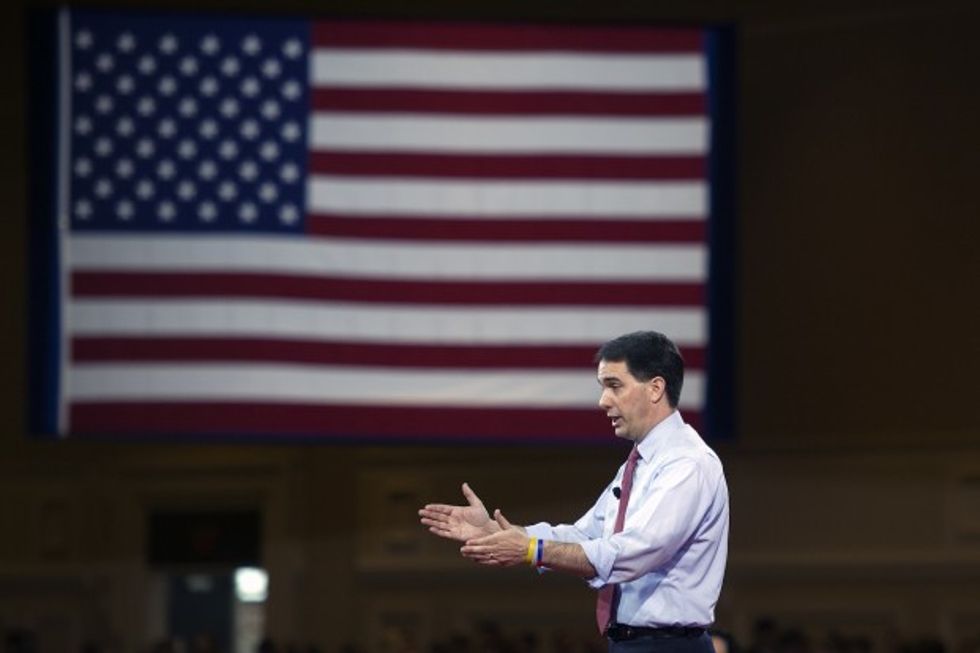 Wisconsin Gov. Scott Walker speaks during the Conservative Political Action Conference (CPAC) in National Harbor, Md., Thursday, Feb. 26, 2015. (AP Photo/Cliff Owen)
For the sake of brevity, let's focus on Scott Walker because nothing could be more fun than a 2016 Civil War with nuclear explosions.
According to the current Real Clear Politics poll average, Walker has the best chance of defeating Clinton, losing to her by only 6.5 percent.
However, figured into that poll average is a McClatchy-Marist poll taken in early March, before Hillary's email blow-up. That poll shows Clinton defeating Walker by only 4 percent.
Known as a fearless warrior, Walker is emboldened after winning a 2012 union instigated recall election and then his 2014 reelection. He is a strong Christian and as the son of a Baptist preacher is not afraid to talk about his faith.
Most notably, Walker does not have a college degree, throwing members of the media elite into a tizzy.
With all these factors combined, it was no coincidence that in February, just as Walker began emerging as a leading candidate, the mainstream media started its full-scale attack. But alas, a little too quickly -- the New York Times and the Daily Beast were both forced to make embarrassing corrections and retractions about Walker.
Due to the fact that Walker has the distinction of being the unions' public enemy No. 1, that alone will ratchet up the vitriol and boost the intensity of the 2016 general election, because the unions desperately want revenge.
Here is a preview how unions can expect President barack Obama's help in defeating the Wisconsin governor.
Obama has already injected himself into the 2016 race. He blasted Walker after the governor signed a bill making Wisconsin the 25th "right to work." state. Then, adding more polarization ammo to the 2016 Civil War, exactly half the states have either anti-union and pro-union labor laws.
Just how brutally would a race between Clinton and Walker play out?
Hillary represents big government. Walker champions smaller government.

Hillary is "Washington" whereas Walker represents the states.

Walker is a scrappy underdog "everyman," while Hillary (like it or not) represents the elite ruling class.

Walker will be 49 years old in 2016 when Clinton will be 69.

She is a graduate of Wellesley College and Yale Law School while Walker is a dropout from Marquette University.

He is religious, Clinton is not.

Walker will be fighting against the Clinton Machine and a Big Labor onslaught.
Then of course, Clinton, as a female, is expected to play her historic gender card with the mantra, "Isn't it time America had a woman president?" Unfortunately for Walker, the mainstream media will be ready to scream "sexist pig" if he looks at Clinton the wrong way.
Walker and Clinton are at opposite ends of almost every important issue and problem plaguing this nation. That, combined with who they are and what they represent, make them poster children within the framework of polarizing politicians for a polarized nation
There is no doubt that this Civil War will inflict mass casualties. One can expect both sides to do whatever it takes to win while proclaiming that the very survival of our nation is at stake.
(AP Photo/The Muskegon Chronicle, Tommy Martino)
Is anyone looking forward to such a match-up? It actually makes one wish for a Jeb Bush and Hillary Clinton dynasty rematch. That contest would be a replay of Bush Derangement Syndrome -- potentially lame and predictable compared to an explosive "weapons of mass destruction" battle between Clinton and Walker.
Finallly, as President Abraham Lincoln quoting Jesus famously said, "A house divided against itself cannot stand."
After the 2016 election no matter the outcome, our nation will still be standing, albeit, more polarized and wobbly.
–
TheBlaze contributor channel supports an open discourse on a range of views. The opinions expressed in this channel are solely those of each individual author.