President Barack Obama, speaking at the climate change talks in France, said:
"I have long believed that the most elegant way to drive innovation and to reduce carbon emissions is to put a price on it. … [I]f you put a price on it, then the entire market would respond. … And the more the market on its own starts putting a price on it because of risk, it may be that the politics around setting up a cap-and-trade system, for example, shifts as well. … But it is worth remembering that it was conservatives and Republicans and center-right think tanks that originally figured out this was a smarter way to deal with pollution than a command-and-control system."
Let's take the opportunity to look at how "elegant solutions" proposed by Obama and the Democratic Party could (but probably won't) be implemented on other issues:
Cap-and-Trade Reproductive Rights
As Obama says, many Democrats would like to limit carbon emissions – not by outlawing them – but by taxing them and instituting a cap-and-trade scheme under which companies would be allowed to emit a certain amount of carbon dioxide per year. If they want to emit more than that, they'd have to buy the right to do so from another company that hasn't reached their emission limit.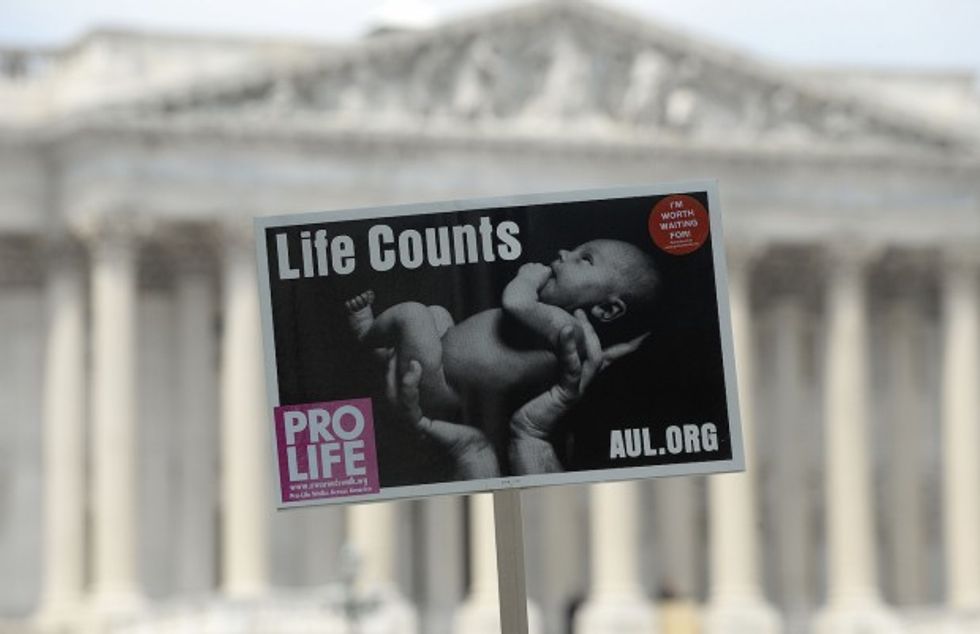 Anti-abortion activist sign is held aloft during a rally opposing federal funding for Planned Parenthood in front of the U.S. Capitol on July 28, 2015 in Washington, D.C. (Photo by Olivier Douliery/Getty Images)
Given the imperative among some Democrats to keep abortion "safe, legal, and rare" (per Hillary Clinton: "And, by rare, I mean rare."), why not institute a cap-and-trade system for it? Women would be allowed a certain number of abortions each, and could have more if they purchased them from women who haven't reached their limit yet.
Democrats could plug this as a "smart, market-based" solution supported by conservatives and Republicans that doesn't make abortion illegal.
Any takers?
Pro-Choice in General
Speaking of abortion, the Democratic Party's stance is typically billed as "pro-choice": the idea being that women get to choose whether or not to end the life of the fetus.
Why don't we apply "pro-choice" to, well, everything? I don't just mean being in favor of school choice and education vouchers. I mean life and death choices in general.
Typically, we don't get to decide for ourselves whether or not another living thing has a right to life that has to be respected: if something has a right to life, then your choices are significantly constrained by that right, regardless of what you believe.
But maybe we could change that. Why don't we let people choose whether or not they believe someone else has a right to life, and then let them be free to act accordingly?
Sanctuary Cities and "Amnesty"
On illegal immigration, Democrats frequently support the existence of sanctuary cities that refuse to enforce some portions of federal immigration law. They also support so-called "comprehensive immigration reform," which would reduce the punishments on migrants who have broken immigration law (which counts as leniency, if not outright amnesty).
Well, why not let cities provide a safe haven for those in violation of federal labor, environmental, or even homeland security laws? Many of these people are hard-working Americans who yearn to come in from the shadows. Why should they have to live in fear of being separated from their families?
An immigration activist holds up a sign on the West Lawn of the U.S. Capitol during an All In for Citizenship rally April 10, 2013 on Capitol Hill in Washington, DC. Tens of thousands of reform supporters gathered for the rally to call on Congress to act on proposals that would grant a path to citizenship for an estimated 11 million of the nation's illegal immigrants. Credit: Getty Images
And there are easily millions of people who are technically in violation of our complicated tax code. Why not pass "comprehensive tax compliance reform," in which the penalties on the books are reduced? People would then be less fearful of the consequences of, you know, not paying their taxes.
Safe Everything Education
Sex education in schools has repeatedly been justified on the basis that, "since kids are going to have sex anyway, we should teach them how to have safe sex."
There are a lot of things that kids are going to do: use drugs; ride skateboards, bicycles and motorcycles without a helmet; get in fist-fights; even experiment with flammable materials and guns. Maybe the best course of action is to teach them how to do all of these things, just safely.
Democrats usually have trouble picking up NRA voters, but I have to imagine that supporting firearm training in the public schools would turn that around.
Affirmative Action for Consumers
Affirmative action has long been touted as a method to combat racial inequality, but it's usually only imposed on employers. To really have an impact, imagine if it were applied to consumers.
For instance, require that everyone in the country buy at least 17 percent of their groceries from Hispanic and Latino businesses, 13 percent from African-American, 5 percent from Asian, etc.
After all, consumer demand drives business decisions. Forcing consumers to demand products along certain lines would compel the entire market to respond, right?
Conclusion
Obviously, this is all tongue-in-cheek. Obama and Democrats aren't going to fall for any of these expansions of their policies.
But it should be instructive that solutions advertised as "elegant" in one context are utterly rejected in another. And it should make us question whether those solutions are good in any situation at all.
Feature Image: AP Photo
–
TheBlaze contributor channel supports an open discourse on a range of views. The opinions expressed in this channel are solely those of each individual author.