An article surfaced over the weekend about an ongoing conflict between presidential candidate Donald Trump and British newsreader Selina Scott. Scott penned the article herself.
The headlines indicate that Scott "reveals how Donald Trump failed to seduce her…then stalked her for 20 years," after calling him a "comb-over creep who hates women."
If you read no further than the headlines, it's possible that you might think Trump is being accused of similar acts as those asserted against actor and comedian Bill Cosby.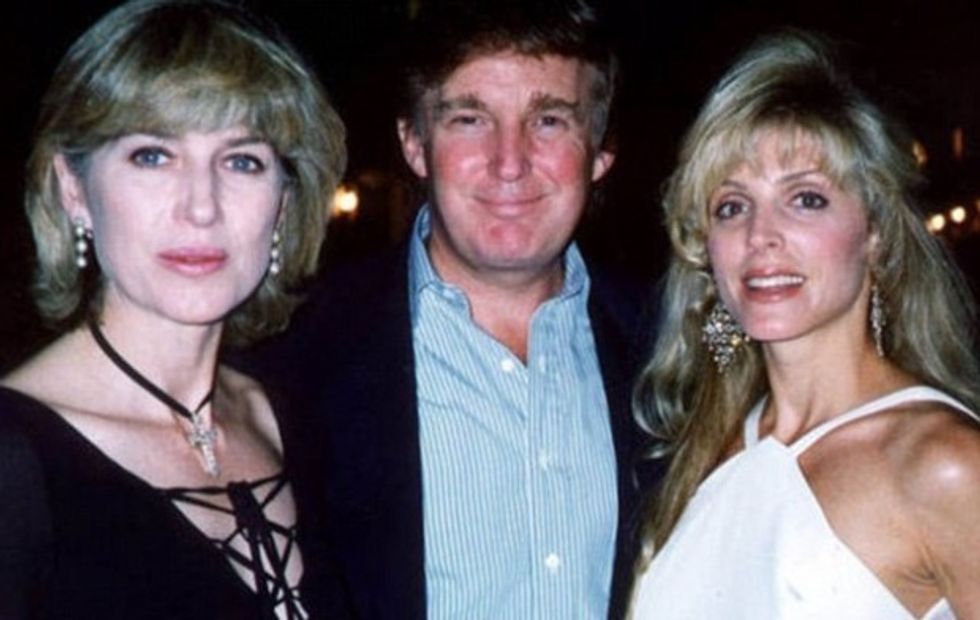 Scott (left) with Trump and Marla Maples (Image source: Daily Mail)
Scott alleges "We were at 30,000 [feet] on Trump's private jet flying to Florida, when he showed me his white leather double bed. 'I like beautiful things,' he purred seductively. 'That's why I like you so much.'"
Scott claims further "This was just one of many revealing and excruciating moments during the two weeks I spent with Trump in 1995 while making a 60-minute profile of him for ITV – a fortnight which started with a charm offensive, but ended in bitterness, recrimination and intimidating letters that only stopped when I threatened legal action."
She goes on to say that Trump was "turning on the full wattage of what he perceived to be his irresistible charm to women…" and "the station broadcast an embarrassing clip with him dancing around me, saying: 'Isn't she beautiful? She doesn't think she's beautiful but she is beautiful,' while I grimaced," Scott wrote.
Scott's article continues without mentioning many of the past allegations Trump has been quoted as saying against Scott.
In a letter written to Scott in 1995, Trump wrote:
"When the interview started you were somewhat obnoxious, repetitive and not at all very smart. I put this down to the fact that you must have been having a bad day. When you started asking me, off camera, whether or not I knew anyone who would take you out, I was surprised (but couldn't care less)," Trump said. "As most people know, you are not a first class reporter. The interview and questions were boring and foolish, but I nevertheless finished."
"I'm sorry if he feels that way about me, but I'm not really surprised. If you've got an ego as big as the Empire State Building, you're liable to get upset if someone dents it," Scott said.
Trump also branded Scott as "very sleazy," "unattractive," "obnoxious" and "boring" in letters to her and to King Constantine of Greece who was acting as a go between. Trump has made similar remarks about other women recently. Rosie O'Donnell, Megyn Kelly and an unnamed reporter who wanted to remain anonymous have all found themselves the target of Trump's ire or is it his showmanship?
Additionally, in 2009, Scott and Trump again butted heads in a "war of words" according to the headlines, after protesters rejected his plans to build a luxury golf resort. Protesters sent a copy of the 1995 Scott interview of Trump to 68 Aberdeen councillors in Scotland. They were hoping to convince the councillors that the golf course was not in their best interests and cited the interview with Scott as proof of Trump's character and his wealth, no doubt.
Trump called Scott "sleazy" and Scott claimed that Trump's remarks made him "look as ridiculous as the thatch he wears on his head."
Neither the 1995 nor the 2009 article mentions any statements by Scott of Trump's attempts to woo her, as she now claims he did in her 2016 article but both articles illustrate a fondness for name calling on both sides.
Also, in a YouTube video published in Aug. 13, 2015, Scott once again recounts her feud with Trump omitting his alleged attempts at trying to seduce her. Instead, she speaks of how Trump didn't possess a gentlemanly "reserve for women" that some men do. She states, if he is offended by men or women "he goes for them."
Some would say that this is an indication Trump treats men and women equally, refuting any claims of bias that many have made against him.
I agree that our country used to be a nation in which some men treated women with more respect but realistically is this our culture today? Just look at what both Trump and Scott have said about one another. If their genders are removed from the equation then they are just two people verbally attacking each other. Not my style but feminists everywhere should be pleased, right?
Scott further describes Trump in the video as "ruthless and driven" and refers to how he got his way in Aberdeen in 2009 and "pushed" his way in to build the golf course that he wanted.
Once again, while Scott makes it clear that she has no affection for Trump, she fails to reveal new allegations she currently includes in her 2016 article about him.
Why has she waited approximately 21 years to bring this new information to the forefront and even rehash the feud that has existed between the two of them since 1995?
Some of the statements made by both Scott and Trump about each other may hold some merit. However, I question the credibility of Scott's new allegations and her motive for making them now and not in 1995, 2009 or even 2015.
The timing of Scott's current article as Trump leads in presidential polls and the dredging up of past disagreements between them seem suspect. They appear more like old wounds that have never healed rather than any real concern for the future of America with Trump at the helm.
In any event, by today's standards, fortunately or unfortunately, Trump is mostly seen as a good businessman for his 'ruthlessness' toward others, including reporters, whether they are male or female. Many in the public see him as a man who will put this country back on track and will continue to choose to ignore his off-putting remarks.
Most Trump supporters believe what Trump can do for this country and the way he goes about it are justified as long as the final goal of righting the wrongs in America is achieved.
–
TheBlaze contributor channel supports an open discourse on a range of views. The opinions expressed in this channel are solely those of each individual author.