"You've probably never heard of it. Most people haven't."
That's how Dorothy Scheele, curator of the Friendship Train website, introduces one of the most amazing yet mostly forgotten stories from American history. It was Dorothy and another American, Earl Bennet Sr. (now passed on) who dedicated their lives to preserving this beautiful story.
I found out about it when Turner Classic Movies replayed old newsreels. I was so moved by the story I immediately went to my computer and began googling everything I could find on the Friendship Train. What I found were the websites of two incredible Americans who spent years collecting stories, photos, and news footage so the Friendship Train would not be forgotten.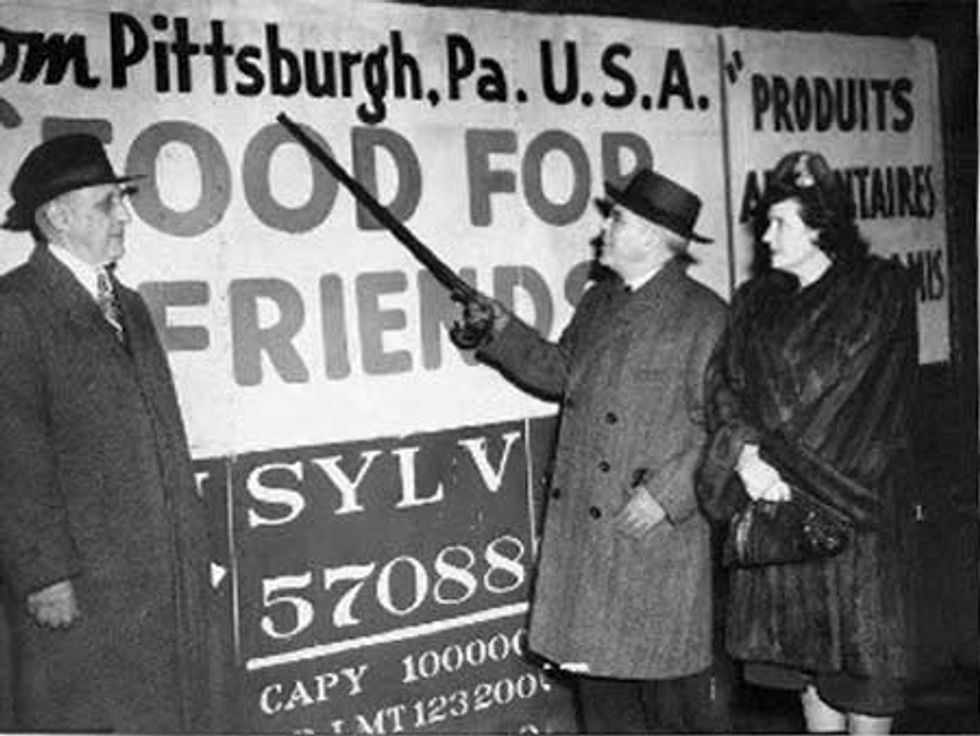 Via friendshiptrain.org
The year was 1947. The people of the world were still recovering from the ravages of World War II. Europe was hit especially hard. Drew Pearson, a popular American journalist, while touring post-war Europe, noticed the Communists were being lauded for delivering a few carloads of grain and it deeply troubled him. He knew America could do better.
On Oct. 11, 1947, Drew Pearson opened his famous radio show with his vision of the "Friendship Train" a cross-country collection of food from the people of America to the people of Europe. This project would be much different than the proposed Marshall Plan which was government imposed and government regulated. The Marshall Plan was government-to-government. The Friendship Train would be people-to-people.
Pearson sent out the call asking Americans to donate food from their homes, kitchens, gardens, and fields. And the American people delivered. Immediately communities formed plans to collect food and send it to the Friendship Train. On Nov. 7, 1947, five weeks after Pearson's announcement, the Friendship Train began its incredible journey across America, beginning in Los Angeles with a spectacular Hollywood send-off. All along the route ordinary Americans brought bags of flour from their homes, vegetables from their gardens and canned goods from their storehouses. It was amazing site.
Eleven days after leaving Los Angeles the Friendship Train arrived in New York City to great fanfare. Drew Pearson, who was there to greet the train, never could have imagined what he saw. The goodwill and compassion of ordinary American citizens far exceeded his expectations. The 80 boxcars he had hoped to fill grew to 270 boxcars filled with merchandise worth $40 million.
Every package on the train was labeled with the same message:
"All races and creeds make up the vast melting pot of America, and in a democratic and Christian spirit of good will toward men, we, the American people, have worked together to bring this food to your doorsteps, hoping that it will tide you over until your own fields are again rich and abundant with crops."
No money was ever spent for the project: the food, trains, ships—everything was donated for the cause, even the unions participated. When this demonstration of brotherly kindness arrived in Europe on December 18, the people were overcome with gratitude.
The French people were so moved they organized a gratitude project—the "Merci' Train." Forty-nine boxcars were filled—one for each of the 48 states, the 49th shared between Washington, D.C. and the territory of Hawaii. The people of France had very little after the war, so they gave what they had—precious pieces of their lives. Despite their dire circumstances, over 6 million families contributed some 52,000 gifts which included things like children's drawings, hand crocheted doilies, and 50 rare paintings. Also included were a jeweled Legion d'Honneur once presented to Napoleon, a Louis XV carriage and the bugle which signaled the Armistice signing.
By 1948 the boxcars were filled to capacity and loaded onto the ship Magellan. When the ship sailed from France, 9,000 gifts had to be left on the docks because there wasn't enough room for them. When the ship arrived in New York, it was greeted by waves of Air Force planes, and a parade of boats, with the Magellan boldly displaying the message, "Merci, America!"
In the next several weeks, each state held parades and ceremonies as they welcomed their designated boxcar. Many of the states who received these beautiful gifts of gratitude still have their box car, and the items it carried, lovingly preserved and on display. North Dakota has an impressive interactive display of the 500 gifts they received. I wanted to drive to North Dakota to see their train, when I remembered that every state received one. I looked up the Nebraska Train, where I live, to find out where I could see it. What I found, however, was not at all what I expected.
Via mercitrain.org
According to the Merci' Train website, Nebraska's boxcar was "shunted from place to place…first to the state historical society, then to the Nebraska Forty and Eight Society, and finally to a playground in Lincoln. In 1951, an attempt was made to return it to the historical society, which did not want it. So it was sold to an Omaha junkyard for $45. [There] its wheels and metal parts were pounded into scrap and its body converted into a storage shed. Its humiliation finally ended in 1961 when the junkyard was relocated and the box car was demolished."
My heart sank as I read the story of the fate of this priceless gift given to the people of Nebraska. I thought of all those families who showed up by the thousands at train stops across our state to give what little they could to their brothers and sisters across the sea. What would they think of how we treated this precious gift?
It reminds me of what is happening in America today. Generations ago, families sacrificed everything to give us the precious gift of freedom. They signed their lives away when they put their names to the Declaration of Independence; and they dedicated their lives to the creation of a more perfect union with the United States Constitution. And just like the Nebraska Train some carelessly dismiss it as old, out of date, and discard it as scrap.
At this time of year when we contemplate our blessings and consider all we have to be grateful for, I am deeply grateful for two people who decided keeping the story of the Friendship and Merci' Trains alive was worth their time. I am thankful to live in this great country. And I am immensely grateful for the thousands of Americans who know that, in spite of everything our country now faces, it is still the freest place on earth and something worth holding on to.
Kimberly Fletcher is the author of WOMEN: America's Last Best Hope and the president and founder of HomeMakers for America Inc. The views in this article are solely of the author and not representative of HomeMakers for America. Follow Kimberly on Facebook and Twitter @proudhomemaker
–
TheBlaze contributor channel supports an open discourse on a range of views. The opinions expressed in this channel are solely those of each individual author.