Despite an overwhelming no vote by the Greek populace against further austerity measures, the Greek leaders caved in to the demands of the Eurozone leaders. Is democracy dead in the county from whence it sprang?
I am not writing about the merits or lack thereof of austerity or the socialist underpinnings of a broke country. I am focusing on the democratic vote of the people that was completely disregarded by Greek Prime Minister Alexis Tsipras who had been elected on a platform against austerity.
[sharequote align="center"]Why hold a country-wide vote by the Greek populace and then disregarding the outcome?[/sharequote]
What is the sense of holding a country-wide vote by the Greek populace and then disregarding the outcome? Sounds like what our Supreme Court recently did by making law rather than interpreting it within the confines of the constitution. Our legislative branch routinely disregards the will of the people and passes laws that they, in their infinite wisdom, "feel" are best for us mere mortals.
President Barack Obama routinely fails to follow the law and clearly has no regard for our constitution. Is democracy becoming a relic of the past? If all three branches of the U.S. government are free to do as they please and not follow the will of the people who elected them, then we are in the end times for democracy.
Whether Mr. Tsipras can get the Greek Parliament to approve of his cave in to the demands of the Eurozone is questionable. Raising taxes, cutting pensions increasing the Value Added Tax and labor reforms were all opposed by the Greek populace as expressed in their no vote.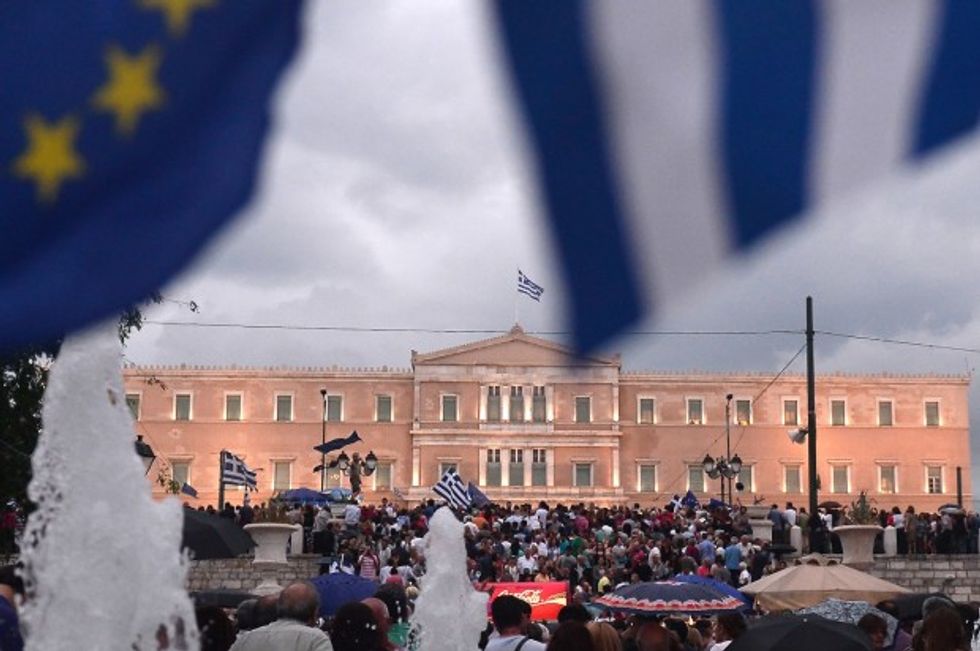 Pro-euro protesters demonstrate in front of the parliament building in Athens on June 30, 2015. Thousands of people rallied in Athens in support of a bailout deal with international creditors which has been rejected by Prime Minister Alexis Tsipras, leaving Greece on the brink of default. AFP PHOTO / LOUISA GOULIAMAKI 
The will of the Greek people seems to be subordinate to the will of the European leaders. And notwithstanding the tough talk of Mr. Tsipras, there will be no reduction of the outstanding Greek debt. So this whole exercise is an exercise in futility. We will be going down this road again in the future because Greece cannot ever repay its debt.
Sound familiar?
The U.S. can't repay its debt either. But our lawmakers continue with business as usual with our debt increasing every second of every day. No one wants to take the necessary poison on their watch. So even though the populace wants reform, our leaders refuse to do anything. Once again, the dismissal of the will of the people.
If democracy is dying what will take its place? An oligarchy, as many claim we already have; a socialist state, as many liberals desire; a totalitarian government, which seems closer and closer every day?
Our populace is too interested in pop culture, athletic performers and celebrities to be bothered with political reform. Why bother to vote when ones' vote has no impact? That is what we hear from the younger voting age lot.
They can't even tell you what county we broke away from to gain our independence or what year the Declaration of Independence was signed. Heck, they probably don't even know what's in the Declaration. But I promise you that they know what dress Paris Hilton wore to her sister's wedding in Kensington Palace or the next concert date for Miley Cyrus.
If we can't get people engaged in the election process or interested in what is best for the country, then we are going to see the continued erosion of our republic. John F. Kennedy's oft quoted words: "Ask not what our country can do for you; ask what you can do for your country" seem to be a relic of the past. For that matter, do any of the younger generation even know who John F. Kennedy was?
John Lawrence Allen, a nationally recognized legal expert, represents investors nationwide in securities arbitration. Mr. Allen's second book, "Make Wall Street Pay You Back," was just released. For more information visit www.MakeWallStreetPayYouBack.com.
–
TheBlaze contributor channel supports an open discourse on a range of views. The opinions expressed in this channel are solely those of each individual author.