One of the more testy exchanges between Hillary Clinton and Bernie Sanders in the most recent Democratic Party presidential debate concerned Sanders' opposition – and Clinton's support – for the $80 billion bailout of the auto industry during the financial crisis.
In defending her position, Clinton uttered what has now become a fixture of Democratic Party rhetoric:
"In January of 2009, President-Elect Obama asked everybody in the Congress to vote for the bailout. … I voted to save the auto industry. … If everybody had voted the way [Sanders] did, I believe the auto industry would have collapsed, taking four million jobs with it."
There's a teeny dispute about whether Sanders really did oppose the bailout, but Clinton's sentiment is in line with the bumper sticker slogan that President Barack Obama's administration has been repeating for years: "Osama bin Laden is dead, and General Motors is alive!"
Well, for $80 billion dollars – and a loss of around $10 billion – the U.S. government better have saved something, right?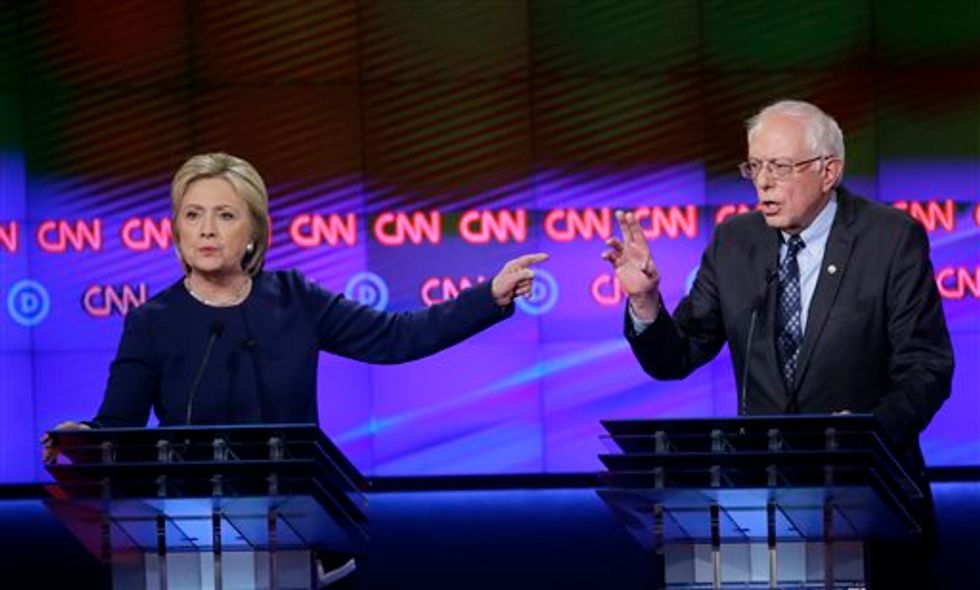 Democratic presidential candidates Hillary Clinton, left, and, Sen. Bernie Sanders, I-Vt., argue a point during a Democratic presidential primary debate at the University of Michigan-Flint, Sunday, March 6, 2016, in Flint, Mich. (AP Photo/Carlos Osorio) 
Maybe. But the idea that Obama saved the U.S. auto industry is just typical political hyperbole, for a number of reasons.
First of all, Obama didn't bring about the auto bailouts on his own; he shared the work with his predecessor, President George W. Bush. Somehow, Democrats' glee over the bailouts never ends with a pat on the back for good ol' dubya. Second, while GM and Chrysler got a lot of help from the federal government in the bailout, Ford got much less (though arguably more than none). Sans bailout, Ford likely would have survived.
Third, apart from the "Big Three" – Ford, Chrysler, and GM – there are plenty of companies that employ auto workers in the U.S.: the feds themselves list roughly a dozen (including Toyota, Hyundai-Kia, and BMW) that have manufacturing plants in the U.S. Sure, those are foreign companies, but who cares? They employ workers here in the U.S., didn't get money from the feds, and would have continued to do so even without any auto bailout. They likely would have picked up market share, and hired some of the workers dropped by Chrysler and GM.
(If you insist that these companies don't count as part of the U.S. auto industry because they're foreign owned, then neither does Chrysler. It's been merged with Fiat of Italy. Saving Chrysler therefore counts as saving part of Italy's auto industry, not America's.)
All this points to a broader problem with political rhetoric when it comes to the economy. There's a tendency to resort to apocalyptic jargon like "meltdown," "collapse," and "crash," when the term "hardship" is more accurate. No doubt, GM and Chrysler were facing real problems in 2008, and they could well have gone out of business. But it's ridiculous to think that, but for the bailouts, there would be no one making cars in the U.S. The U.S. auto industry might be smaller; it wouldn't be non-existent.
Even during the Great Depression, bad as it was, the unemployment rate never hit 100 percent, or even 50 percent. Many people lost their jobs and went into poverty, but many others kept working, and most industries survived through it. The U.S. economy only "collapsed" in the sense that it fell down and then got back up.
How much of the recovery from the Great Depression was helped or harmed by government intervention (e.g., the New Deal) is a fair question. But, again, it's hard to believe that, without federal help, the majority of people would have stopped working and starved en masse while the whole economy dropped out of the Industrial Era altogether and reverted to the Stone Age.
Particularly when there's ample evidence that government often harms more than it helps by dabbling in the economy. Which is why we need to fight against the histrionic, hyperbolic rhetoric that compels government to do just that.
–
TheBlaze contributor channel supports an open discourse on a range of views. The opinions expressed in this channel are solely those of each individual author.