In an interview on CBS' "60 minutes" last week President Barack Obama was confronted about Russian President Vladimir Putin's role in the Middle East. Interviewer Steve Kroft said, "He's challenging your leadership, Mr. President."
A visibly angry President Obama shot back: "We've got a different definition of leadership. My definition of leadership would be leading on climate change, an international accord that potentially we'll get in Paris."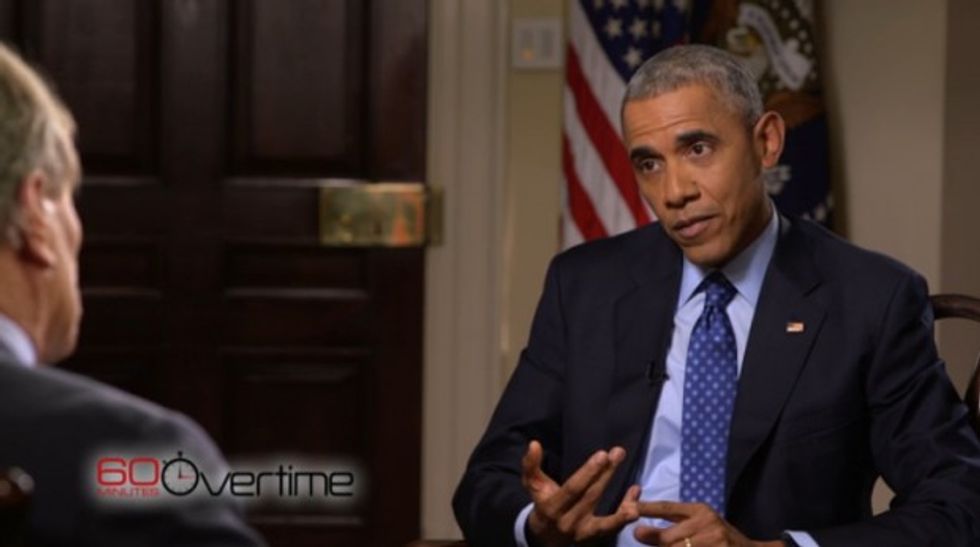 President Barack Obama speaks with Steve Kroft on CBS' "60 Minutes" on Oct. 11, 2015 (Image source: CBS News/"60 Minutes)
National Security Advisor Susan Rice, speaking last week at Stanford University, also said that the biggest threat to America is climate change.
She made two points clear: The science of climate change isn't up for debate, and there's no question that it's a challenge to our national security.
Shutting down debate on this issue is important for Rice. If climate change were still open for debate, she might have difficulty explaining some interesting new discoveries.
The entire foundation of climate change alarmism is based on computer models. There are no replicable experiments. There are no measurable results. Just computer models.
The models are complex, but they all begin with the fact that a molecule of CO2 in the atmosphere holds heat, and at some point, humans burning fossil fuels will increase the levels of CO2 such that the heat will melt Greenland and the Antarctic ice sheets and the 20-foot rise in the sea levels will destroy property, plant life, animal life and eventually the planet.
Unfortunately for the computer modelers, none of the predictions they made over the last 30 years has come true, and it is now clear that global temperatures have remained stable for nearly 19 years.
Since about half of what impacts the climate is as yet unknown, and since current computer models cannot accurately predict the weather 10 days out, one is naturally suspicious of temperature predictions over the next century.
Nobel Prize winner James Lovelock said, "The problem is that we don't know what the climate is doing. We thought we knew 20 years ago. That led to some alarmist books – mine included – because it looked clear-cut, but it hasn't happened."
Recent discoveries have brought further questions about the models. Australian engineer David Evans is a former computer modeler for the Government's Australian Greenhouse Office. He holds six degrees in applied mathematics,
Evans discovered that, while the physics that underlie the climate computer model is correct, its application had been incorrect. After fixing two errors, he concluded that future global warming has been over-estimated by a factor of 10.
Another recent study, published in the journal Environmental Science and Technology, discovered that a key atmospheric cooling compound, isoprene, once thought to be created only by organic compounds such as plankton, is also created naturally by the sun's action on the ocean's surface. Thus, the planet's natural cooling process is twice as robust as previously believed. This is not included in computer models.
And finally, in 2015 alone, there have been 23 new papers establishing the sun as a major factor in warming. Solar activity, long subordinated to a minor role compared to CO2, can no longer be ignored.
(I know. You thought that was obvious. It was not obvious to the climate modelers.)
Dr. Benny Peiser of the Global Warming Policy Foundation said that "climate models simply do not mirror the reality of a chaotic system … they should never have been trusted in the first place."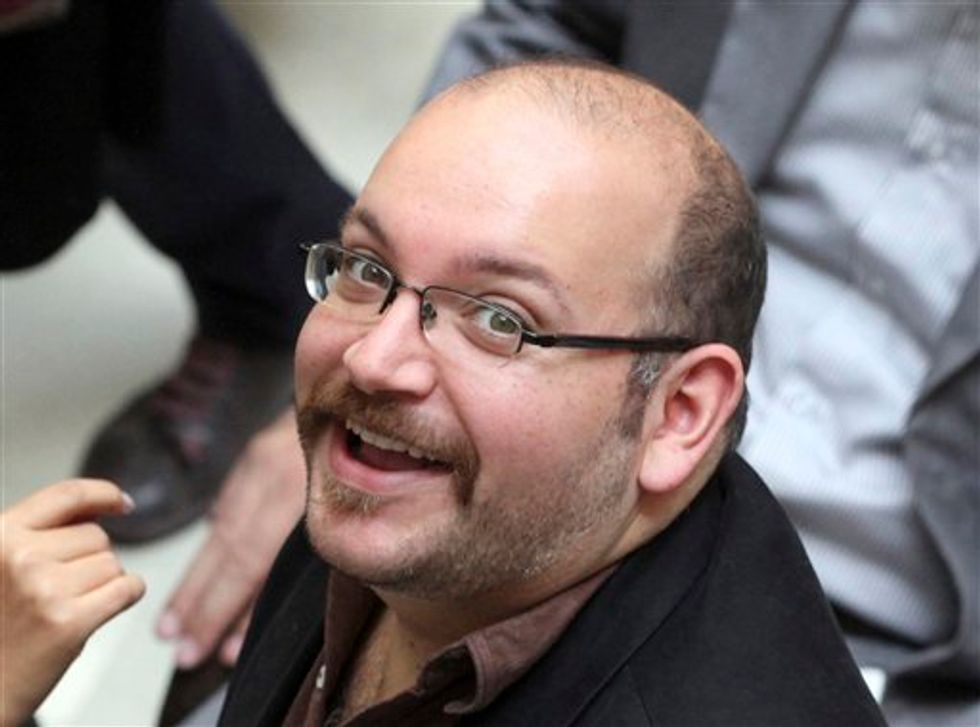 Jason Rezaian, an Iranian-American correspondent for the Washington Post, has been convicted in Iran on charges of espionage. The closed-door trial was widely criticized by the U.S. government and press freedom organizations. (AP/Vahid Salemi)
This week Iran tested a long-range ballistic missile and convicted a Washington Post reporter.
China is asserting its hegemony over increasing swaths of the South China Sea including building new islands.
Libya is a failed state that has become a breeding ground for future terrorists,
In the Middle East Iran is taking over Iraq, the Taliban is rising in Afghanistan, the Islamic State controls large parts of Syria and Iraq, Russia is moving troops and tanks into Syria, Yemen is hosting a proxy war between Iran and Saudi Arabia, Lebanon has been taken over by Hezbollah and Hamas is bombing again in Israel.
Meanwhile millions of refugees are flooding into Europe creating immense financial pressures on European budgets.
And our president and his top national security advisor are most concerned about the weather.
At this point a reasonable observer can be expected to ask, "Are these people delusional?"
–
TheBlaze contributor channel supports an open discourse on a range of views. The opinions expressed in this channel are solely those of each individual author.