This weekend, the Communist President of Cuba Raul Castro met with Pope Francis in private for an "unusually long time," according to Gerard O'Connell, Vatican correspondent for America Magazine.
When he emerged from his meeting with Pope Francis, which a Vatican spokesman called a "very cordial talk," Castro exchanged gifts with the Holy Father. Castro gave the pope a commemorative medallion in honor of the 200th anniversary of the building of the Havana Cathedral, and a locally produced painting "inspired" by the pope's advocacy for progressive immigration policies.
In return, Pope Francis gave Casto an image of St. Martin covering the poor with his cloak, which Pope Francis called "an insight into what we have to do." His second gift was a copy of his controversial Apostolic Exhortation, Evangelii Gaudium. America Magazine reports: "Looking at [Castro] with a smile, [Pope Francis] remarked, 'There are here some declarations that you will like!'"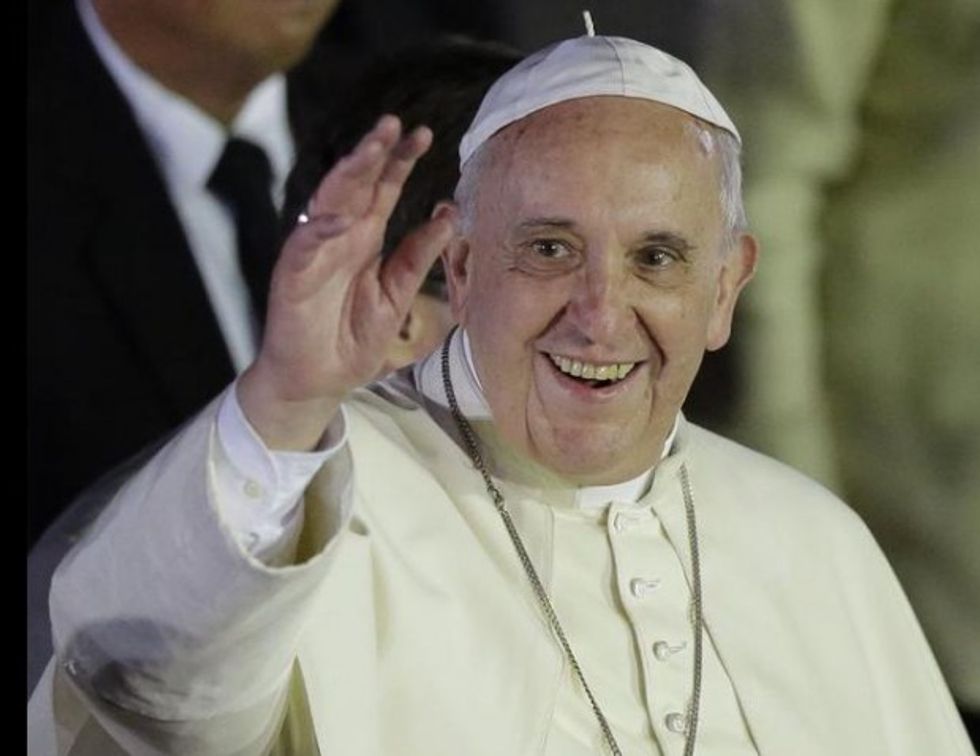 Pope Francis waves to well-wishers upon arrival from Sri Lanka, Thursday, Jan. 15, 2015 at suburban Pasay city, south of Manila, Philippines. (AP/Bullit Marquez)
When Pope Francis first issued Evengelii Gaudium shortly after his election in 2013, much was made of the conservative backlash.
"This is just pure Marxism coming out of the mouth of the pope," said conservative radio show host Rush Limbaugh, citing the document's use of buzzwords often found in the rhetoric of the anti-Christian left. "'Unfettered capitalism?' That doesn't exist anywhere. 'Unfettered capitalism' is a liberal socialist phrase to describe the United States."
Limbaugh was, of course, quite right. And many Christians devoted to facing down the Obama administration agreed with him. After all, the infamous Health and Human Services mandate was still fresh on American Catholics' minds. It was a blatant attack on religious liberty which operated precisely by means of attacking the economic liberty of Christian employers such as the Little Sisters of the Poor.
For any serious Christian, the culture war against the left was as much a defense of free markets as it was a defense of pro-life Christian doctrine. But some Christians were less serious, and more eager to defend the pope, right or wrong, than to defend the Church.
One stalwart Catholic journalist who agreed with Limbaugh, Fox's Adam Shaw, boldly denounced the pope's "misguided" Apostolic Exhortation in an op-ed. He was promptly fired from his job with the Catholic News Service.
Back to Raul Castro's visit with Pope Francis: After their meeting, Castro revealed to reporters he had assured the pope that Cuba's leaders read his speeches "every day."
Castro had even told the Holy Father, "If you continue talking like this … I will return to the Catholic Church. I am not joking. I may convert again to Catholicism, even though I am a Communist."
Fidel Castro with brother Raul.
Castro offered some context for his attraction to Pope Francis's Church, citing his friendship with a man named Frei Betto, described in America Magazine as "a Brazilian Dominican priest and liberation theologian."
Two weeks ago, a top KGB defector revealed that the "liberation theology" movement in Latin America was a Communist "invention" designed to dupe Catholics into the atheist ideology of Marxism. The ploy was especially effective among the vulnerable Christians of South America during the 1960's and 70's, where Communist operatives planted deep roots.
Neither Pope St. John Paul II nor his trusted friend and successor Benedict XVI were taken in by liberation theology. John Paul fought Communism throughout his pontificate, and Benedict was equally forceful against liberation theology's interpretation of the traditional "preferential option for the poor" as a preferential option for violent state-mandated wealth-redistribution.
According to historian Nikolas Kozloff, Pope Benedict called liberation theology a "singular heresy," and "a 'fundamental threat' to the church."
This "fundamental threat" to the church is now welcome in Pope Francis's Vatican, where the Holy Father is making headlines by his efforts to "rehabilitate" liberation theology.
In a matter of months, Pope Francis has announced a desire to "quickly" beatify a deceased liberation theologist bishop, reconciled with a Sandinista activist priest who once called Ronald Reagan a "butcher" and an "international outlaw," and even invited the founder of the liberation theology movement, Rev. Gustavo Gutierrez, to speak on the need for a "poor Church for the Poor" at an official Vatican event this week.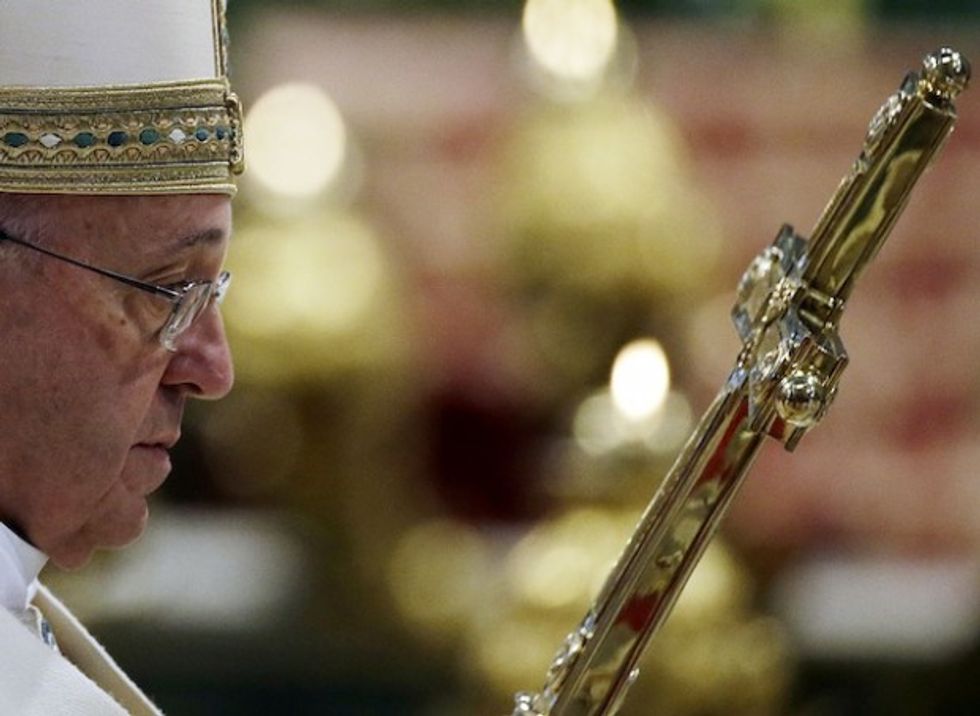 Pope Francis leaves at the end of an Armenian-Rite Mass to commemorate the 100th anniversary of the Armenian Genocide, in St. Peter's Basilica, at the Vatican, Sunday, April 12, 2015. Pope Francis sparked a diplomatic incident with Turkey on Sunday by calling the slaughter of Armenians by Ottoman Turks "the first genocide of the 20th century" and urging the international community to recognize it as such. Turkey, which denies a genocide took place, immediately summoned the Vatican ambassador to express its displeasure, a Foreign Ministry spokesman said in Ankara, speaking on customary condition of anonymity. (AP Photo/Gregorio Borgia)
It might be added that Raul Castro's friend Frei Betto is a Marxist who once compiled a series of interviews with Fidel Castro and published them as a pro-Castro book called "Fidel & Religion: Conversations with Frei Betto on Marxism & Liberation Theology." As Victor Gaetan reported in an enlightening 2010 series at the National Catholic Register, Fidel used the book to insist, again and again, "that Christianity and his revolutionary goals, namely full socialism, are compatible."
Raul Castro has expressed a similar hope of reconciling Marxism with Catholicism. When asked about his own faith, he once responded, "I've kept the principles of Christ … and the revolution carries them out."
What the revolution in Cuba carried out was 30 years of mandated atheism, the persecution and near-starvation of a Christian people, the state imposition of free-abortion-on-demand, and, even today, the suppression of the dissident wives and children of numerous Catholic Cuban men arrested by the Castros for daring to demand religious liberty.
Catholics who condemned "anti-Catholic" whistleblowers and rushed to the defense of bishops who covered for predator priests during the sex abuse scandal must now live in shame. Today's Catholics who defend Pope Francis against his critics ought to remember who some of those poor critics are.
For the most part, Pope Francis' critics are not the anti-Christian leftists who have berated the Church all along. Rather, his critics are Cuban Catholics who feel crushed to see Pope Francis fraternizing with their oppressors. They are American Catholics whose long, thankless battle against the culture of death seems to be of little concern to a pope intent on making friends with the enemies of religious liberty.
While journalists are being fired by Catholic news providers for questioning the Bishop of Rome, Christians ought to consider how much longer they should put their sacred faith in a position that requires defending Pope Francis's views.
A new Catholic scandal is upon us, and not since the sex abuse scandal have so many Catholics defended the powerful and demonized the weak.
Stephen Herreid is an Associate Editor of the Intercollegiate Review and a contributor to TheBlaze.com. His work is archived at candidworldreport.com, and has been published at Crisis Magazine, Aleteia.org, CatholicVote.org, The Intercollegiate Review Online, and other publications. Reach him at sherreid@candidworldreport.com. Follow him on Twitter @StephenHerreid
–
TheBlaze contributor channel supports an open discourse on a range of views. The opinions expressed in this channel are solely those of each individual author.