While the radical feminists in the U.S. continue their hysterical push for abortions after five months of pregnancy, TheBlaze reports that another Afghan woman was killed at the hands of Islamists extremists.
This is what you can really call a "war on women." These stories are not uncommon.
Concerned Women for America recently hosted a panel to debunk the left's petty "war against women" rhetoric, and I am reminded of it while reading these stories. How silly their little arguments look when we read accounts like these.
A disturbing video of the disgraceful event shows an angry mob of men beating a woman to death. They kicked and punched her; one jumped on her, others used clubs and sticks, and another used a bucket — all while the crowd chanted "Allah akbar!" They apparently set her on fire and threw her in the Kabul River in the end.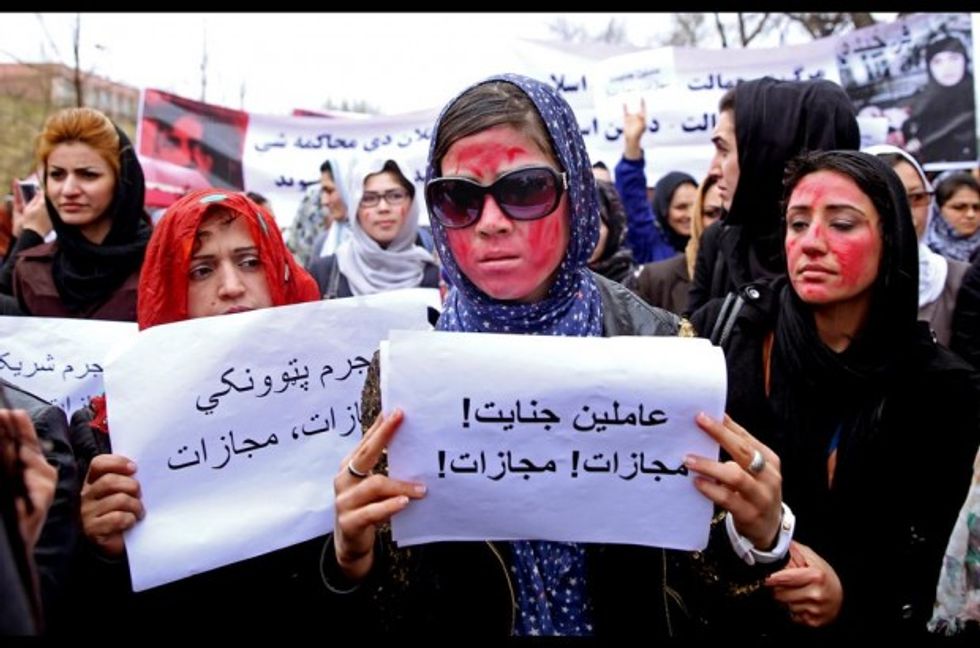 Afghan women, demand justice for a woman who was beaten to death by a mob after being falsely accused of burning a Koran last week, during a protest in downtown Kabul, Afghanistan, Tuesday, March 24, 2015. Men and women of all ages carried banners bearing the bloodied face of Farkhunda, a 27-year-old religious scholar killed last week by a mob. Farkhunda, who went by one name like many Afghans, was beaten, run over with a car and burned before her body was thrown into the Kabul River. The poster at center with Persian writing reads, "Farkhunda's murderers, execution." (AP Photo/Massoud Hossaini)
Why?
Because she dared burn a Koran (or so they allege). TheBlaze's report says "police could not confirm yet whether the woman desecrated the Koran."
Whatever the case, there is no justification for this atrocity!
But the Koran burning is still important (along with the "Allah akbar!" chants), because it helps us know that, once again, we are dealing with Islamist extremism and Shariah Law.
We have to continue to sound the trumpet on this every chance we get: Islamist extremism and Shariah Law oppress women.
We all know President Barack Obama won't even call the Islamic State "Islamic," so we have little hope that his administration understands the magnitude of the problem women face in Islamic countries around the world. If this happened here, the administration would call it domestic violence or some other nonsense.
The White House wouldn't acknowledge that the 21 Coptic Christians beheaded in Egypt were Christians, and don't bother trying to find the word "Christian" or "Islam" in the description of their efforts against Boko Haram, which recently pledged allegiance to Islamic State, for some inexplicable reason. Sure, they are both Islamic extremist groups (Boko Haram means "Western" or "Non-Islamic education is sin") but that's just a coincidence as far as the Obama administration is concerned.
It gets worse.
When you talk of Islamic State and Boko Haram, you are talking about the most extreme groups. They are military organizations. But in this video, you can see that the perpetrators are just "regular people," not a militia.
Boko Haram leader Abubakr Shekau recently reasserted: "Let the world know that we have been enjoined by Allah to kill the unbelievers." Photo Courtesy: Raymond Ibrahim
The problem we have with Islamic extremism is much bigger than Islamic terrorism. It is about an Islamic ideology that has taken hold in a considerable part of the Islamic world. It is actually part of "mainstream Islam" in several regions in the Middle East, although not here in the U.S. Until we acknowledge this, we won't be able to properly tackle the problem.
That is why Concerned Women for America has undertaken a massive effort of prayer for the victims of Islamic ideology. "Prayer and Love > Terror" is an effort to combat this spiritual problem with spiritual weapons. On the fourth Sunday of each month, the more than half-a-million members of CWA around the country, and our friends around the world, are joining with one spirit to ask for the Almighty's intervention.
We believe with Benjamin Franklin that "God Governs in the affairs of men," and He alone can help us fight this great evil. We do not have all the answers, but we know He Who does. We must only have faith and courage. Would you join us?
Prayer is powerful. It is not the least we can do; it is the most we can do.
–
TheBlaze contributor channel supports an open discourse on a range of views. The opinions expressed in this channel are solely those of each individual author.