The best part of last night's vice-presidential debate was knowing Gov. Mike Pence and Sen. Tim Kaine will not face off again during this election cycle.
I white-knuckled it through a painful 90 minutes of Kabuki theater (sans the white make-up); I-know-you-are-but-what-am-I testosterone jockeying; and a fascinating but disturbing illustration of two men bringing out the worst in each other.
On the positive side, each dutifully wore his American flag lapel pin and showed flashes of his best self; Tim Kaine flashes of humor, Mike Pence flashes of humility.
Then there was the negative.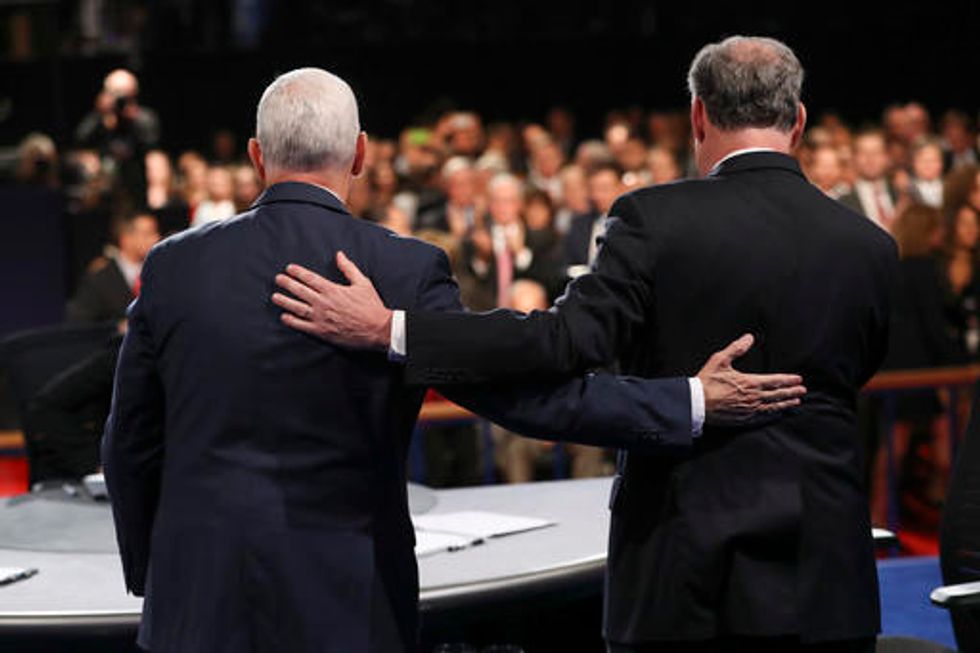 Republican vice-presidential nominee Gov. Mike Pence and Democratic vice-presidential nominee Sen. Tim Kaine stand after the vice-presidential debate at Longwood University in Farmville, Va., Tuesday, Oct. 4, 2016. (Joe Raedle/Pool via AP)
Kaine burbled like a red-faced, yappy little dog with no impulse control trying to snatch a toy out of its opponent's mouth. He said, "I can't believe you're defending Trump" so many times it was actually refreshing when he switched it up to, "I can't imagine…"
Pence was about as condescending as a politician can be and took head-shaking, mocking, and tsk-tsk-tsking to a whole new level. At one point, he responded to Kaine with "Did you work on that one a long time because that had a lot of creative lines in it" and at another burst out, "That's nonsense!"
Pence pulled a creepy Ted Cruz and kept looking directly into the camera. (I thought we all agreed that was a bad idea.) Kaine perseverated on Hillary Clinton's role in the death of Ben Laden to such an extent you would have thought she singlehandedly sought, shot, and killed the man.
Neither candidate engaged with the moderator or (constructively) with each other; they were too busy trying to spit out all the canned lines, immature digs, and debate 'prep' they had memorized. Each took turns—and sometimes each other's turn—discharging shotgun blasts:
"If Hillary Clinton would only release her emails…."

"If Donald Trump would only release his tax returns…"

"I know you want to change the subject…"

"I get that you want to keep bringing that up…"

"I must have hit a nerve…"

"He's not a polished politician like you and Hillary Clinton…"

"There they go again…"

"If you can't tell the difference between leadership and dictatorship…"

"You whipped out that Mexican thing again…"
"Insult-driven campaign" was the hot potato dig each candidate tried furiously to leave with his opponent, which, given both campaigns, was the most amusing part of the debate. Each obligatory swipe at the other team reminded me of the Fortune Cookie game where you add "in bed" to the end of every 'fortune.' "You will meet someone tall, dark, and handsome…in bed." "Your troubles will soon be over…in bed." "You are in for a rocky road…in bed."
Pence managed to add "after the leadership of Barack Obama and Hillary Clinton" to nearly every negative assessment he gave of our world. Tim Kaine ended multiple responses with some version of "Donald Trump is a scary, selfish, greedy man who hates women and puppies."
Americans who didn't watch did themselves a favor. Pence and Kaine did those of us who did watch a favor by talking over each other so much that we missed at least half. The debate was pointless except for being so embarrassing it made the presidential debate look like the epitome of maturity. As good VP candidates are supposed to do, they gave the Big Dogs a nice set-up for Sunday.
Moderator and CBS correspondent Elaine Quijano was impressive. She reprimanded both men for talking over each other, redirected each for being non-responsive to the questions asked, kept her composure, and somehow managed to stay in control of the conversation.
The audience, surprisingly, minded its own Ps and Qs for once; perhaps they, too, were white-knuckling it. In the end, they and the moderator were the only winners.
–
TheBlaze contributor channel supports an open discourse on a range of views. The opinions expressed in this channel are solely those of each individual author.