On April 17, 2015 NPR's award-winning journalist Maria Hinojosa interviewed musician/composer Tania Leon about her new opera based on the Little Rock Nine, the nine children who braved the mob of Little Rock, Arkansas to integrate Central High School.
This numbered among the first attempts to implement the historic 1954 Supreme Court decision of Brown v. Board of Education Topeka Kansas, which struck down de jure racial segregation in America's schools.
Segregation, of course, did not end with the high court's decision. The South screamed "never" and used various illegal mechanisms to prevent the decision from being implemented.
[sharequote align="center"]We can cherish our different heritages while recognizing our common bonds as people.[/sharequote]
Despite the grotesque scenes that would emerge, as racists would attempt to prevent Central High School from being integrated, the Little Rock School Board, in contrast, was willing to comply with the court's decision. It proposed a plan of gradual integration that would start with the high school.
Even with the school board's compliance, Orval Faubus, the segregationist governor of Arkansas, called out the National Guard to prevent nine children from going to school. It was a place where white adults spat and shouted threats to children whose sole offense was the color of their skin.
Eventually, President Dwight Eisenhower had to mobilize the elite 101st Airborne and to federalize the Arkansas National Guard, so nine African-American children could enter a high school without being mauled by a racist mob.
It was a bittersweet moment in our tragic chronicle of racism, bitter because the faces of the mob are a grim reminder of the reality black people all-too-frequently faced in their daily lives. Sweet because the courage of the Little Rock Nine is a remarkable example of the triumph of the human spirit.
That an opera would be made of this historic event is not surprising since it is in keeping with our Judeo-Christian resonance to the conflict between good and evil. Having Tania Leon, internationally acclaimed as a composer, educator, and musician, writing the score heralds its success.
Beyond Leon's impressive musical gifts was another rare and beautiful quality that pervaded the interview, one seldom seen or heard in our fractured society.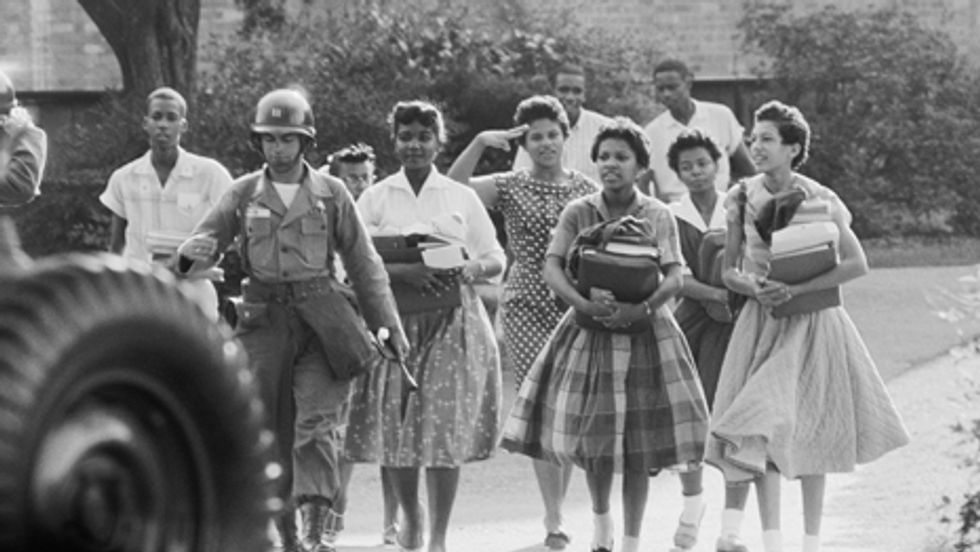 Little Rock Nine.
When Leon spoke of her being Cuban of multi-ethnic heritage, she did not stop there. She went on to speak of the construct of race as a place in which we lose our humanity. Leon spoke of the human family instead of the artificial constructs that society imposes on us and we, in turn, impose on ourselves that all-too-frequently limit us.
"I am not a black composer. I am not a woman composer. I am not a Caribbean composer. I am a composer," she went on to say.
To her credit, Hinojosa, whose audience is largely Latino, seemed taken by the transcendent appeal to our common humanity.
This interview might be the inception of a defining moment in our culture. Certainly, most Americans can find some hyphen to put in front of the word, "American." After all, most of us are products of different waves of immigration.
Despite that, we have become obsessed with demographic fractures. National identity is vital, and yet it is destructive when we forget that those who are not like us are just like us because we share a common humanity. Little Rock was not just a black problem. It was also an American problem and beyond that a human problem. It was a look into both the abyss of hate and the inspiring courage of the nine young people.
As we see a surge in hatred across the globe for the other, whether it is Christian minorities ethnically cleansed by radical Muslims, the continual rise of anti-Semitism on college campuses, or some other form of defining people who are different because of race or other social constructs, it is vital to address the idea that hatred must not be the great unifier. We can cherish our different heritages while recognizing our common bonds as people.
If Leon's music embraces her keen sense of humanity, Little Rock Nine will transcend mere categories and cause us to engage our humanity, not simply as blacks or whites, but as people who can empathize with each other's pain and applaud one another's courage.
–
TheBlaze contributor channel supports an open discourse on a range of views. The opinions expressed in this channel are solely those of each individual author.