If you missed the third and final presidential debate and decided to catch up on the highlights with the help of Google News and a cup of coffee, there's one consensus refrain you will hear from nearly every media outlet: Donald Trump hates democracy.
The newest hysteria stems from Trump's refusal to unconditionally accept the results of the election if he loses.
When pressed by moderator Chris Wallace, Trump said he would wait and see the results before accepting their legitimacy.
Predictably, Democrats lost their minds.
Liberal media outlets around America spent the next 12 hours popping out ominous headlines, engaging in condescending finger-wagging, and lining up tweets from Republican critics calling upon Trump to get in line.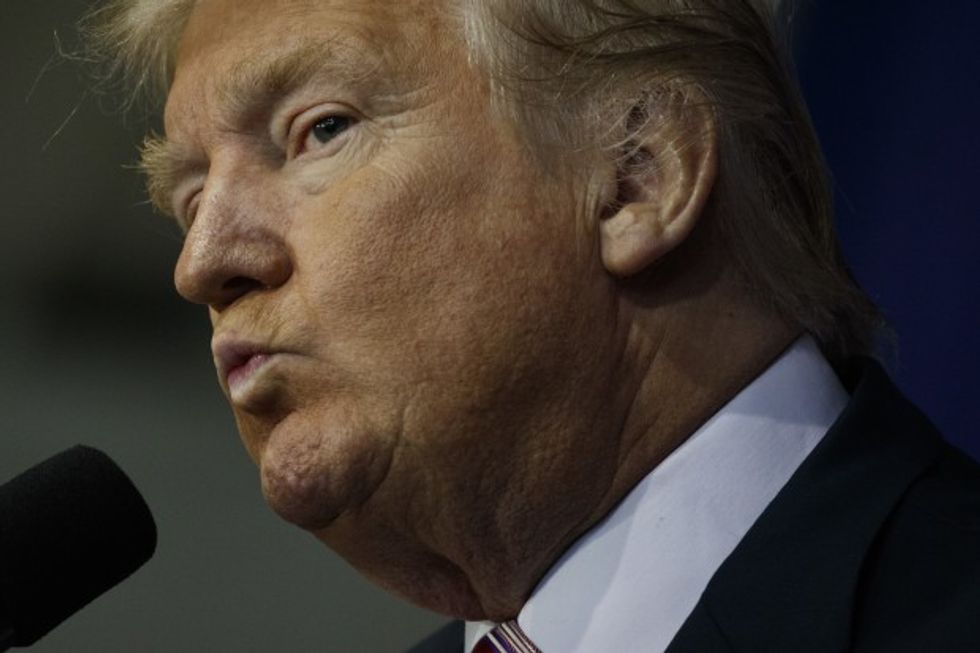 (AP Photo/ Evan Vucci)
USA Today warned that Trump had crossed a "red line" in the debate, the New York Times mourned his "contempt for democracy", with the Washington Post echoing the sentiment by condemning Trump's "repudiation of democracy".
From the complexion of these articles, you'd think the Donald had called for a Civilian Security Force or threatened to shoot people in the street if he lost.
What he actually did was teach Republicans an important lesson about unconditional commitments to political adversaries:
Don't make them.
The close of primary season was tangled in controversy as a number of former GOP candidates dragged their feet in honoring their pledge to support the Republican nominee - a pledge exacted from them in precisely the same fashion as Matthews used in the latest debate.
Several candidates who were less than enthusiastic about endorsing Trump cited the pledge as the reason they were willing to endorse him in the general. Sen. Ted Cruz was the last holdout, refusing to publicly endorse Trump at the Republican National Convention, only to fold later and announce his reluctant support on Facebook - again, citing the pledge as reason.
#NeverTrump Republicans like myself watched the dominoes fall in dismay, asking ourselves the same questions as candidate after candidate fell in line in order to keep their word:
Why on earth did you pledge to support the nominee, knowing that this was a possibility?
Trump made the same promise, before retreating from his pledge and unshackling himself from commitment once again.
It's a trap that Republican politicians of late seem unable to avoid, and one that has dented the credibility of several hard-right candidates with a base of angry conservatives fed up with compromise.
For a party that considers itself the home of the Christian right, Republicans could use a refresher on the story of Jephthah.
The full story can be found in the eleventh chapter of the book of Judges, but for my fellow TL;DR millennials, here's the SparkNotes version.
Jephthah was a warrior and judge of Israel who promised God that, in exchange for military victory, he would sacrifice the first thing that came out from his house to meet him upon his successful return home.
After winning the battle, he returned home - presumably expecting to see his animals first - when, to his dismay, his daughter came running to meet him.
Jephthah's tale is perhaps the most powerful admonition in all of scripture not to make foolish promises - and Trump appears to have learned the lesson.
Life is full of unpredictable variables - an enormous web of interconnected causes and effects, all of which are ignored by an unconditional promise. It is this unavoidable complexity which compels people of honor to limit the number of unqualified covenants they enter into.
While this is generally true in life, it's an absolute no-brainer when the pledge in question is a promise to support the legitimacy of a candidate whose campaign has been linked to a laundry list of electoral scandals.
There are unsecured gigabytes of reasons to be suspicious of voting results when running against a Clinton - assuming you survive long enough to demand a recount.
First, there's the fact that the Clintons have taken millions of dollars from foreign national interests attempting to barter for influence.
Some of these state actors included China, Iraq, Libya, Egypt, Saudi Arabia, and the Gulf State of Qatar, which gifted a million dollars to former president Bill Clinton for his birthday.
Ironic, given the fact that Secretary Clinton spent the early part of the last debate demonizing Russia for ostensibly trying to tip the election in favor of Mr. Trump.
Then, of course, there's the collusion between the Clinton campaign and the Democratic National Committee that kept a thumb on the scale of the primary election and disenfranchised millions of Bernie Sanders supporters, some of whom still refuse to support Clinton as a result.
For good measure, Clinton's campaign hired the disgraced former head of the DNC, who facilitated the electioneering.
Finally, the revelations by Project Veritas this week should shake the confidence of any reasonable soul in our electoral integrity.
In the second installment of their "Rigging the Election" video exposé, undercover investigators caught high-level operatives in Democratic parapolitical organizations scheming to commit large-scale voter fraud, while explicitly ignoring legal and ethical concerns about their tactics.
If any of this gives makes you want to unconditionally accept election results, I have an embassy to sell you in Benghazi.
For all of his incoherent babbling on a dozen substantive issues, Trump stumbled into an important precedent.
Maybe, thanks to the unlikely prudence and unapologetic belligerence of candidate Trump, Republicans can finally be freed from this cycle of stupid pledge and agonized fulfillment.
Maybe we can finally escape Jephthah's folly.
–
TheBlaze contributor channel supports an open discourse on a range of views. The opinions expressed in this channel are solely those of each individual author.