Are things really any better for veterans who seek medical care from the Department of Veterans Affairs following the huge "VA Scandal" of 2013 in which accusations were leveled that many veterans died while waiting long periods of time for medical care?
The answer appears to show that not a lot has changed, including wait times. In fact, another "scandal" may be taking shape within the department.
Recently, House Veterans' Affairs Committee Chairman Jeff Miller (R-Fla.) accused VA Secretary Robert McDonald, who replaced ousted VA Secretary Eric Shinseki in 2014, of making false statements to the media about the number of individuals that he had terminated following the huge VA scandal.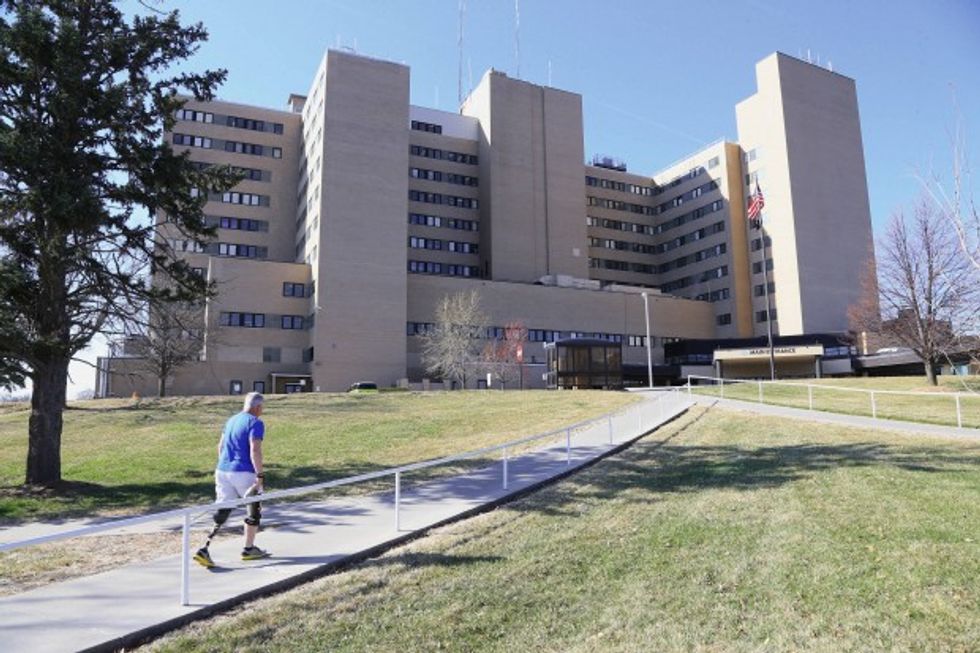 In this April 1, 2015 photo, an unidentified person with a prosthetic leg walks to the VA hospital building in Omaha, Neb. (AP/Nati Harnik)
McDonald recently told a mainstream news outlet that "We're making fundamental changes in the department in terms of leadership. We have held accountable about 900 employees who are no longer with us that were with us before I became secretary."
McDonald further elaborated that "900 people have been fired since I became secretary. We've got 60 people that we fired who have manipulated wait times."
Following McDonald's interview, VA officials quickly revised the numbers, indicating that only 14 employees had been fired.
However, internal VA documents showed that the actual number of people that had been removed from their jobs was three: one firing for accepting gifts improperly, one had retired and one was involved in a pending termination.
Miller lashed out at McDonald for being deceptive about the "firing of 60 people who manipulated wait times."
"As you know, the number of people VA has actually fired for manipulating wait times is zero," Miller said.
Miller went on to further accuse McDonald's department in his letter, of having "a rampant lack of accountability" and that it was McDonald's "own misstatements to the media" about the firing of the 60 individuals that led to Miller's panel to release the information to the public.
McDonald fired back in a letter to Miller that "confidential VA information" was being leaked to the press by House investigators.
The House has since issued subpoenas for personnel and complaint files at the VA's Philadelphia office, only the third time in the panel's history to do so, as part of a probe into the alleged mishandling of disability and pension claims.
U.S. Secretary of Veterans Affairs Robert A. McDonald speaks during a news conference after a visit to the James A. Haley Medical Center, Wednesday, Oct. 1, 2014, in Tampa, Fla. McDonald also met with veterans while touring the facility. (AP Photo/Chris O'Meara)
Miller claims that his panel has faced repeated "stonewalling" from the VA in its attempt to get to the bottom of mismanagement accusations and whistleblower retaliation.
Miller said his panel has encountered repeated "stonewalling" from the VA as the committee probes accusations of mismanagement and whistleblower retaliation. Miller believes that the lack of forthrightness from the department is an indication of an "attempt to cover up bad information."
Meanwhile, earlier this week, a veteran killed himself in the parking lot of the Department of Veterans Affairs Phoenix Regional office, in Phoenix, Ariz., with very little mention in the mainstream media.
A witness found the local veteran in the parking lot, a 53 year-old man who had been receiving $130 per month in benefits, according to a VA spokesperson. The veteran had been staying at the downtown Phoenix Central Arizona Shelter Services facility, according to another source.
The witness who reportedly found the veteran, reported seeing him sitting in his vehicle in the VA parking lot, shortly before hearing a loud "crack." When he went to investigate, he had found a man in the parking lot laying just outside of his vehicle with a gun nearby.
Police indicate that "a note was found in the victim's vehicle expressing his feelings and saying goodbye."
Matt Kenney, local director of Concerned Veterans for America said about the veteran that "He left a note. It seemed pretty symbolic."
What also appears to be symbolic, is that while the VA continues to struggle with correcting the issues that have long plagued their department, veterans continue to serve their country honorably knowing that they may never receive adequate assistance due them for their service.
Some may even pay the ultimate price for the lack of proper medical care.
–
TheBlaze contributor channel supports an open discourse on a range of views. The opinions expressed in this channel are solely those of each individual author.